A&E
Art Walk kicks off Winter Arts Tour
Thu., Feb. 6, 2020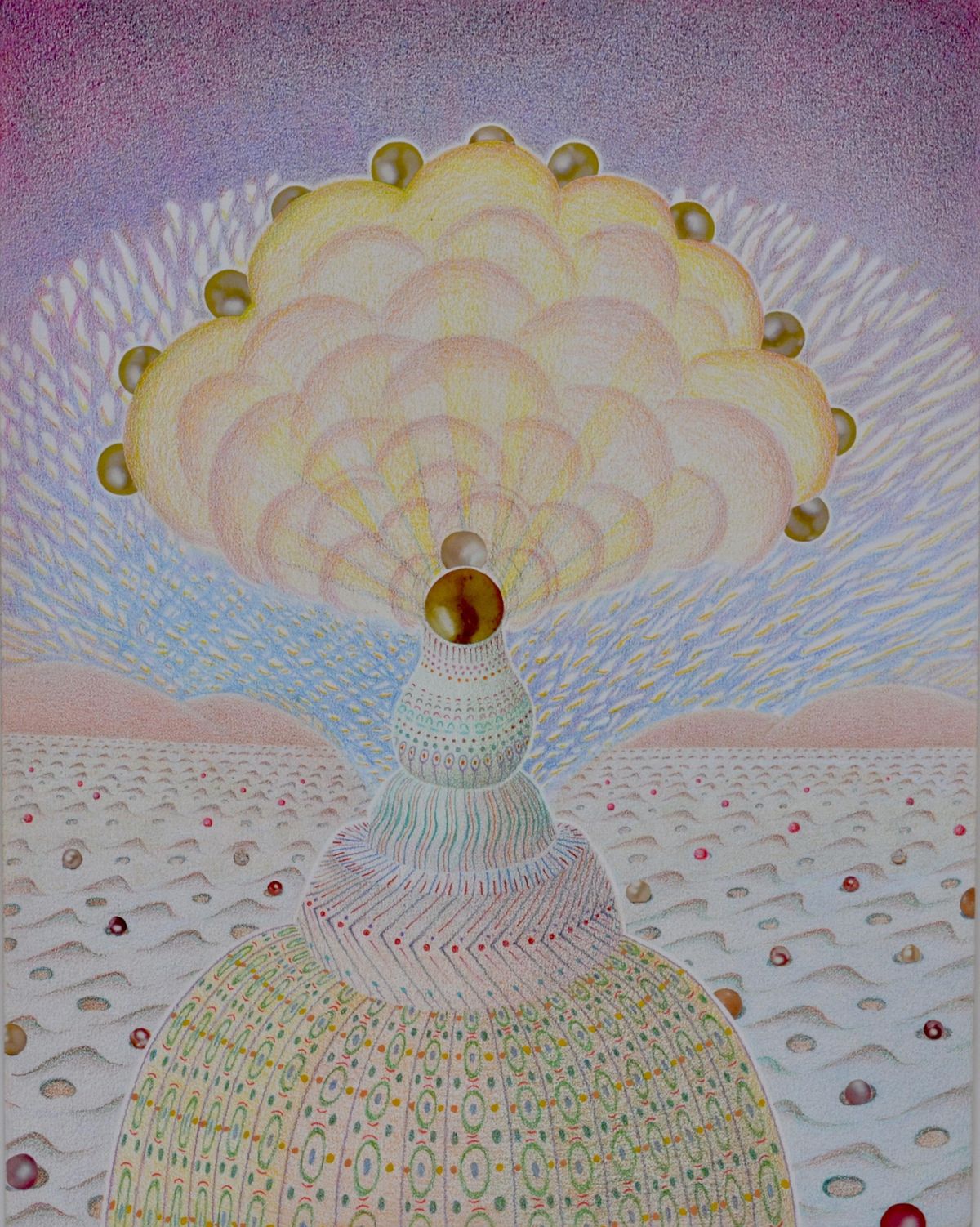 "Container," colored pencil, gouache, collage on paper, 2019, 13" x 10"
A major must-see on this weekend's Spokane's Winter Arts Tour is the bustling First Friday Art Walk. It's when downtown galleries, bars and wineries fling open their doors to the public, for free, for a fascinating glimpse into what our local artists are up to.
The following are some highlights. For a full listing of all the creative happenings that the nonprofit Spokane Arts is amplifying throughout the city on its Winter Arts Tour, go to spokanearts.org. For more about the First Friday Art Walk, go to downtownspokane.org
If you can knock off work early, go to Chase Gallery to enjoy an hour talk by artist Joe Hedges. The Pullman-based intermedia artist will be in Spokane to discuss his solo exhibit, "Hypercombines." Part oil painting on canvas and part new media sculpture, Hedges seeks to contribute to the dialogue about the role of art, the influence of the internet and the boundary between digital and physical realms. From 4-5 p.m., with an opening reception from 5-8 p.m. at 808 W. Spokane Falls Blvd in the basement of City Hall.
The show "Small Lines," despite its title, will be a big draw at Saranac Art Projects this Friday night. The concept of drawing what one "sees," what one "marks," will be explored by local artists and instructors Bradd Skubinna and Roger Ralston. Both artists are known for creating larger installations designed to delight and amaze. These small drawings feel like self-drilled peepholes into their creative souls. Artists' reception from 5-8 p.m. at 906 W. Main Ave.
Tom Froese will hold his first solo show in Spokane in 25 years at the Kolva-Sullivan Gallery. The experimental artist with the punk rock attitude is back with a show of the thoughts and images that bombard him while rehashing his life, conducting internet searches and surfing social media. From 5-8 p.m. at 115 S. Adams St.
Head a couple of miles east to La Resistance Gallery to see a lively exhibition by more than a dozen master and emerging local artists and musicians. The theme is specific yet broad – nudes and landscapes. There's beauty in both. Live music by Erin Catherine Parkes and Madeline McNeill. From 5-9 p.m. at 1816 E. Sprague Ave.
You must walk next door to Object Space gallery for the thought-provoking group exhibition "Disruption." The featured artists are from all over the world, including Serbia, Chile and the United Kingdom. The paintings are chunky and symmetrical and feature dark, crumbling fortresses – leaving the works to dwell somewhere between the classical and the fresh. From 5-9 p.m. at 1818 ½ E. Sprague Ave.
East Sprague is happening. Walk just 5 minutes farther west to New Moon Gallery where you can buy a bauble for your baby for Valentine's Day. The "All We Need Is Love" show will feature works by the Spokane Jewelers Guild in addition to pieces by the gallery's member jewelers. The fusion band Dreamtime will keep your bling swaying. From 5-10 p.m. at 1326 E. Sprague Ave.
Photography lovers will be especially pleased with several venues for this First Friday's lineup. Plan to spend time at Maryhill Tasting Room & Grill where the photography exhibition will include delicious pours and gorgeous dance. Richmond Art Collective member Ira Gardner, known for his portrait photography, will display his pictures of dancers and unveil his new book on dance. And get this: Vytal Movement Dance will perform throughout the evening. A portion of proceeds from Gardner's sales will go to support the local, nonprofit modern dance company. From 5-9 p.m. at 1303 W. Summit Parkway.
It's not quite downtown, but it's well worth the trip to the Garland District to see the photography of Robert Charloe at Spokane Art school. The award-winning artist, with a degree in photography from the Institute of American Indian Arts in Santa Fe, is a longtime favorite local wedding photographer. His show, "Long Shadowz Fade to Black & White," explores the Kalispel Tribe member's creative sensibility. From 5-8 p.m. at 811 W. Garland Ave.
Yes Is a Feeling gallery will showcase local photographer Cody RS's light installation to warm us up through these last winter months. From 7-10 p.m. with an artist's talk at 8 p.m. Game-art and audio visualization performance by Gareth Ewing at 8:30 p.m. At 159 S. Lincoln Ave.
Make a stop at V du V Winery to catch another local professional photographer: Craig Sweat. His high-end commercial business includes architecture, portraits and products. The house band is Crushpad. From 6-9 p.m. at 12 S. Scott St.
Be a digital eavesdropper at Terrain Gallery when you view Jessica Earle and Morgan Rose's collaborative exhibition "Conversation in Cloud Formations." The two artists live on opposite coasts, but their friendship exists in "the cloud" with the help of Facetime, iMessage, Insta, email and FB. The bonding through gifs and emojis feels real, and the artists try to prove it. From 5-8 p.m. at 304 W. Pacific Ave.
Guest artist Tania Brodowski will show her wildlife photography at Avenue West Gallery alongside oil paintings of lush landscapes by L.R. Montgomery. From 5-8 p.m. at 907 W. Boone Ave.
Local journalism is essential.
Give directly to The Spokesman-Review's Northwest Passages community forums series -- which helps to offset the costs of several reporter and editor positions at the newspaper -- by using the easy options below. Gifts processed in this system are not tax deductible, but are predominately used to help meet the local financial requirements needed to receive national matching-grant funds.
Subscribe to the Spokane7 email newsletter
Get the day's top entertainment headlines delivered to your inbox every morning.
---