News > Spokane
Euclid Bridge to remain out until at least next year, leaving residents to endure long detour
Feb. 7, 2020 Updated Fri., Feb. 7, 2020 at 5:39 p.m.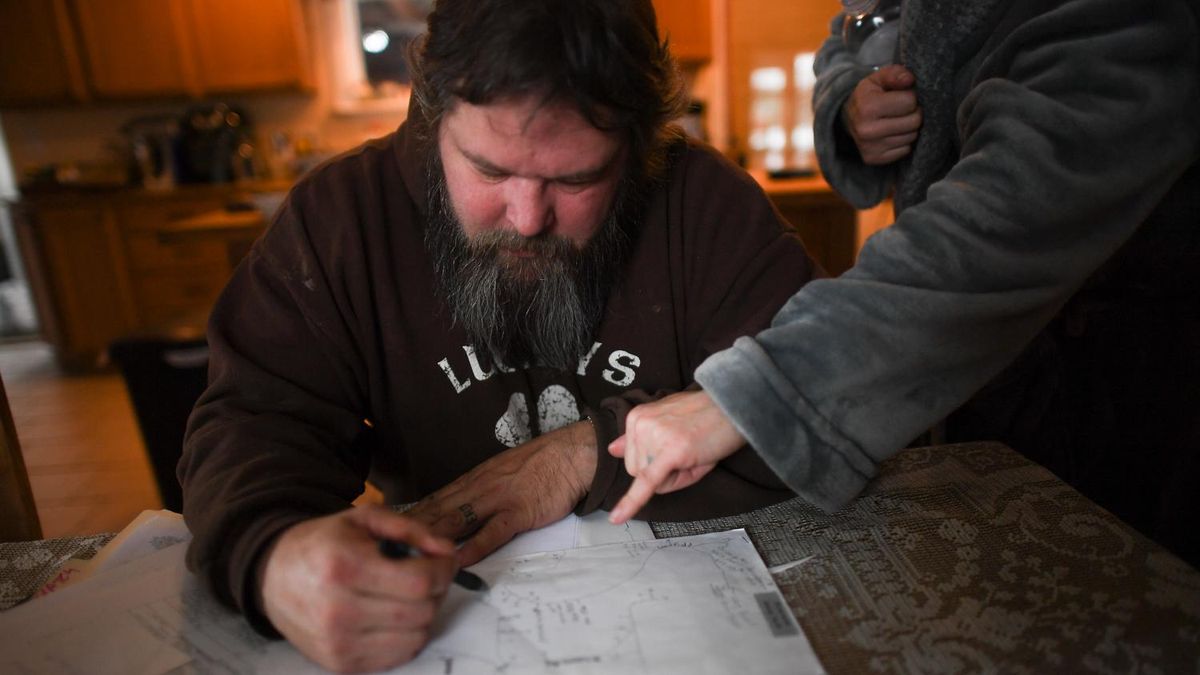 Aaron Inman and his wife Ericka show the route where they are detoured after officials closed the Euclid Bridge. (Tyler Tjomsland / The Spokesman-Review)
Erika Inman is one of several neighbors living near the Euclid railroad bridge whose commute to work has been increased by 20 to 30 minutes for the last eight months, after the wooden bridge that normally connects her neighborhood to eastern Spokane County closed due to safety issues.
And they will be waiting until next year – or longer – before the bridge passing over a train track is replaced and they can skip the detour.
The bridge, owned by Burlington Northern Santa Fe Railroad, was built at the turn of the century, when the railroad came into the community and needed to cross Euclid Road.
The most recent version, which was built in 1980 after the previous bridge burned down, has cracked and rotted underneath, and at least one of the hollow cavities in the supporting beams has become a bird's nest.
Inman said she's spent around $1,000 on her vehicle and that she and her husband Aaron are considering filing a claim against BNSF or the county for damages from the bumpier than usual commute to work.
The couple is one of several dozen neighbors living in the Euclid and Trails Road area north of Airway Heights that is growing increasingly frustrated by their paved road being replaced by a long gravel detour.
The Inmans say the detour has wreaked havoc on their vehicles, caused issues with their mail carriers, dramatically increased the amount of time it takes the bus to get neighborhood children to school and made it more difficult for emergency vehicles to reach their neighborhood.
Courtney Wallace, a spokeswoman for BNSF, has been working to find a consultant and put together a geotechnical study to look at the bridge and the land around it. She said the railroad has been doing its due diligence on the project and that most of 2020 would be spent on design.
"We understand the inconvenience, but we want to get the right people in place (and the) right consultant," she said. "Unfortunately, building a bridge doesn't happen overnight."
Wallace said the bridge likely won't be completed this year, but may be built in 2021.
County officials rerouting vehicles through the detour route has significantly increased the amount of traffic through some of those unincorporated neighborhoods and are hoping to work with BNSF to get the bridge replaced as sooner if possible.
Chad Coles, county engineer, said Spokane County will have spent about $200,000 by the end of spring on grading and treating the detour route and does not plan to pave those roads because the Euclid bridge will eventually be replaced.
County Commissioner Al French is hoping to speed that process up and "all options are on the table," including litigation. He said he hopes to continue to work with BNSF as partners, and litigation is not his preferred option. He said he is also talking to Eastern Washington's congressional delegation about potential federal funding to replace the bridge because it is a route that was used by Air Force Survival School vehicles before the bridge was declared unsafe.
"This is this is an urgent matter for us," French said, "and we want to make sure that all the parties involved in this understand the urgency around it."
Wallace said the railroad is working on communicating with the county and has a meeting with county officials on Feb. 19.
"We want to be good neighbors," she said. "It does take a while to get people on board, getting the right consultants in place and go through the process. We want to do this as efficiently as possible."
Local journalism is essential.
Give directly to The Spokesman-Review's Northwest Passages community forums series -- which helps to offset the costs of several reporter and editor positions at the newspaper -- by using the easy options below. Gifts processed in this system are not tax deductible, but are predominately used to help meet the local financial requirements needed to receive national matching-grant funds.
Subscribe now to get breaking news alerts in your email inbox
Get breaking news delivered to your inbox as it happens.
---