100 years ago in Spokane: Deaconess Hospital building neared completion on the lower South Hill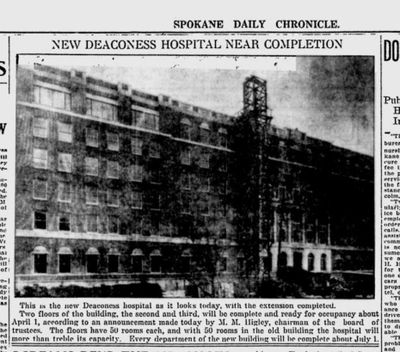 The new Deaconess Hospital building at Fourth Avenue and Post Street was nearly complete, and officials announced plans to open two floors by April.
Each floor would have 50 beds, meaning that 100 beds would be ready by April. The rest of the building would be open by July 1.
This modern Deaconess building would have many special features, including a rooftop garden for convalescing patients.
"We expect to make this garden equal to any flower garden in the city, where the patients may be wheeled about in chairs," said the hospital's board chairman. "It will offer one of the best views in the city, and will be well protected with walls."
The Spokane Daily Chronicle ran a photo of the building, which showed a nearly finished exterior.
The building is still in use, forming the core of today's Multicare Deaconess Hospital.
From the music beat: Spokane's music lovers were thrilled by the news that the New York Philharmonic was planning to come to Spokane as part of a coast-to-coast tour. The tentative date was listed as April 23, 1921.
Spokane did not yet have its own professional orchestra.
---