News > Family
Curley: How a Spokane music store, the Senator, brought back a long-lost, six-string dream machine
Feb. 14, 2020 Updated Fri., Feb. 14, 2020 at 5:28 p.m.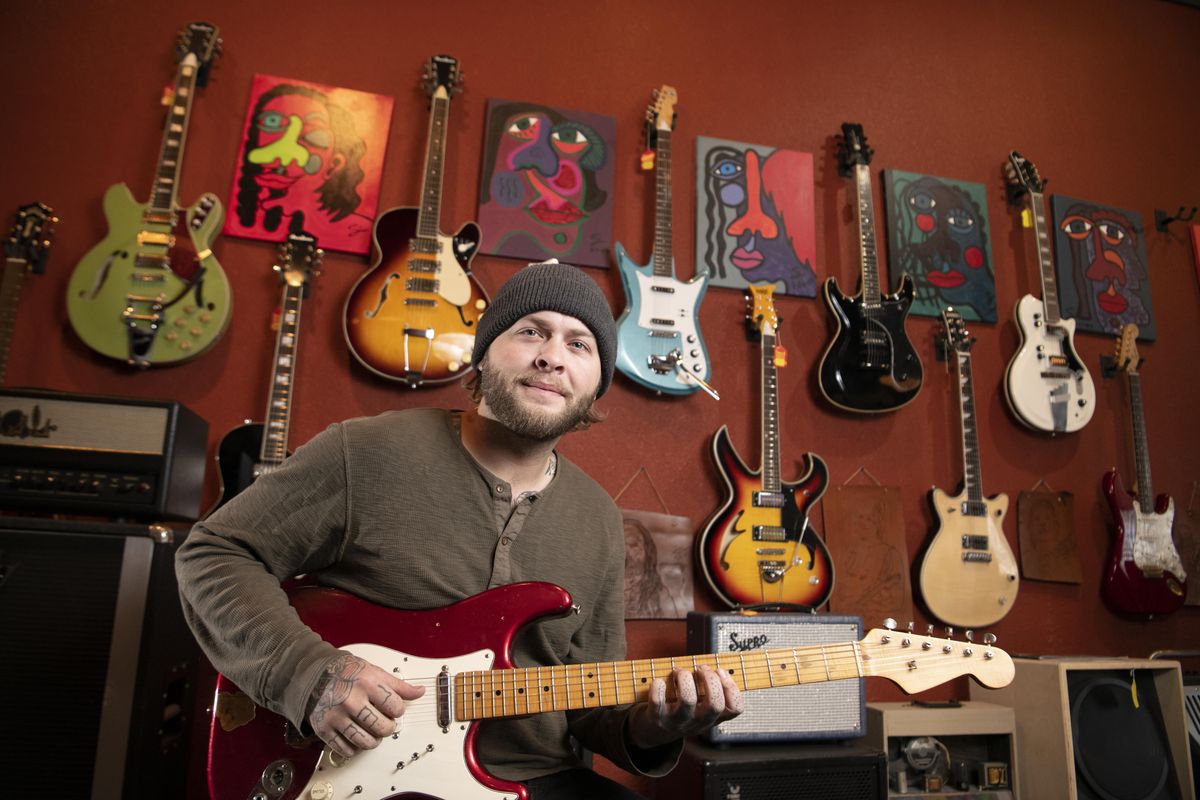 Proprietor Taylor Roff sits in his music store the Senator in Spokane on Feb. 4. Roff sells new and used guitars and equipment and makes repairs. (Jesse Tinsley / The Spokesman-Review)
There were three things that mattered when I was a kid, in no particular order: running, writing and rhythm – rhythm guitar, to be more specific. I wasn't particularly good at any of them, but never knowing when to give up brings its own kind of success, I guess.
Some call it dedication. Others know that you sometimes win by simply outlasting others, even when it makes no sense to keep going. I'd keep running long after others stopped. I'd practice guitar for hours every day. Loudly. And I'd write even when no one wanted to read my words.
Those people are sometimes called newspaper columnists now. Or at least this columnist.
It's those old rock star dreams that recently found their way back in the form of a long-lost guitar that meant more to me than I ever could have realized.
In high school in Osage City, Kansas, in a time we called the '80s, I was in a rock band called Red Alert. We weren't bad. It's just that we also weren't very good. Didn't matter. It's impossible to find the words to truly explain how much fun it was to play rock 'n' roll with some of your closest friends on the planet.
This was when I got my first "real" guitar.
It was an inexpensive white Kramer that really wasn't that great, making it a perfect fit for my limited skills. But I sure loved that guitar. Besides, Eddie Van Halen played Kramer guitars. And its simplicity seemed cool to me. More importantly, I made music with my friends on that old guitar. What we lacked in talent we more than made up with volume.
When it was time to get a much better guitar, despite a long time saving money made working at our local grocery store, the only way to afford what I wanted was to trade in that beloved Kramer guitar. Despite it not being a very good instrument, there was a lot of hesitation.
Even a little pain.
Actually, a lot of pain. I eventually parted ways with it for a fantastically cool Ibanez Roadstar guitar I still own to this day.
Taking that Ibanez guitar into a music shop every few years to get its intonation checked and other little things tweaked is always a blast because the luthier always talks about how obvious it is just how much the guitar has been played. Not just practice hours, but hours and hours on a stage. Then someone asks if it might be for sale. The answer is a hard no.
No way.
Over the years – as certain memories became foggier and foggier … and Google got better and better – there were more and more online searches for that old Kramer guitar. They say you never forget your first love, and my first love was a teenager's six-string machine that represented more than just power chords and cover tunes.
One skill I actually have is Googling. I gotta tell you, I'm good at the Google. Really good. I can find anything online. It goes back to that inability to know when to quit.
Yet, I could never find that old Kramer. This was mostly because I wasn't even sure what exactly it was, and the things showing up on the Interwebs seemed way more expensive than what a plumber's son could have afforded back when I was 13 or 14 – even a plumber's son who worked at the deli counter inside of Jerry's Thriftway.
Then I found it.
Or at least something close, and by close, I mean it was a cheap white Kramer guitar with the short-lived old "banana" headstock from the mid-'80s that was as cool as it was impractical.
It was even on sale – and a Black Friday sale at that! Not that it mattered. Money wasn't going to get in the way of getting something I'd been searching decades for. That being said, the price was low enough that the urgency was real because there had to be several other versions of '80s Rock-n-Roll Robbis all over the heavy metal world coming to the exact same realization: The guitar gods were granting hard-rock holiday wishes.
At deeply discounted prices.
When the guitar finally arrived a week or two later, I couldn't believe it. It was beautiful, even more beautiful than I remembered. I quickly unboxed it, carefully unwrapped it, tuned it up and took it to our family's music practice room in our basement that we've named "Paperboy Studios" mostly to make us giggle. I plugged the Kramer guitar from my youth into my amp and played it and played it and played it.
I was even worse than I used to be.
And it was glorious.
Then it hit me: Maybe someone could help me make this guitar even cooler. It wouldn't actually make me a better guitarist, but at some point – especially when you have limited skills – you realize things don't need to be any harder than they already are.
My oldest son, who is 10 times the guitarist I am or ever was, loved this quirky little guitar shop just over the Monroe Street Bridge called the Senator. It's run by a guy named Taylor Roff. He's knowledgeable and easygoing. More importantly, he lacks all of the condescending, borderline elitist attitude you find at so many guitar shops. I know I can't play. There's no need to rub it in.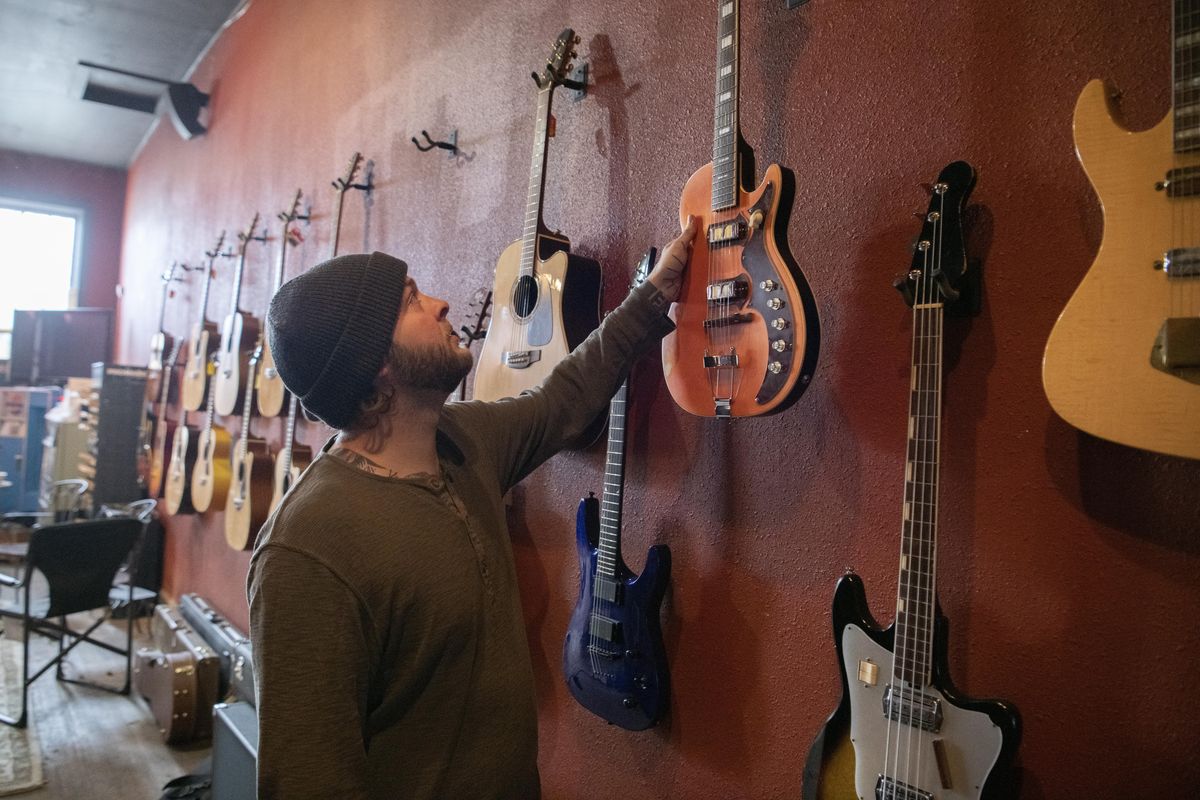 Proprietor Taylor Roff talks about his love of vintage electric guitars, Tuesday, Feb. 4, 2020, in his business, The Senator, a music shop in downtown Spokane. (Jesse Tinsley / The Spokesman-Review)
Roff is one of those people who just loves when others want to play music. It's his mission, and he does it with a mixture of good karma and encouragement that's as subtle as it is sincere. Whether it's a kid just learning or some famous guitarist whose even more famous band is playing within walking distance at the Arena later that night, Roff loves to talk music with anyone.
He was totally up for some cool upgrades to my old/new Kramer without breaking the bank. Some of the things I wanted were small, as in really small, like just having all of the hardware match. With a white guitar, it had to have a black volume knob. A nice one. He put on some nice locking tuners, a much better tremolo system, upgraded all of the electronics and put in a sweet-sounding Lollar pickup.
The Lollar pickups are even made here in Washington. Everything about this was just too good. And you should hear it. Especially if I'm not playing it. It's one of those guitars everyone gravitates to. It's become a fantastically cool guitar even if you don't know the back story.
It's just that the story is what matters most to me.
It's now exactly the guitar I remember from when I was a kid … well, except that it's not crappy. The memories that wash over me whenever it's plugged into an inappropriately loud amp make the wait worth it. Absence truly does make the heart grow fonder. And the hearing worse.
What makes it even cooler is that a music store here in Spokane helped make it all happen. The 14-year-old version of me won't forget that.
And I'll never trade my cheap Kramer guitar again. So don't even ask.
Local journalism is essential.
Give directly to The Spokesman-Review's Northwest Passages community forums series -- which helps to offset the costs of several reporter and editor positions at the newspaper -- by using the easy options below. Gifts processed in this system are not tax deductible, but are predominately used to help meet the local financial requirements needed to receive national matching-grant funds.
Subscribe now to get breaking news alerts in your email inbox
Get breaking news delivered to your inbox as it happens.
---