News > Spokane
Spokane County considers legal action against man with active helipad in backyard
Mon., Feb. 17, 2020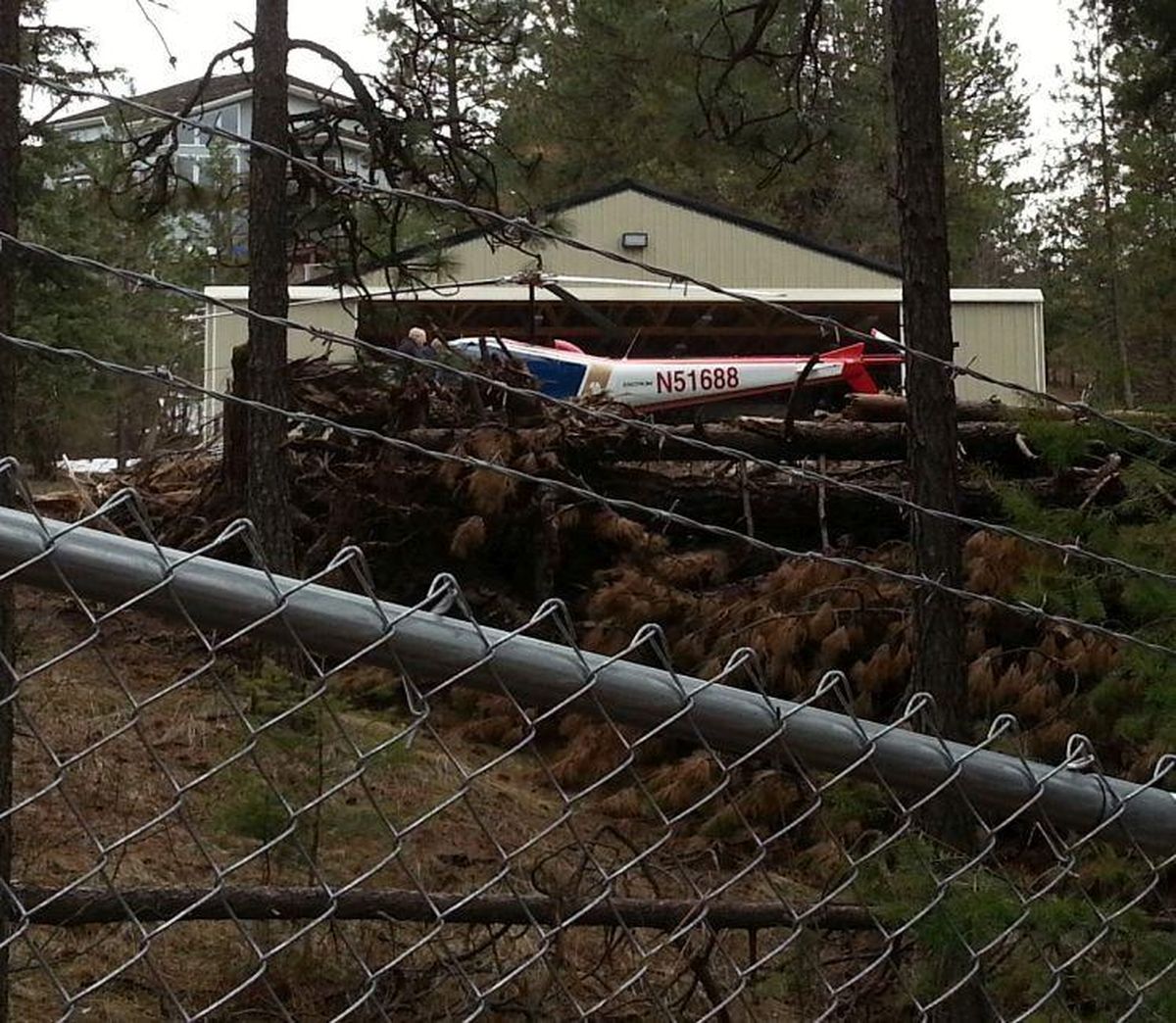 Neighbors have noticed helicopters flying over their home to their neighbor Jim Charbonneau's property for over a year. (Courtesy of Carl Strode)
When Carl Strode and his wife, Dana, moved to Painted Hills, they were hoping for a quiet neighborhood with an abundance of wildlife.
Instead, helicopters fly over regularly, and if they're outside on their porch, even yelling can't be heard over the whirring blades of their neighbor's private aircraft.
Strode lives in a residential area just south of Spokane Valley, surrounded by a thick blanket of evergreens and a close group of neighbors. Neighbors who say that helicopter traffic landing on a helipad installed in 2018 in the backyard of a resident has been a source of stress.
"What I'm most afraid of is that there will be a crash," said Shirley Auble, another neighbor. "That's what everybody is afraid of."
The Spokane County Commission voted last week to pursue legal action against the owner of the helipad, Jim Charbonneau, for operating a heliport in a low-density residential zone, which is not allowed in the county's zoning code.
Charbonneau has lived on the property for decades and, according to his neighbors, has been operating a helipad in his backyard since 2018.
Charbonneau, who previously owned a company called Allied Systems, has accused Spokane County of bullying him as well as wasting taxpayer money to go after a private citizen.
"I'm 70 years old and I've been here for a long time, and here comes Spokane County with all of their horses and men piling on," he said.
He said he had tried to install the helipad "as correct as I can" and felt that the county was targeting him, despite the fact that he was a longtime resident who doesn't have a record of breaking rules. When asked if he was aware that helipads are not allowed in residential neighborhoods when he built the helipad, he also declined to comment, citing pending litigation.
He also declined to answer questions about his helipad.
He said he still was open to negotiating with the county to find a solution outside of a lawsuit.
A 2018 Federal Aviation Administration analysis of Charbonneau's helipad, which has been named "Birdhouse" on the FAA report, found it to be objectionable due to lack of fire protection and lights, its location in a congested residential neighborhood and its close proximity to tall trees.
According to the report, the use of the heliport would have "substantial adverse effect on the safe and efficient use of navigable airspace by aircraft with the respect to the safety of persons and property on the ground."
FAA determinations are not meant as a denial or approval for building an airport, a designation that includes helipads, but as a grade to determine how much it will impact air traffic and safety on the ground around it. When searched online and in charts, Charbonneau's heliport on Shawnee Drive still has an "objectionable" designation, also letting other aircraft know that it may be unsafe to land there.
Chris Anderson, the deputy prosecutor in the county's civil department, said aircraft are allowed in some rural and agricultural zones, but not in residential neighborhoods. He said the county looked into the helipad after neighbors in the South Mohawk Drive area off of Dishman Mica Road called to report helicopter activity.
"We've heard from a fairly large number of people complaining about it," he said.
Anderson said the county also is willing to negotiate with Charbonneau before officially filing the lawsuit.
Anderson, Spokane County Prosecutor Larry Haskell and County Commissioner Mary Kuney met with Painted Hills residents a few months ago to discuss the helicopter issue. Kuney said the county is working as quickly as they can to address the issue.
"We are definitely doing everything we can from the county's side to not have a helicopter flying in and out of a neighborhood," she said.
While Charbonneau did not file a building permit to construct a hangar, he did file a permit for an outbuilding in 2017. Ironwood Structures completed work on the building in 2018. The firm is known for constructing garages, barns and airplane hangars, according to its website.
Auble, who lives down the street from Charbonneau, said she was friends with his late wife, Kay, and previously got along with Charbonneau. But the helicopter has made her fear for her and her husband's safety. It has also led to discord among neighbors who previously got along, she said.
"It's not good for Painted Hills," she said. "It's just caused problems, and there never were any problems."
Auble's husband, Dave, said he was especially concerned after reading about the death of Los Angeles Lakers star Kobe Bryant, his daughter Gianna, and seven others in a helicopter crash last month in Southern California. He said that if Charbonneau really enjoys aviation, he should fly at a place that's equipped for it, like Felts Field.
Shirley Auble is one of about 70 people who signed a petition against the heliport that was circulated by another neighbor, Jill Kang.
Kang said she has known Charbonneau for years and also was friends with Charbonneau's wife, but has grown increasingly frustrated with him. She said neighbors who want to sell their homes likely will have a hard time, once prospective buyers realize there's a constant barrage of air traffic overhead.
While not all of the neighbors were as concerned as she and the Strodes, Kang said most were worried about a fire or a crash. She said Charbonneau also wasn't forthcoming with his neighbors when he built the helipad, and hasn't shared many details since.
"It's just not a nice, neighborly thing to do," she said.
Strode said he is concerned that something could go wrong and that his home, which is next door, could be in danger.
Mostly, though, he and many others want their neighborhood to return to being a quiet place to watch deer and elk.
"We did buy this house purely for the rural feel," Strode said. "It feels rural even though we're so close to town, and that is gone."
Local journalism is essential.
Give directly to The Spokesman-Review's Northwest Passages community forums series -- which helps to offset the costs of several reporter and editor positions at the newspaper -- by using the easy options below. Gifts processed in this system are not tax deductible, but are predominately used to help meet the local financial requirements needed to receive national matching-grant funds.
Subscribe now to get breaking news alerts in your email inbox
Get breaking news delivered to your inbox as it happens.
---