Sports > Gonzaga basketball
Recap and highlights: No. 23 BYU shoots down No. 2 Gonzaga
Feb. 22, 2020 Updated Sat., Feb. 22, 2020 at 11:28 p.m.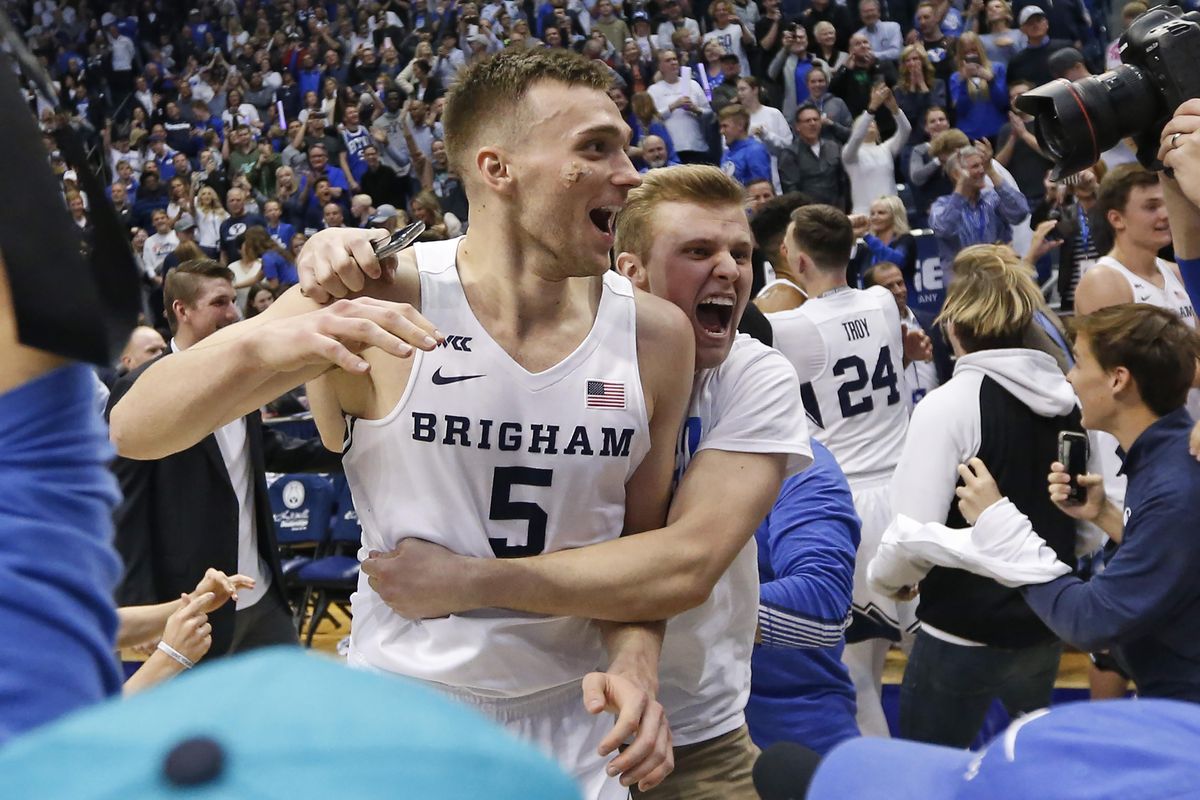 BYU guard Jake Toolson (5) celebrates with fans following the team's 91-78 victory over Gonzaga following an NCAA college basketball game Saturday, Feb. 22, 2020, in Provo, Utah. (Rick Bowmer / AP)
NEXT GAME: Thursday, Feb. 27: San Diego Toreros at Gonzaga Bulldogs, 6 p.m. PST TV: KHQ/ROOT Sports
PROVO, Utah – Yoeli Childs had 28 points and 10 rebounds and the No. 23 BYU Cougars took down the No. 2 Gonzaga Bulldogs 91-78 at the Marriott Center on Saturday night.
The loss snapped Gonzaga's record 39 straight conference road wins.
Jake Toolson had 17 points on five made 3-pointers for BYU. Point guard TJ Haws added 16 points and eight assists.
BYU shot 53.2% from the field and went 11 of 27 from 3-point range, including 5 of 8 in the second half.
Killian Tillie led Gonzaga with 18 points. Corey Kispert had 16 points, but made just 1-of-10 3-pointers.
Gonzaga shot 5 of 25 from 3 and went a miserable 1 of 14 from deep in the second half.
At the end of the first half, BYU reeled off a 13-6 run to take a 46-38 lead into halftime as Gonzaga didn't make a field goal over the final 4:37 of the period.
The Bulldogs got to within two in the second half after Drew Timme grabbed an offensive rebound and scored while being fouled. However, he would miss the ensuing free throw and the Zags wouldn't get any closer.
Senior Zac Seljaas chipped in 12 points and five rebounds for BYU.
Gonzaga's Filip Petrusev finished with 14 points on just eight shot attempts as he was hounded by Cougars defenders all night. The forward only grabbed two rebounds.
Guard Admon Gilder came off the bench to provide 13 points for GU. Starting guard Joel Ayayi and Ryan Woolridge had off nights. Ayayi had seven points on 2-of-7 shooting. Woolridge finished with two points. They came from the free-throw line.
Gonzaga finished with 14 turnovers, Petrusev and Ayayi had four apiece.
Stadium / YouTube
First half
15:26 – BYU 6, Gonzaga 4: Awful start for Gonzaga as the Bulldogs have more turnovers than made baskets through the first four minutes.
GU is just 2-of-7 shooting and has committed three turnovers, two by guard Joel Ayayi.
TJ Haws has four points to lead BYU. The senior guard has also drawn two charges, one on Ayayi and another on Filip Petrusev.
BYU is 3-of-8 shooting.
Corey Kispert and Killian Tillie have two points apiece for Gonzaga.
11:42 – Gonzaga 14, BYU 12: The Bulldogs get the ship righted thanks to consecutive 3-pointers by substitute Admon Gilder.
Two catch-and-shoot 3s by Gilder put Gonzaga up 12-6 before BYU scored six of the next eight points.
TJ Haws has six points to lead BYU. The point guard is 3-of-4 shooting and has a game-high three rebounds.
7:38 – BYU 24, Gonzaga 21: Cougars forward Yoeli Childs scored six straight points and BYU leads by 3.
Childs' run turned an 18-15 GU lead into a 21-18 BYU advantage. The senior has eight points.
2:38 – BYU 38, Gonzaga 32: The Cougars have made five of their last six shots and have extended the lead to 6.
BYU forward Yoeli Childs is up to 15 points on 7-of-12 shooting. His step-back 3 from the top of the key gave BYU its 6-point edge.
Filip Petrusev has 10 points to lead Gonzaga. The forward has been the focus of physical defense from the Cougars. BYU has already been called for two off-ball fouls on the sophomore and has sent a double-team each time he has touched the ball.
A positive for GU: Childs has two fouls.
Halftime
BYU 46, Gonzaga 38: Yoeli Childs has 15 points, TJ Haws has 11 and the red-hot Cougars lead the Bulldogs.
BYU is shooting 51.4% from the field. Gonzaga is shooting 45.8%, but did not make a field goal over the final 4:37 of the half as the Cougars went into the break on a 13-6 run.
Gonzaga has committed 10 turnovers, four by leading-scorer Filip Petrusev. The forward has 10 points.
Jake Toolson has added nine points for BYU on three 3-pointers. The Cougars are 6 of 19 from deep.
Admon Gilder and Killian Tillie have chipped in nine points apiece for Gonzaga. Gilder also has three made 3s. GU is 4 of 11 from beyond the arc.
Childs has a game-high six rebounds as BYU has the rebounding edge on Gonzaga, 18-15. BYU has six offensive rebounds it has turned into six second-chance points.
Second half
15:08 – BYU 58, Gonzaga 50: The Cougars come out of the break just like they went into it, making contested jumpers.
BYU is 5-of-6 shooting, making 2 of 2 from 3-point range, in the half.
Killian Tillie has seven points for Gonzaga in the half. The Bulldogs are on a 6-0 run after the Cougars took their largest lead of the game.
11:47 – BYU 65, Gonzaga 57: Cougars guard Jake Toolson is up to 17 points on five made 3-pointers and BYU continues to keep GU at bay.
The Cougars lead by 8 despite not making a field goal in the last 2:29.
Killian Tillie leads Gonzaga with 16 points. Admon Gilder now has 11 points after a steal and dunk.
7:52 – BYU 70, Gonzaga 68: Freshman Drew Timme is stepping up for the Bulldogs in the second half as GU has the BYU lead down to 2.
Timme, who has scored six points in the second half, is headed to the free-throw line for one shot.
Gonzaga is on a 7-0 run over the last 1:33. BYU has made just one its last eight shots.
3:54 – BYU 85, Gonzaga 76: Back-to-back 3s by Alex Barcello and TJ Haws help the Cougars stretch the lead to 9.
BYU is 5 of 8 from 3 in the second half as it keeps fending off Gonzaga runs with its shooting.
Yoeli Childs is up to 24 points on 10-of-16 shooting to lead BYU.
Gonzaga is led by Killian Tillie's 18 points. The Bulldogs have not made a field goal in the last 3:06 and are 1 of 10 from 3-point range in the second half.
Starting 5
Pregame
Local journalism is essential.
Give directly to The Spokesman-Review's Northwest Passages community forums series -- which helps to offset the costs of several reporter and editor positions at the newspaper -- by using the easy options below. Gifts processed in this system are not tax deductible, but are predominately used to help meet the local financial requirements needed to receive national matching-grant funds.
Follow along with the Zags
Subscribe to our Gonzaga Basketball newsletter to stay up with the latest news.
---