A&E
Wheat, wheat, don't tell them: Mountain Lakes Brewing hosts monthly beer-centric podcast
Tue., Feb. 25, 2020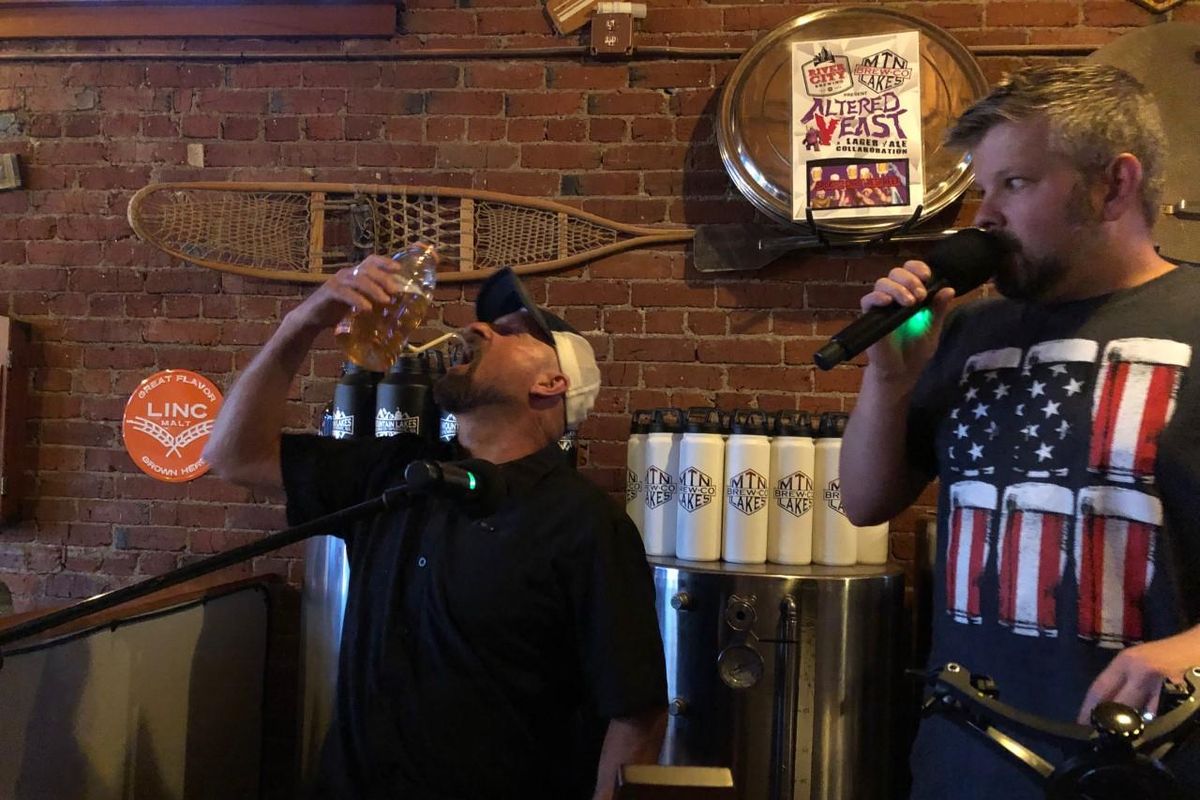 The podcast "Wheat, Wheat … Don't Tell Me!" is recorded at 6:30 p.m. the first Wednesday of every month at Mountain Lakes Brewing Co. in downtown Spokane. Chris Cindric and Dave Basaraba are pictured here. (Courtesy of Mountain Lakes Brewing Co.)
Chris Cindric wants to make it clear he did try to get a real porrón. Unfortunately, because of shipping issues, it didn't arrive in time for the recording of his monthly podcast, "Wheat, Wheat … Don't Tell Me!" – so he had to make do with what he had.
After all, how difficult could it be to re-create this traditional Spanish spouted drinking vessel out of an empty plastic bottle and a straw?
The result may not have been perfect, but after a suitable amount of razzing from his panel of local beer industry experts, they filled it with beer, passed it around, and all had a good laugh while attempting to use it.
This story is a good example of the tone Cindric has been trying to set since Dave Basaraba, co-owner of Spokane's Mountain Lakes Brewing Co., and he decided to start recording the podcast on the first Wednesday of every month at Mountain Lakes' downtown taproom.
"We don't want (the podcast) to be a bunch of beer nerds sitting around talking about beer nerd stuff. … It also needs to be entertaining to the most novice beer aficionado," said Basaraba, who also acts as the show's announcer and frequent panelist.
Cindric didn't start out with the idea of a podcast. As a professor at Eastern Washington University who teaches a course on craft beer, he was asked to help produce a beer and science event at the Mobius Science Center last year.
Cindric decided to write a script based on NPR's popular current events show "Wait, Wait … Don't Tell Me!" in which host Peter Sagal and a panel of guests play games, tell stories and quiz audience members about events of the past week.
The show was well-received, and Basaraba, who also helped plan the event, asked if Cindric would be interested in doing the show again in the Mountain Lakes taproom. "My wife was the one who suggested we record it," Basaraba said. And with that, a podcast was born.
While the podcast has evolved since the first official episode was released last June, the format has stayed the same. Each month has its own theme, and, in addition to the panel of beer industry experts, each show includes a guest who is interviewed.
The guest also plays a game to win a prize for one of the 30 to 50 audience members who pack the taproom each month.
Segments include "Bluff the Drinker" where the panelists each read a story about beer, and an audience member has to guess which one is true.
In "Beer Slang," Cindric provides a term, and the panel has to provide its most entertaining answer for what the term might mean and several others over the course of the hourlong show.
Although it is a lot of work – Cindric estimates he spends about 20 hours over the course of the month putting each script together – it is definitely a labor of love.
"If you want to bring people into the beer community, one way to do that is to give them access. (It is) neat to get craft brewers in a format where they are even more accessible. We put them onstage, and they come to life."
For Cindric and Basaraba, bringing people into the beer community is what the show is all about. They are trying to appeal to the person whose appreciation of craft beer has grown as the industry itself has expanded.
As host, Cindric doesn't assume the audience is going to understand every obscure beer term that might get thrown around during the show, so he encourages the panel to define the terms and talk about them.
"There is so much education that can be done but in an entertaining way without being pretentious about it."
You can listen to "Wheat, Wheat … Don't Tell Me!" on Apple and Google Podcasts, Spotify and all major podcasting services.
If you would like to attend a live taping of the show, it is recorded the first Wednesday of each month starting at 6:30 p.m. in Mountain Lakes Brewing Taproom (201 W. Riverside Ave.)
Local beer news
Popular North Spokane brewpub Waddell's (6501 N. Cedar Road) is rebranding itself as 5 North Brewing Co. as it continues its transition to full ownership under Brumbuck, a local real estate company.
The brewpub will be closed this week for interior renovations and is expected to reopen Friday with an updated look and expanded menu. The brewing team and pub staff are expected to remain in place, and this change will not affect its former sister restaurant Waddell's Neighborhood Pub & Grill (4318 S. Regal St.).
Two area breweries brought home medals from the Best of Craft Beer Awards, an annual international brewing competition in Bend, Oregon.
TT's Old Iron Brewing (4110 S. Bowdish Road, Spokane Valley) won a bronze medal in the American-Style Black Ale category for its "Night Rider Black IPA," while Wallace Brewing (610 Bank St., Wallace) earned a silver for its "Red Light Irish Red Ale" in the Irish-Style Red Ale category.
Overall, Idaho breweries earned five medals, including three gold, while Washington-based breweries brought back 40 medals and 17 gold.
Follow @509beerblog on social media for more of Greg Wildermuth's beer coverage.
Local journalism is essential.
Give directly to The Spokesman-Review's Northwest Passages community forums series -- which helps to offset the costs of several reporter and editor positions at the newspaper -- by using the easy options below. Gifts processed in this system are not tax deductible, but are predominately used to help meet the local financial requirements needed to receive national matching-grant funds.
Subscribe to the Spokane7 email newsletter
Get the day's top entertainment headlines delivered to your inbox every morning.
---