Sports > High school sports
Wrestling: Gaje Caro earns West Valley's first individual state title since 2016
Feb. 26, 2020 Updated Wed., Feb. 26, 2020 at 10:19 p.m.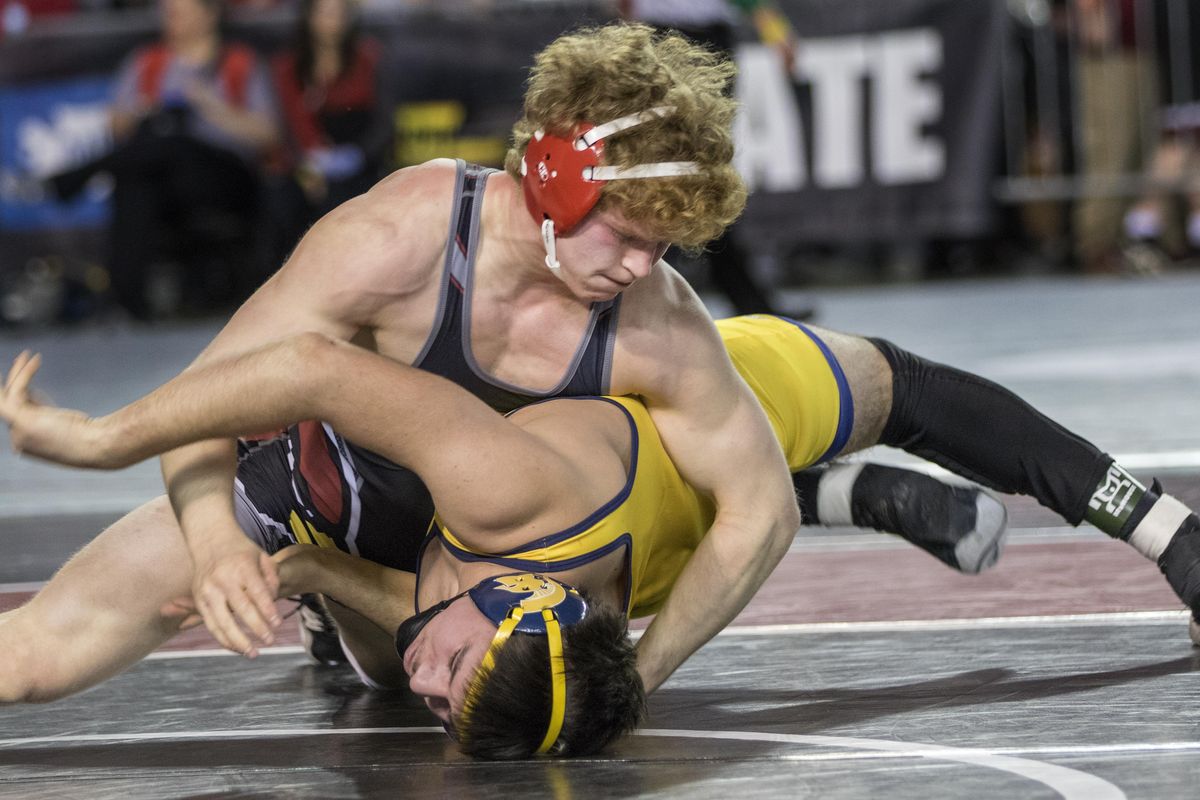 Medical Lake's Ethan Davis, top, controls Forks' Hayden Baker in their 170 lb. match at the 1A State Wrestling Tournament in Tacoma, Wash. on Friday, Feb. 21, 2020. (Patrick Hagerty / For The Spokesman-Review)
Gaje Caro had a rough start to his season, picking up three forfeit losses early while he was still recovering from a shoulder injury sustained during a semifinal match at last year's Mat Classic.
The 182-pounder finished his season with a flourish.
Caro, a West Valley senior, earned a 9-1 major decision over Black Hills senior Julian Kennedy at the Tacoma Dome last Saturday in Mat Classic XXXII.
In doing so, Caro became the Eagles' first individual state champion since 2016.
"I felt like I was one of the best (in 2A), then I took a major step back," Caro said in January. "But I've learned a lot since then and how to use more strategy in matches."
Caro, who wrestled at 160 last season, spent much of his rehab putting on weight.
"He got a lot stronger," WV wrestling and football coach Geoff Hensley said. "Coaches from other schools have come up to me and said, 'Wow, he really bulked up since last season.' "
Caro, who earlier this season competed in the 195-pound weight class, likes being in the higher weights.
"I grew a lot (in the offseason) and am comfortable at the weight I am at right now," he said.
His state title is evidence of that.
Elsewhere in 2A, Cheney finished eighth, led by junior Jackson Showalter's second-place finish at 152.
The third-ranked Showalter lost 6-0 in the title match to senior Gabriel Hawthorne (White River), a three-time state champion and Air Force Academy commit.
1A
Lakeside (Nine Mile Falls) was the top area team in the classification, edging Deer Park for fifth place by 2.5 points.
The Eagles were led by individual state champion Ty Friedman, who beat fifth-ranked Jorge Espinoza of Zillah 5-3 in overtime. Friedman, ranked third as a sophomore, placed sixth in 2019.
Lakeside had six wrestlers get through to semifinal matches. Fifth-ranked frosh Tomio Yamada placed third with an 11-4 decision over Klahowya's Cameron Johnson, who was ranked third.
Another 1A champion was Medical Lake junior Ethan Davis, a 6-0 winner over Ryan Nelson of Vashon Island.
Davis, top-ranked at 170, beat Benji Bustos (Royal) 4-0 in a semifinal match. Davis was also a state titlist in 2018.
2B
Liberty placed second as a team, led by a pair of individual state champions in the upper-weight divisions.
The Lancers' top-ranked senior Charlie Harrington became a two-time winner when he claimed the 285-pound championship with a 4-1 win over second-ranked Nicholas Schurger of Springdale.
Harrington advanced to the finals with a 5-3 win over Ilwaco's Michael Rodda.
Harrington was joined by senior Josiah Cwik, who earned a state title at 220 with a 6-3 decision over fourth-ranked Cole Davis of Chewelah.
The third-ranked Cwik, who qualified for state last season but did not metal, won his semifinal over Marcos Velasquez of Mabton by major decision, 17-5.
Idaho
Post Falls is aiming for a 5A three-peat.
The top-ranked Trojans qualified 14 wrestlers and multiple returning state champions to this weekend's Idaho state wrestling tournament at Holt Arena in Pocatello, including Lane Reardon (120), AJ De La Rosa (138) and Isaac Jesson (132).
Coeur d'Alene, which finished second to Post Falls at state a year ago, hopes to challenge for another trophy. The Vikings, who qualified 13, feature several ranked wrestlers, including returning state champion Gunner Giulio (152). Drew Roberts, a standout transfer from University, is expected to to push for a title at 138.
Lake City, fourth at state last season, could also earn a trophy again. The Timberwolves qualified 11 to state, including defending state champion Caden Hess (106).
In 4A, district champion Lakeland sent 13 to state.
Local journalism is essential.
Give directly to The Spokesman-Review's Northwest Passages community forums series -- which helps to offset the costs of several reporter and editor positions at the newspaper -- by using the easy options below. Gifts processed in this system are not tax deductible, but are predominately used to help meet the local financial requirements needed to receive national matching-grant funds.
Subscribe to the sports newsletter
Get the day's top sports headlines and breaking news delivered to your inbox by subscribing here.
---