Sports > Gonzaga basketball
Recap: Filip Petrusev powers No. 3 Gonzaga past Saint Mary's
Feb. 29, 2020 Updated Sat., Feb. 29, 2020 at 11:26 p.m.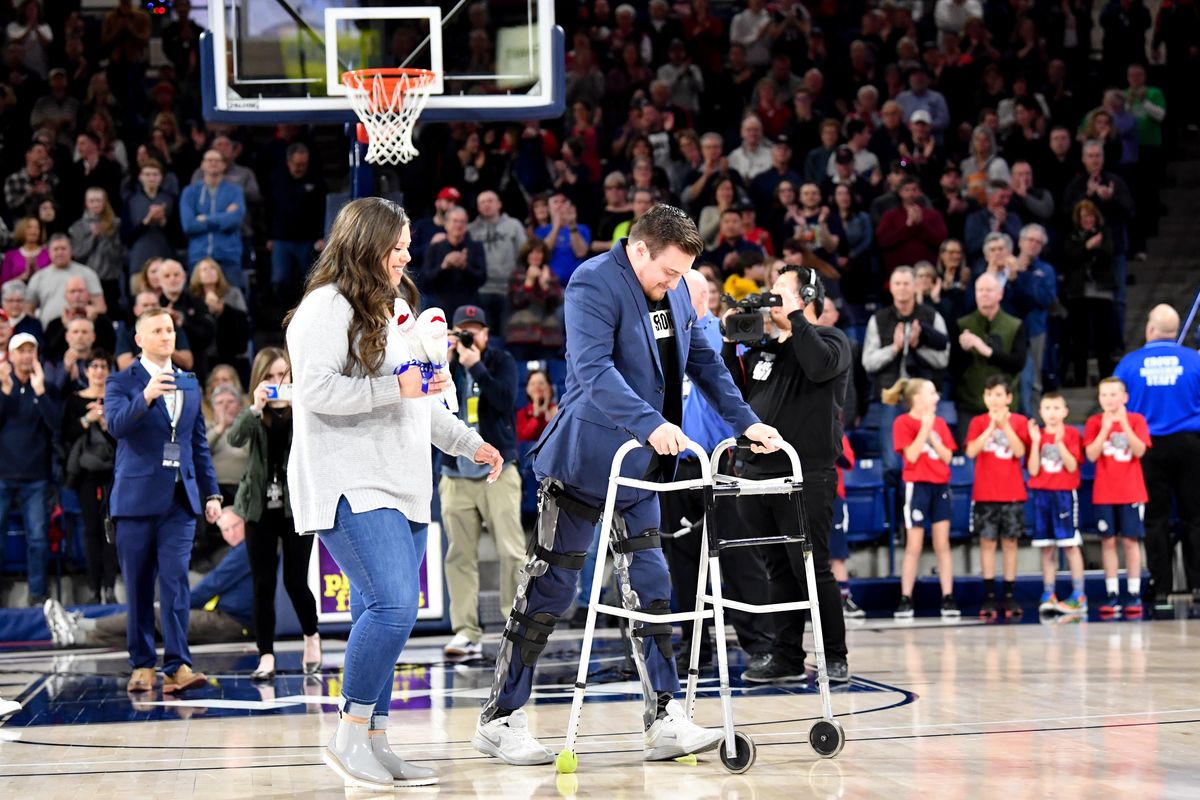 Gonzaga basketball team manager Mac Graff walks onto the court and receives a standing ovation during senior night before the start of the first half of a college basketball game on Saturday, February 29, 2020, at McCarthy Athletic Center in Spokane, Wash. (Tyler Tjomsland / The Spokesman-Review)
NEXT GAME: Monday, March 9: WCC Tournament semifinals at Orleans Arena, Las Vegas: Gonzaga Bulldogs vs. TBD, 6 p.m. PST TV: ESPN
Filip Petrusev scored 27 points, Corey Kispert had 20 and the third-ranked Gonzaga Bulldogs defeated the Saint Mary's Gaels 86-76 during Senior Night on Saturday at the McCarthey Athletic Center.
Jordan Ford had a game-high 28 points for Saint Mary's.
Gonzaga (29-2, 14-1 WCC) used two big second-half runs to put the Gaels away after going into halftime tied 34-34.
Tied at 42-42 4 minutes into the second half, Kispert sparked a 10-0 GU run with a one of his four 3-pointers. He would score eight points during the run as the Zags held Saint Mary's scoreless for 3:28.
After the Gaels (24-7, 11-5) scored the next four points, it was Petrusev's turn to lead a charge. The sophomore forward powered his way to nine points during a 13-5 run that gave Gonzaga its biggest lead of the night at 65-51.
Ford would keep the Gaels in the game, hitting a 3-pointer during a 7-0 Gaels' run that got them within five with just over 4 minutes to play.
However, Gonzaga guard Joel Ayayi, who quietly had a strong night, made a 3 with 2 minutes to play and the Zags would close the Gaels out from there.
Ayayi was 4-of-5 shooting for 12 points and had a team-highs with eight rebounds and four assists.
Petrusev finished 8-of-12 shooting and made 11-of-13 free throws. He also grabbed six rebounds as the Bulldogs outrebounded the Gaels 31-23.
Killian Tillie, one of GU's senior stars, finished with 13 points on 6-of-8 shooting. Gonzaga shot 59.3% from the field and 53.8% from 3.
Saint Mary's shot 49.2% but was just 6-of-19 on 3-pointers. Ford was 12-of-21 from the field and 3 of 7 from deep.
Both teams had great nights at the free-throw line. The Bulldogs went 15 of 18 and the Gales made 12 of 14.
Gonzaga's senior guards Ryan Woolridge and Admon Gilder scored six points apiece in their final game in the Kennel.
Malik Fitts added 15 points for Saint Mary's and Tanner Krebs chipped in 10.
Gonzaga coach Mark Few improved to 45-11 against Saint Mary's. The Bulldogs are now 14-4 against the Gaels in meetings at the MAC. The Zags also picked up their 39th straight home win.
After the game, Gonzaga celebrated its eighth straight WCC regular-season title.
SWX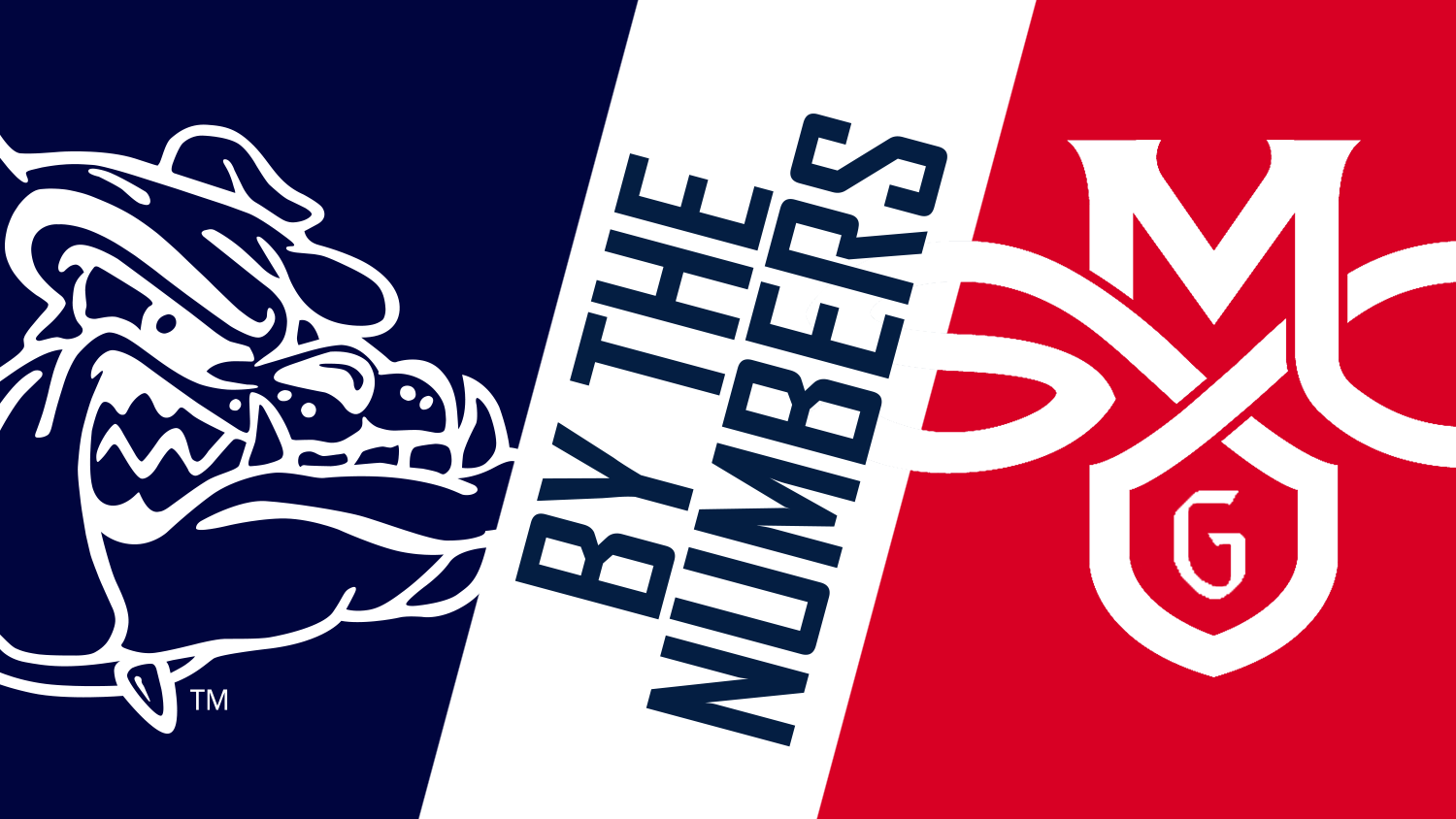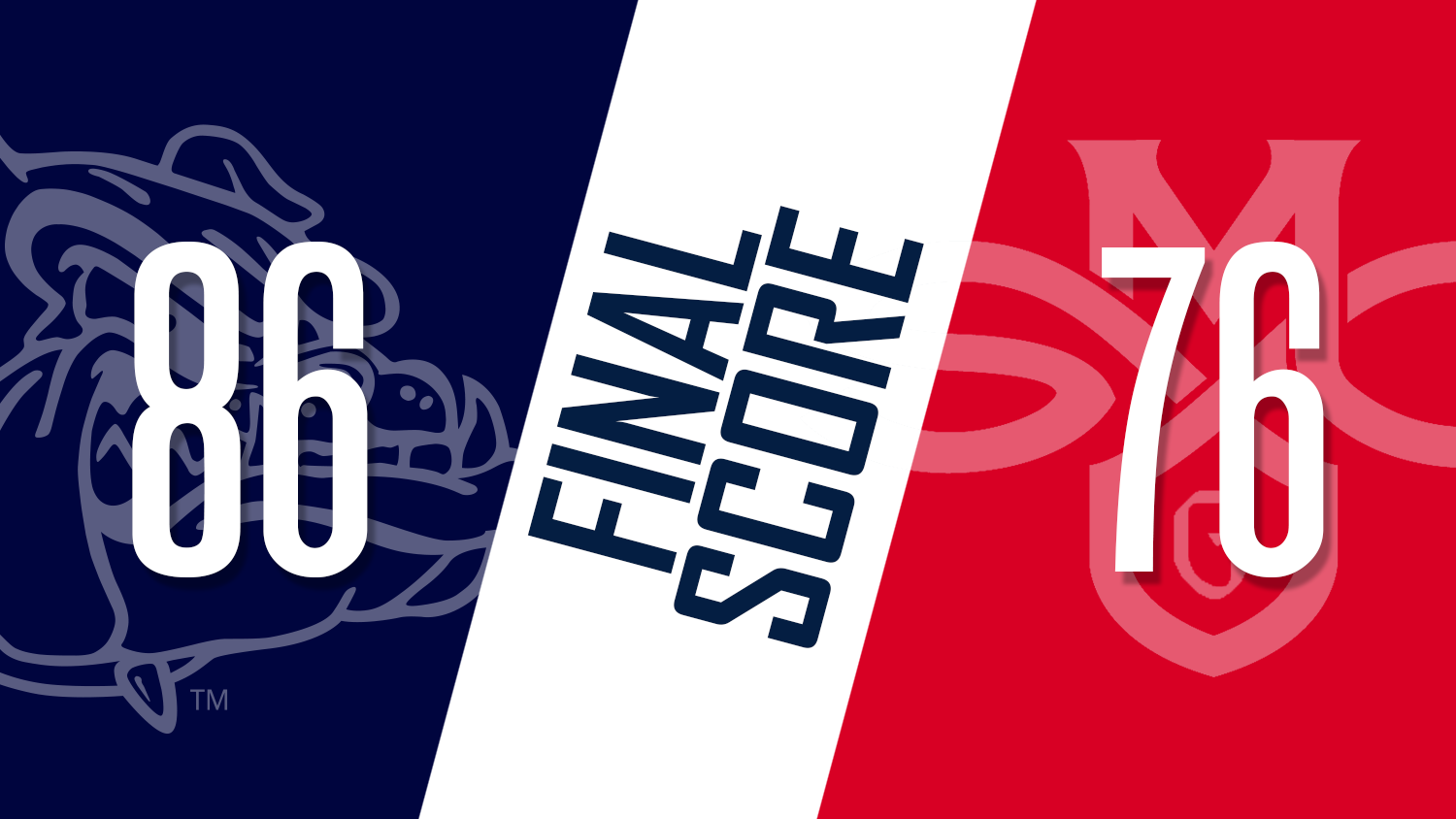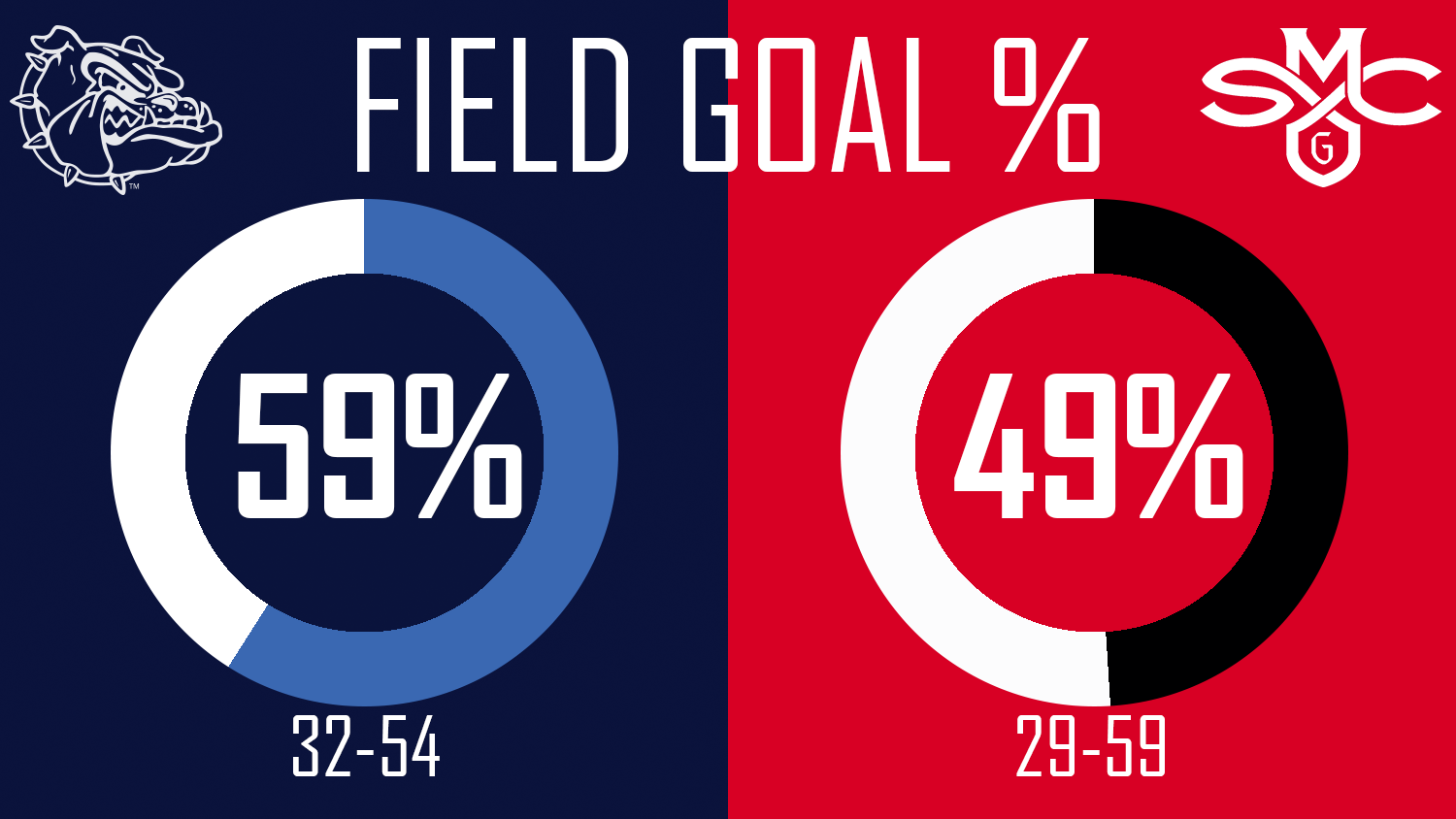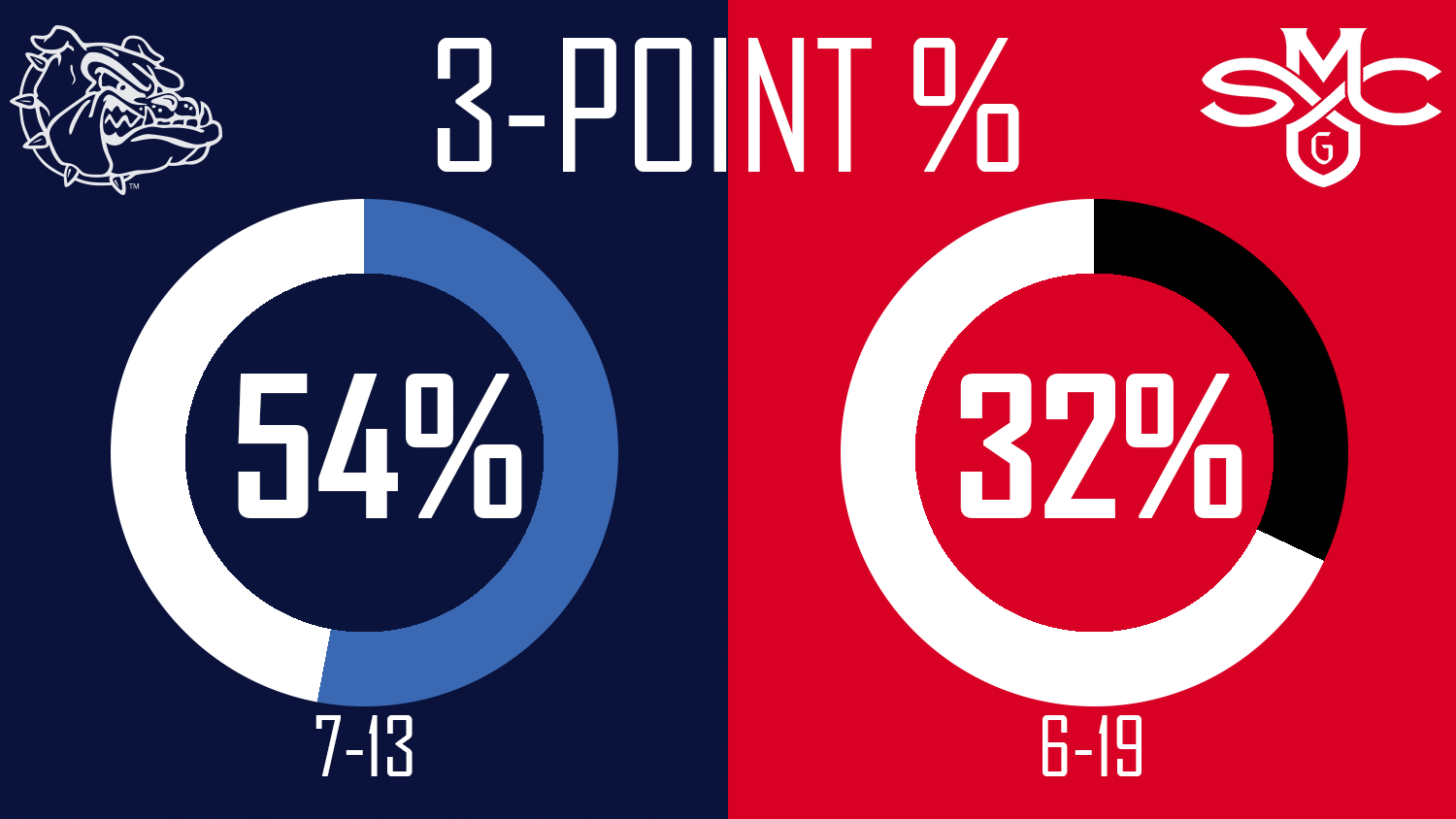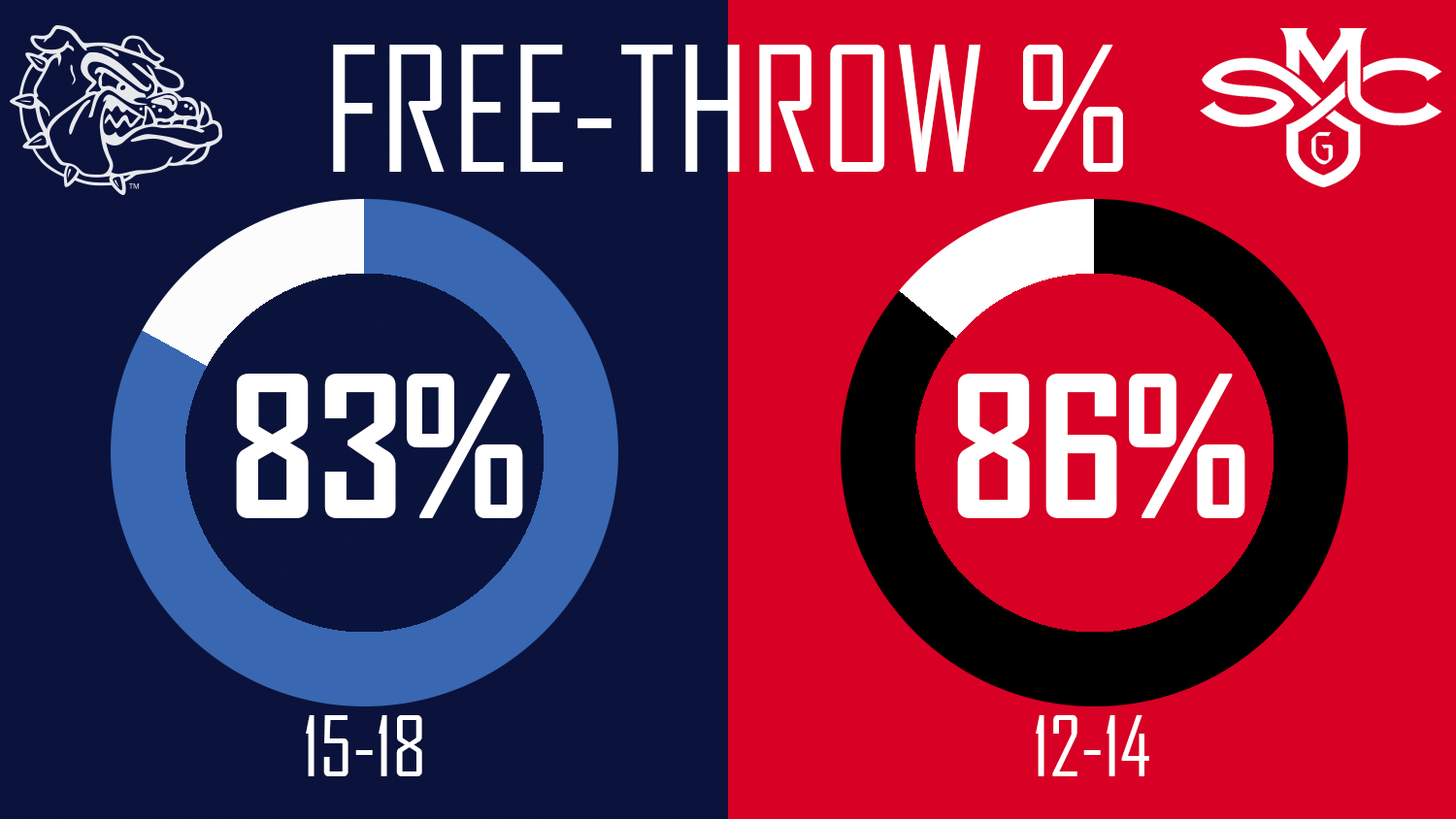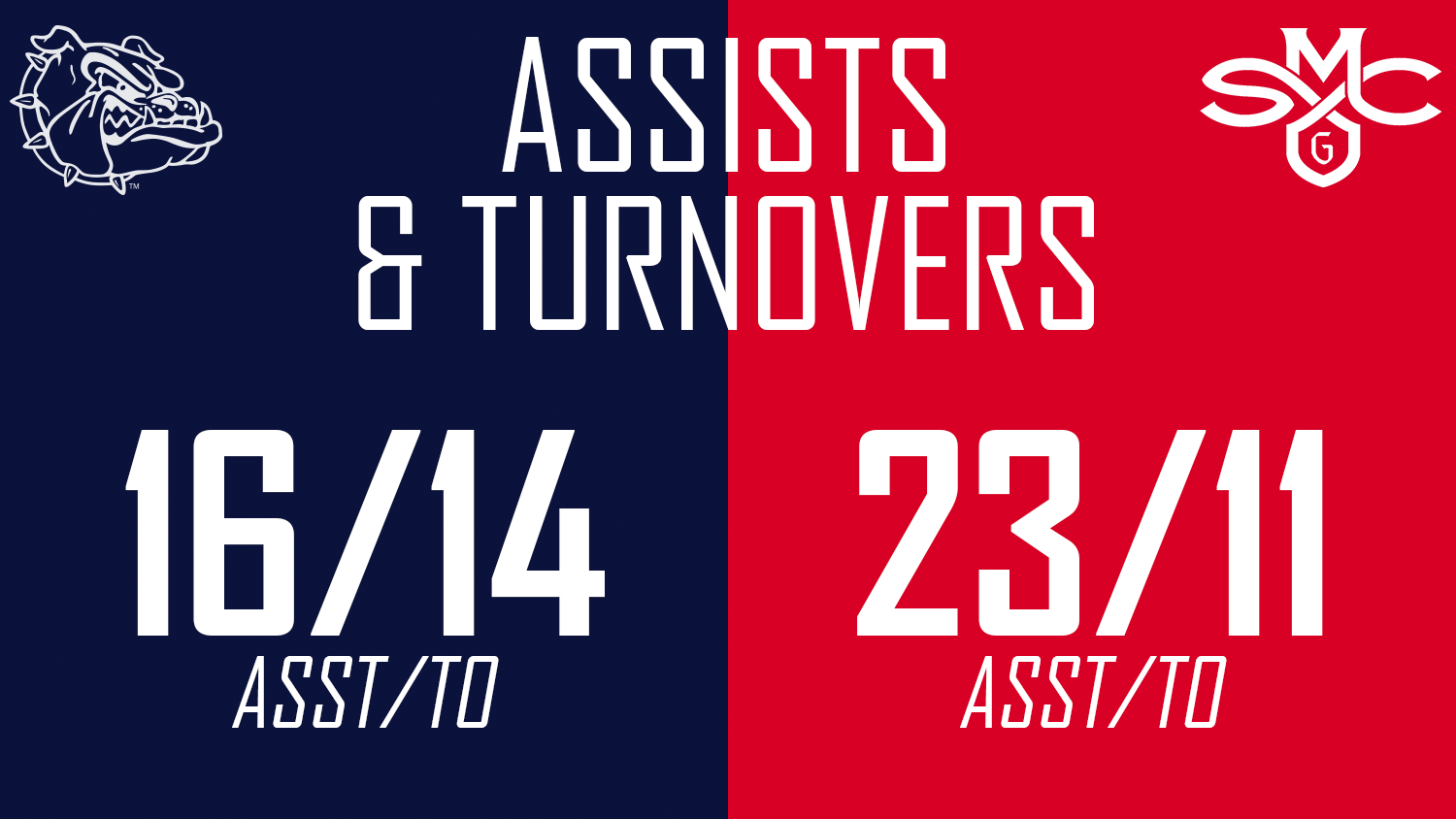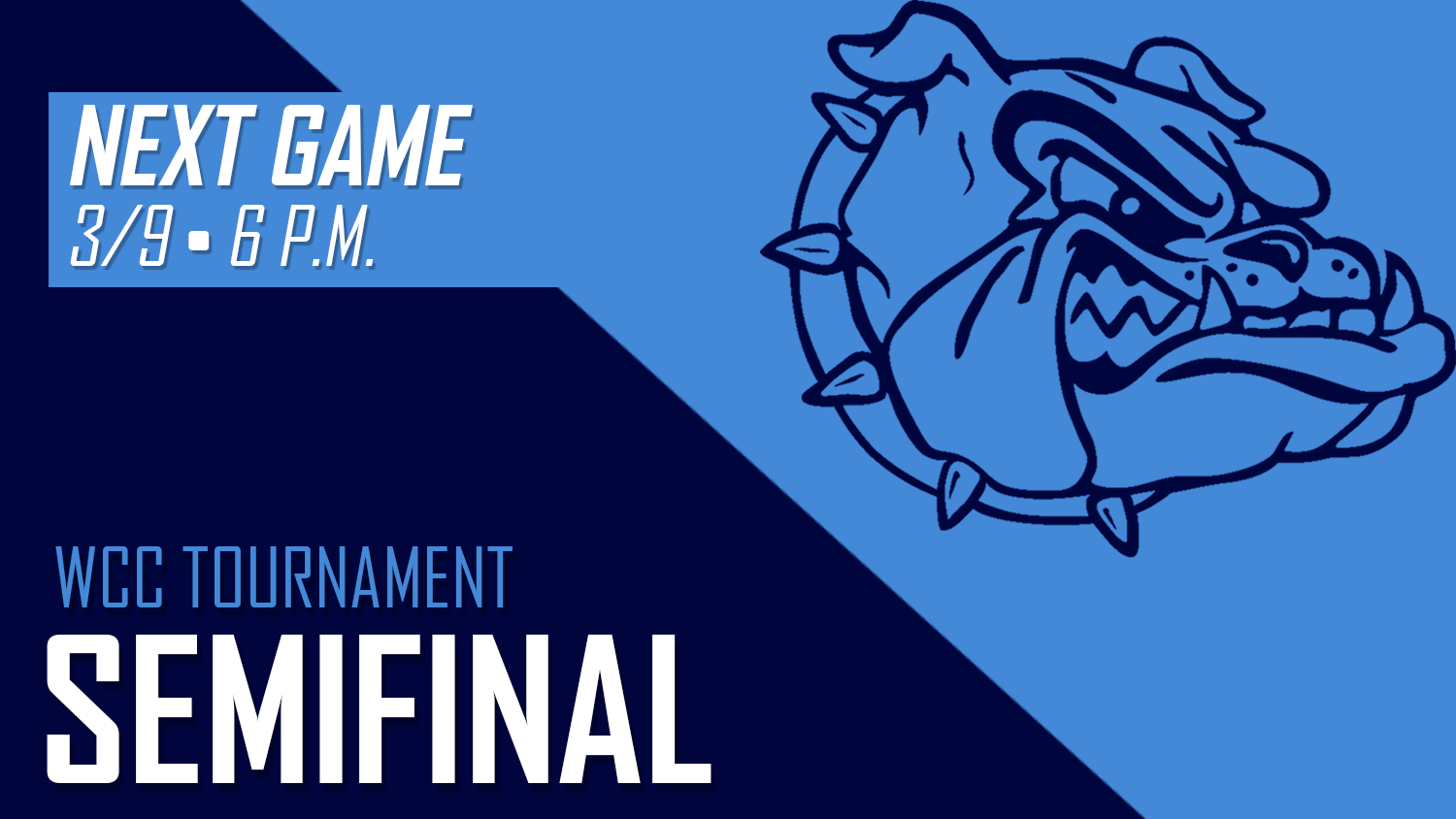 First half
15:55 – Gonzaga 8, Saint Mary's 8: Senior night star Killian Tillie has four points on 2-of-2 shooting as the Zags and Gaels are deadlocked after the first four minutes.
Saint Mary's guard Jordan Ford has four points to lead the Gaels.
Both teams are 4-of-8 shooting.
Saint Mary's jumped out to a 6-2 lead after it made its first three shots.
11:51 – Gonzaga 19, Saint Mary's 18: Corey Kispert has scored the last four points and the Bulldogs have the lead after weathering some solid Gales' shooting.
Kispert is up to seven points on 3-of-5 shooting.
Saint Mary's took a 3-point lead after making four straight shots, including 3-pointers by Jordan Ford and Tanner Krebs.
Ford and Krebs have seven points apiece for Saint Mary's.
7:41 – Gonzaga 27, Saint Mary's 27: Gaels guard Jordan Ford has a game-high 12 points and SMC and GU are deadlocked at the under-8 timeout of the first half.
Ford has made two 3-pointers and is 5-of-9 shooting.
Killian Tillie leads Gonzaga with nine points, however the senior forward has two fouls. The Bulldogs only have just three fouls total.
Saint Mary's has been whistled for seven fouls, but none of the Gaels top scorers are facing foul trouble.
3:21 – Saint Mary's 34, Gonzaga 31: An 8-1 Gaels' run gave SMC some separation before Filip Petrusev and the Zags fought back.
A Petrusev dunk off a nice Ryan Woolridge feed snapped a 2:13 scoreless run for the Zags and pulled Gonzaga within 2. A Woolridge layup on a possession later tied the game.
Saint Mary's center Jock Perry then scored the next three points.
Halftime
Gonzaga 34, Saint Mary's 34: Gaels guard Jordan Ford has 12 points to lead all scorers and SMC and the Bulldogs are tied heading into the final 20 minutes.
Filip Petrusev leads Gonzaga with 10 points, Killian Tillie has added nine and Corey Kispert has seven.
Ford is 5-of-11 shooting and has made two 3-pointers.
Petrusev has done most of his damage at the free-throw line. The sophomore forward is 6 of 8 from the stripe.
Tillie, being honored on Senior Night, made his first two shots and is 4-of-5 shooting, but has battled foul trouble.
Six players have two fouls, three for each team.
Gonzaga's three forwards, Petrusev, Tillie and freshman Drew Timme, each have been called for three fouls.
Saint Mary's centers Jock Perry and Aaron Menzies have two fouls apiece as does Gaels forward Don Fotu. Perry has seven points and three rebounds.
Second half
15:45 – Gonzaga 45, Saint Mary's 42: A 3-pointer by Corey Kispert puts the Bulldogs up 3 after the first four minutes of the second half.
Kispert has 13 points on 5-of-8 shooting. The junior is 3 of 4 from 3-point range.
Jordan Ford has a game-high 16 points for Saint Mary's.
Gonzaga forward Filip Petrusev picked up his third foul when he was called for a charge in transition. He has 13 points.
11:52 – Gonzaga 52, Saint Mary's 44: Corey Kispert got hot at the right time for the Bulldogs as GU was able to build its biggest lead of the game.
Gonzaga took a 52-42 lead after a 10-0 run that was started and capped by a pair of Kispert 3-pointers. The junior had eight points during run. Ryan Woolridge scored the other two.
Saint Mary's went 3:28 between baskets as the Zags seized control.
Kispert now has a game-high 18 points.
Guard Jordan Ford has 16 points on 7-of-14 shooting to lead Saint Mary's.
7:55 – Gonzaga 65, Saint Mary's 54: Filip Petrusev is up to 22 points for the Zags as Gonzaga grabbed its largest lead of the game behind the sophomore forward.
Petrusev has made 5 of his last 6 shots as GU took a 65-51 lead. The Bulldogs ripped off an 11-5 run after their 8-0 run was snapped.
Jordan Ford has 21 points to lead SMC.
0:52 – Gonzaga 82, Saint Mary's 72: Filip Petrusev now has 27 points on 8-of-12 shooting and the Bulldogs are less than a minute away from a Senior Night win.
Saint Mary's guard Jordan Ford has done all he can to keep the Gaels in the game. He has 28 points on 12-of-21 shooting.
After Saint Mary's went on a quick 7-0 run to cut the GU lead to 73-68, Admon Gilder made a couple of tough baskets for the Bulldogs before Joel Ayayi stepped into a 3 to put GU up 8.
Pregame
Senior Night
Local journalism is essential.
Give directly to The Spokesman-Review's Northwest Passages community forums series -- which helps to offset the costs of several reporter and editor positions at the newspaper -- by using the easy options below. Gifts processed in this system are not tax deductible, but are predominately used to help meet the local financial requirements needed to receive national matching-grant funds.
Follow along with the Zags
Subscribe to our Gonzaga Basketball newsletter to stay up with the latest news.
---