A&E
Great Northwest Wine: Platinum Judging helps ID year's best gold medal winners
Wed., Jan. 1, 2020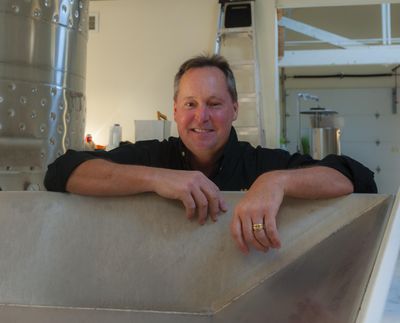 In a deliciously thoughtful exercise that spanned a record 749 entries and three days, Wine Press Northwest magazine staged its 20th Platinum Judging in October.
Since 2000, the publication of the Tri-City Herald in the heart of Washington wine country has invited producers from the Pacific Northwest, which includes Oregon, British Columbia and Idaho, to enter their gold medal-winning wines into the Platinum Judging.
Andy Perdue, who founded the magazine in 1998, developed the year-end blind tasting as a way to determine "the best bottle of wine in the Northwest." For 2019, the No. 1 wine, dubbed "Best of the Best," is the Chateau Faire Le Pont 2015 Cabernet Sauvignon from Red Mountain.
It received a unanimous vote for "Platinum" from the judging panel, and the point system used by organizers allowed the cab from a boutique producer in Wenatchee to nudge out a number of other impeccable wines.
Grapes for winemaker/co-owner Doug Brazil's fab cab were grown about a 20-minute drive from the Tri-City Herald and carry a pedigree. Shaw Vineyard is owned by Dick and Wendy Shaw, 2018 inductees into the Legends of Washington Wine Hall of Fame.
Their vineyard manager is the affable Marshall Edwards, named in 2017 as Grower of the Year by the Washington Winegrowers Association. "Marshall knows a lot more about growing grapes than I do," Brazil quipped. "I trust him."
Brazil, a graduate of the University of Georgia, spent 21 years in the Navy, first as a helicopter pilot and then a recruitment officer. His last post was in Seattle, and he opened the winery with his wife, Debé, in 2002.
As the latest Platinum Judging showed, there's never been a better time to be drinking Pacific Northwest wine. Twenty years ago, 225 wines qualified for the Platinum. This time, more than 2,100 gold medals were awarded among the 53 state, regional, national and global contests, followed by Wine Press Northwest.
A record 234 wines were awarded Platinum, a rate of 31%. That would be a ridiculously high percentage for an open competition, but each entry came after having received a gold medal or better from at least one respected judging.
Among the highlights for the 2019 Platinum was the presence of wine buyers on the judging panel. These folks are on the front line of the industry, interacting with consumers and learning what types and styles of wine are most interesting and worthy of attention.
Ilene Dudunake of A New Vintage Wine Shop in Meridian; Jeffrey Hellam of Hellam's Vineyard Wine Shop and Wine Bar in La Conner and Steven Sinkler at the Wine Shack on Cannon Beach, Oregon, rank as influentials, each owning and operating a wine shop that offers customers more than a decade of history and years of knowledge.
In seeking out these wines, it's important to remember each earned a gold medal during the previous 12 months. That means there's been a buzz surrounding their release, so supply in many instances at the winery will be limited. "I have a little bit left, but it was a good seller," Brazil said of his 2015 Shaw Cab.
The wines listed below received a "double Platinum." In each case, your first inquiry should be with a wine merchant or the winery. However, since Dudunake, Hellman and Sinkler judged the Platinum, there's a chance that one of them reached out to the winery and secured a few bottles for their own customers.
For the complete list of Platinum winners, visit winepressnw.com, or pick up a copy of the Winter 2019 edition, which was published on Friday.
Chateau Faire Le Pont Winery 2015 Cabernet Sauvignon, Red Mountain, $60: One judge remarked, "It was a Platinum on the nose alone." Expressive dark plum, black cherry, clove and nutmeg aromas are compelling and beautifully integrated on the palate. Its structure is long and supple with superb balance to the tannin and acidity, making this extremely classy.
Ancestry Cellars 2017 Reminiscence Riesling, Columbia Gorge, $20: One of the coolest sites for grapes in the Pacific Northwest is Underwood Mountain Vineyard above White Salmon. That's why Jason Morin focuses much of his efforts with riesling to this site.
Wet stone on the nose speaks adamantly to varietal correctness, and the flavor profile lines up equally well. Petrol, grilled peaches, sugared lime peel, green apples and minerally tones create a brilliant kaleidoscope of flavors on the vibrant palate.
Left Coast Estate 2016 Estate Cali's Cuvée Pinot Noir, Willamette Valley, $25: The flagship pinot noir by Joe Wright, named for the owner's daughter, reflects portions of each block at Left Coast Cellars. There is a freshness to the berries and cherries on the nose, which are echoed on the palate. It's deep and fully flavored with juicy purple plums, sweet black cherries and a pinch of baking spice.
Woodward Canyon Winery 2016 Old Vines Cabernet Sauvignon, Washington State, $99: Rick Small has made this cab since he and his wife, Darcey Fugman, received their winery bond in 1981, and it remains connected to Champoux and Sagemoor vineyards, two of the oldest sites in Washington. The intense, all-about-cab nose is simply irresistible.
Cassis, fresh tobacco, spice-tinged black plum chutney, hints of cedar, anise, black cherry, olive tapenade and well-managed oak wow the palate. It's pristinely balanced, and the taut tannins make this perhaps the most age-worthy cab produced in the Northwest year after year. This marks Platinums for consecutive vintages from Woodward Canyon's Old Vines program.
Cave B Estate Winery 2018 Cave B Vineyard Cuvée Blanc, Ancient Lakes of Columbia Valley, $27: This historic winery adjacent to the Gorge Amphitheater spins out a remarkable example of a white bordeaux in this blend of sauvignon blanc (60%) and sèmillon.
Striking citrus and tree fruit aromas engage the senses as this crisp and bright wine reveals layers of pear, grapefruit, fresh chopped herbs and orange zest. Rocking acidity keeps it vibrant through the last drop. Perhaps there will be a few bottles left this winter when the Bryan family opens its satellite tasting room at the Columbia Gardens Urban Wine & Artisan Village in Kennewick.
Laissez Faire 2018 Red Wine, Snake River Valley, $18: There's not much sangiovese grown in Idaho, but Melanie Krause of Cinder Wines takes advantage of the juicy Italian red to set the tone for her nicely priced second label. Backed by mourvèdre, merlot and tempranillo, this eclectic blend from Williamson and Sawtooth vineyards just plain works.
It begins with notes of dried cherries, pomegranate, red raspberries and a pinch of dried herbs. Hints of smoke and earthiness add dimension.
Andy Perdue and Eric Degerman operate Great Northwest Wine. Learn more about wine at greatnorthwestwine.com.
Local journalism is essential.
Give directly to The Spokesman-Review's Northwest Passages community forums series -- which helps to offset the costs of several reporter and editor positions at the newspaper -- by using the easy options below. Gifts processed in this system are not tax deductible, but are predominately used to help meet the local financial requirements needed to receive national matching-grant funds.
Subscribe to the Spokane7 email newsletter
Get the day's top entertainment headlines delivered to your inbox every morning.
---