News > Crime/Public Safety
Crews work to contain fuel spill, recover locomotives after train derails into Kootenai River
Jan. 2, 2020 Updated Thu., Jan. 2, 2020 at 9:33 p.m.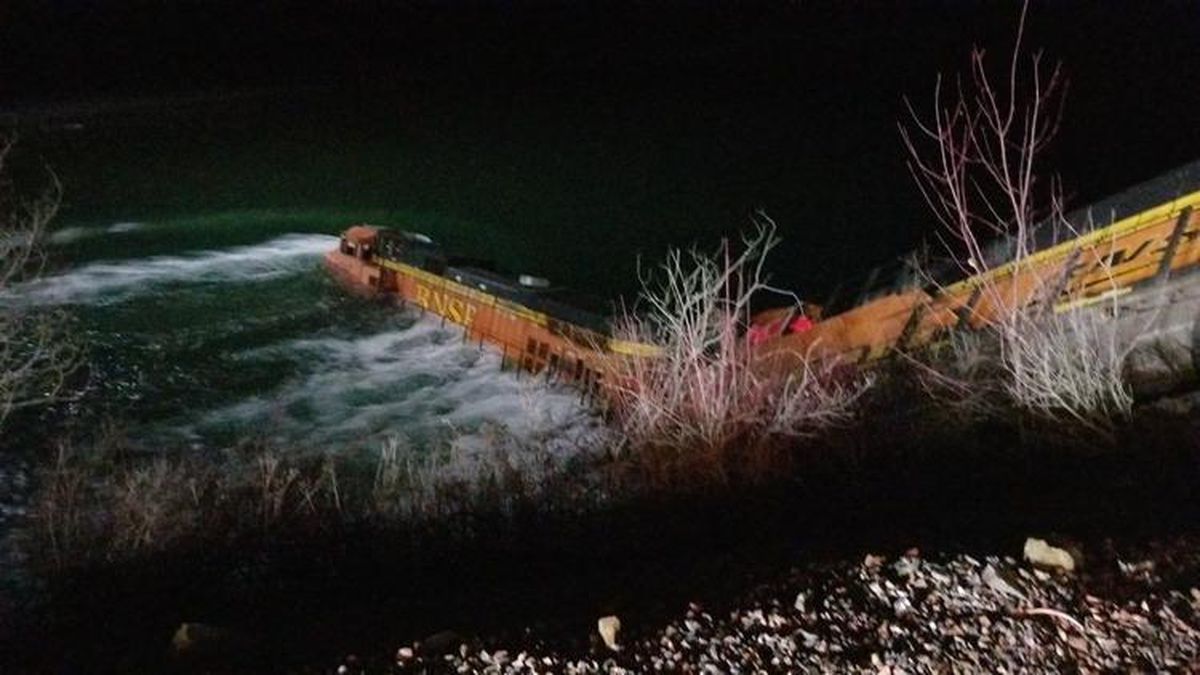 Emergency crews have rescued two train operators trapped in a BNSF engine that derailed into the Kootenai River 10 miles east of Bonners Ferry on Wednesday, Jan. 1, 2020. (Courtesy of Idaho State Police)
A rock slide damaged and blocked BNSF train tracks along the Kootenai River late on New Year's Day, sending two train operators, the lead locomotive, two other train engines and six empty rail cars into the waterway.
The train operators were rescued from atop the sinking locomotive around 9 p.m. after Boundary County sheriff's rescue crews maneuvered a boat alongside it 10 miles east of Bonners Ferry. Neither operator was injured.
Boundary County declared a local emergency due to the incident and enacted an emergency order that closes all boat traffic on the stretch of the Kootenai River from the Rocky Point Boat Launch upriver to the Montana border, except for emergency response personnel, through Wednesday.
Crews deployed containment booms into the water to contain the fuel leaking from the lead engine, according to Boundary County Emergency Management.
BNSF officials estimated the engine contained at least 2,000 gallons of diesel fuel but did not know how much may have leaked into the river.
"There are crews in boats on the river right now who are doing that investigation," Boundary County emergency management spokesman Andrew O'Neel said on Thursday afternoon.
"At this point it doesn't look like there's a whole lot that's being captured … it doesn't look like it's leaking a lot right now," O'Neel said. "They're looking for places where there's a collection of diesel fuel that they can then clean up."
O'Neel said it won't be known how much fuel leaked until the locomotive is removed from the water. Removing all of the engines will take days at least, O'Neel said.
The rock slide that caused the derailment damaged the railway and still blocks both tracks.
The freight train was making its way from Minneapolis to Pasco carrying general freight, BNSF spokesman Gus Melonas said. The train included seven cars actively transporting various hazardous materials, none of which derailed or leaked.
BNSF is working with representatives from Idaho Department of Environmental Quality to determine the environmental impact.
The rail line was still shut down Thursday evening as railroad crews worked to clear the rock slide debris and wreckage, recover the locomotives and repair the tracks.
"They are beginning the re-railing process," Melonas said. "We will use cranes to bring the locomotives up from the bank and the river as this cleanup process is underway."
Melonas said BNSF is unsure when the line will be reopened.
According to the Idaho State Patrol, Crossport Road, Cow Creek Road and Ash Street will likely be congested while crews work in the area.
Local journalism is essential.
Give directly to The Spokesman-Review's Northwest Passages community forums series -- which helps to offset the costs of several reporter and editor positions at the newspaper -- by using the easy options below. Gifts processed in this system are not tax deductible, but are predominately used to help meet the local financial requirements needed to receive national matching-grant funds.
Subscribe now to get breaking news alerts in your email inbox
Get breaking news delivered to your inbox as it happens.
---