News > Spokane
Providence nurses, workers statewide – including in Spokane – announced intend to strike on Jan. 14
UPDATED: Fri., Jan. 3, 2020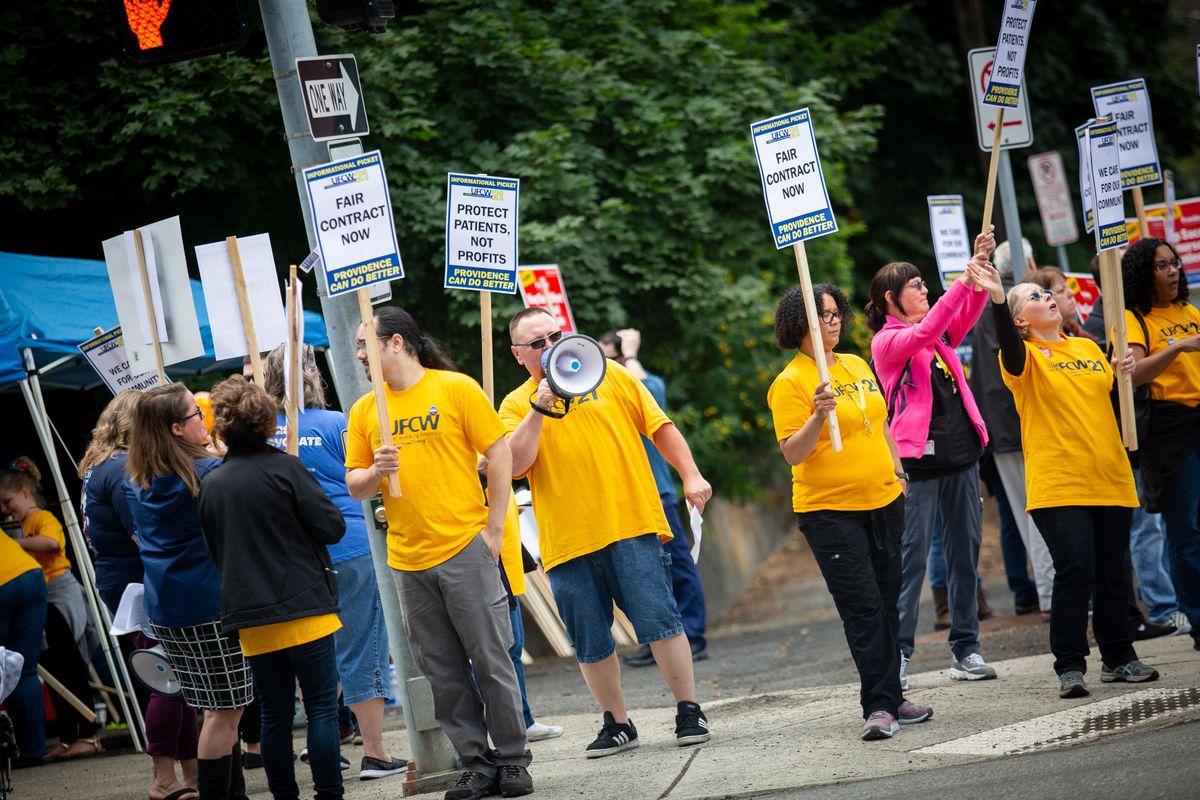 Joe Osborne, a bargaining member for negotiations of the United Food and Commercial Workers (UCFW) union helps lead a picket with Sacred Heart nurses and staff outside of Providence Sacred Heart Medical Center on June 27 in Spokane. Unionized Providence workers intend to strike starting on Jan. 14. (Libby Kamrowski / The Spokesman-Review)
FRIDAY UPDATE: Unions representing thousands of health care workers in Washington announced early Friday that they have postponed a strike.
ORIGINAL REPORT:
Unions representing about 13,000 nurses and other health care workers at many Providence locations statewide, including at Spokane's Sacred Heart Medical Center and Holy Family Hospital, intend to strike starting Jan. 14.
"It is planned for that date unless a tentative agreement is reached prior to that time," Amy Clark, communications director at SEIU Healthcare 1199NW, said.
News conferences where the announcement will become official are planned for Friday morning in Spokane and Seattle.
On Thursday night, Providence had not received a strike notice from the unions.
"At this time, Providence is still bargaining in good faith with the goal to come to an agreement so we can continue to live our Mission to care for all," a statement from Providence said. "We will respect the rights of our caregivers to participate in a strike if that action occurs."
Nurses and other health care workers represented by the Washington State Nurses Association, SEIU Healthcare 1199NW and UFCW 21 are at several Providence hospitals statewide, including at the largest hospitals in the state: Seattle's Swedish Medical Center and Sacred Heart Medical Center in Spokane. The three unions united their efforts in December after months of negotiations.
Contract negotiations differ from hospital to hospital.
Nurses represented by WSNA at Sacred Heart Medical Center, as well as health care workers represented by UFCW 21 at Sacred Heart and Holy Family Hospital in Spokane, are asking that Providence not change their paid time off and sick leave policies.
Union members' benefits package currently include an extended-illness program that accrues over time and can be used not only when an employee is sick but also when family members are sick.
The most recent negotiations for nurses at Sacred Heart, with a federal mediator, were on Dec. 11. In those negotiations, Providence officials proposed that current nurses could keep their extended illness time, as well as grandfathering current nurses into the paid time off plan, a statement from Providence said. WSNA is pushing for these benefits for new hires, however.
"Providence's proposals still eliminate all EIT (extended illness time) benefits for new hires and prevent current nurses from accruing any additional EIT hours. Our resolve to continue fighting for ALL nurses has not wavered," a Dec. 11 news release from WSNA said.
On the west side of the state, SEIU Healthcare 1199NW represents 8,000 workers at several Swedish locations. Safe staffing is at the core of those negotiations with Providence-Swedish officials.
"Workers at Swedish believe that the staffing levels are not adequate to provide the kind of care they want to be able to provide patients," Clark told The Spokesman-Review this week. "They want to see a stronger effort from Swedish to recruit and retain caregivers."
Clark said SEIU members at Swedish locations report colleagues and co-workers leaving due to staffing levels. Swedish officials acknowledged staffing as one of their main concerns, too.
"A significant shortage of qualified health care professionals has impacted providers across the country and Swedish is no exception with more than 900 open union-represented positions," a Dec. 30 statement from Swedish officials said. "To address this shortage, Swedish is proposing to partner directly with SEIU to convene an intensive series of discussions in January 2020 focused on recruiting and retaining qualified candidates and building the current workforce through professional development pathways."
UFCW 21 represents about 4,000 health care workers and some nurses at other Providence hospitals in Everett, Olympia, Walla Walla and Centralia. All UFCW 21 bargaining units were at the table together this week for the first time, said Tom Geiger, the union's special projects director. Those negotiations were scheduled for Thursday and Friday.
Throughout contract negotiations, the unions have pointed to Providence's billion-dollar revenues in their arguments against the proposed changes to benefits. In 2018, Providence St. Joseph Health reported $24.4 billion in operating revenues. From those revenues, Providence earned $165 million in operating income, which the company has characterized as essentially breaking even.
The unions must give the hospitals a 10-day advance notice before workers can go on strike. Unions overwhelmingly voted to authorize strikes last fall, and negotiations have been ongoing since then.
Local journalism is essential.
Give directly to The Spokesman-Review's Northwest Passages community forums series -- which helps to offset the costs of several reporter and editor positions at the newspaper -- by using the easy options below. Gifts processed in this system are not tax deductible, but are predominately used to help meet the local financial requirements needed to receive national matching-grant funds.
Subscribe now to get breaking news alerts in your email inbox
Get breaking news delivered to your inbox as it happens.
---