A&E
A towering proposal: Idaho couple become engaged atop The Spokesman-Review after scavenger hunt in Spokane
Jan. 4, 2020 Updated Sun., Jan. 5, 2020 at 12:12 p.m. "She knows but is playing along," a text message from Travis Christensen said last Monday night and sent during a quick-and-covert bathroom break while dining at Wild Sage Bistro downtown with his girlfriend, Kendra Buell.
Christensen, 32, had orchestrated an elaborate scavenger hunt in Spokane to propose to Buell, his girlfriend of 1 ½ years, and Sage was the third-to-last stop before the final site where he planned to pop the question: the clocktower at the 136-year-old The Spokesman-Review.
Christensen, who works as a training mate for Crowley Marine Services' Puget Sound ship assist and escort operations but is based in Moscow, had reached out to the newspaper a few weeks ago about his marriage proposal, and the reply to his request was an immediate yes.
Christensen said he spent about 2 ½ weeks planning the scavenger hunt proposal for Buell, 26. His itinerary, which included being driven around by Spokane Limousine, was the following cast and locations:
2:15 p.m.: Drinks at the 1910 Restaurant bar at the Spokane Club and first note
3 p.m.: The Jewel Box Salon with Abbey Crawford and Neva White from Finders Keepers boutique for Buell's hair, makeup and wardrobe
5 p.m.: Couple arrive separately at Auntie's Bookstore, and Christensen, in luau attire, changes into a tuxedo
5:50-6:05 p.m.: Rain Lounge with a live performance by Colby Acuff
6:15-6:30 p.m.: Wild Sage Bistro for dinner
7:15-7:30 p.m.: The Childhood Express Red Wagon in Riverfront Park for the final clue
7:30 p.m.: Proposal at The Spokesman-Review clocktower escorted by editor Rob Curley "for the win!," Christensen said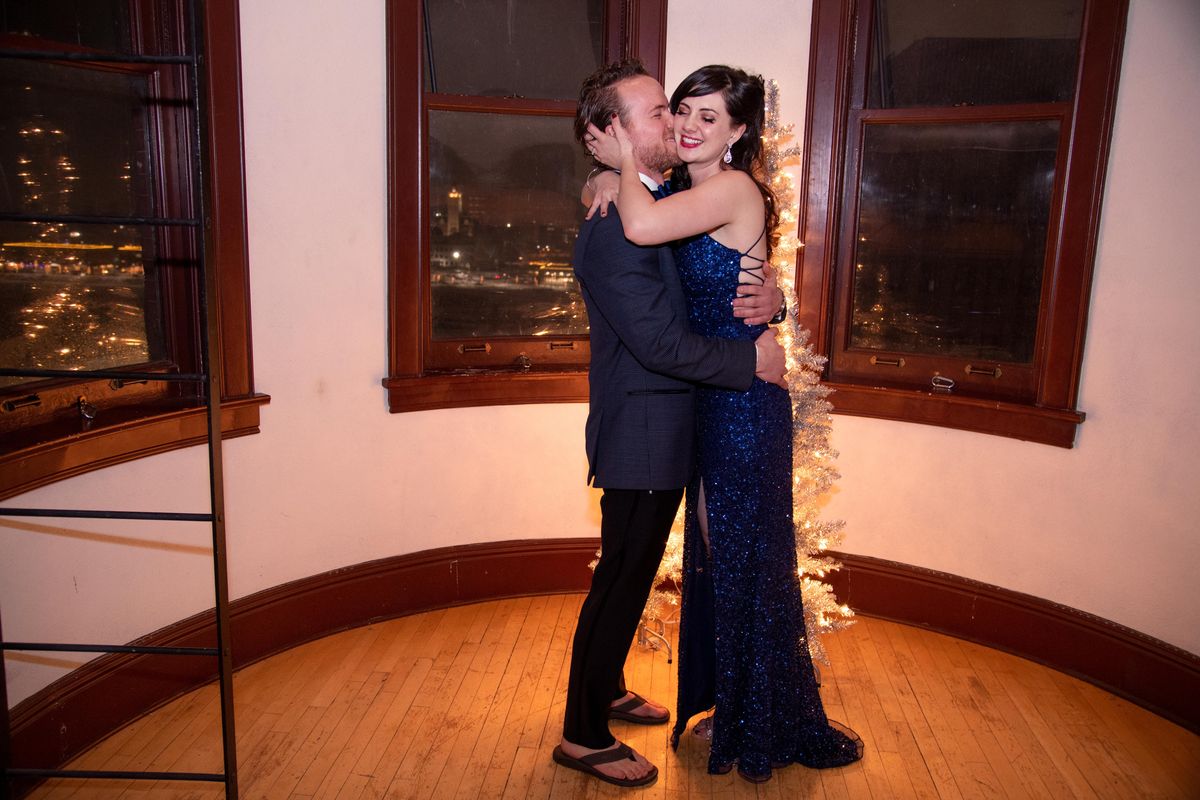 Travis Christensen and Kendra Buell hug after a marriage proposal in The Spokesman-Review clocktower on Monday, Dec. 30, 2019, in downtown Spokane. (Jesse Tinsley / The Spokesman-Review)
Buell, who hails from St. Maries, lives in Moscow and is an assistant sponsored programs administrator at the University of Idaho, said of the scavenger hunt: "The whole day was magical. I had no idea what was happening, and I was very skeptical about 'the group,' the secret society guiding us. Travis' optimism and love were electric and really sparked a fire in me to want to continue."
"There were moments throughout the day when I thought maybe he was going to propose, but then he would say something to throw me off or act like it was just a game," Buell continued. "He really had me guessing. When we arrived at The Spokesman-Review, I thought, 'Yep, we really are just playing a game' because Travis seemed just as surprised as I was that we were getting a tour of the newspaper. He is a good actor."
The adorable – and now engaged – couple, Christensen with a ready and exuberant laugh and Buell with a friendly smile, officially met shortly after a family reunion when he was introduced to her by her sister Alyson and brother-in-law Brett Payne.
(Christensen said their first interaction was actually during Buell's senior year in 2012 when he was a substitute teacher for a day at St. Maries High School. According to Buell, Christensen even yelled at her and one of the guys on the team – he was an assistant high school baseball coach at the time – for talking too much in class.)
After a few unanswered calls and voicemails to Buell, Christensen tried another tactic. He left a message saying that he was Shaquille O'Neal as a joke and recommended that she contact his friend Travis. She took the bait, calling him back and asking, "Is this Shaq?" Their first date was shortly after at Ales for the Trail at McEuen Park in downtown Coeur d'Alene in 2018.
"The best part of the scavenger hunt, of course, was her saying yes," Christensen said over the phone Wednesday evening post-proposal and before getting ready for his midnight-6 a.m. work shift.
"The unexpected tour of The Spokesman-Review was also a favorite part of the night, and the most exciting part was finding the final envelope underneath the slide in Riverfront Park. Up until the slide of the Childhood Express Red Wagon, everything had gone smoothly so far."
Unbeknown to the couple, Christensen's friends Travis and Jessica Harmon of Spokane were running late and nearly missed placing that final envelope underneath the slide. The Harmons recalled the close call during a celebratory gathering at Rain Lounge post-proposal as rain and snow fell last Monday night.
The Harmons delivered nearly all the materials for the scavenger hunt proposal. Travis Harmon had to leave the car with the final envelope to run to the slide, and their push-buttom vehicle shut down on the parking garage on-ramp because he had the key in his pocket.
"We almost didn't make it for the final clue," Travis Harmon said. "We're just so happy that we could be part of this special day," Jessica Harmon added. The couple also were part of a "re-proposal" at Rain to throw off Buell.
One hiccup of the day for Christensen was his tuxedo rental. He thought it was the full setup, but it included only the pants and jacket, as he would find out shortly after checking into the Spokane Club. Jos. A. Bank saved the day, as Christensen picked up a shirt and bowtie, but no shoes. In keeping with his fun-loving personality, he paired his tuxedo with flip-flops.
"Man, she makes me a better person in ways I didn't know," said Christensen, who said Buell and he are planning for a midspring wedding in Spokane. "I love Kendra's disposition, her laugh and how she brings snacks almost anytime we travel farther than 5 miles. Also, she's a total babe."
"I couldn't have done this scavenger hunt proposal without these people. Everyone who helped was so invested in the success of the evening," Christensen said. "The support was beyond anything I imagined when I started, and Spokane was the only city that I wanted to make this happen."
"There is so much I love about Travis, including his ability to laugh and play and his genuine enjoyment of life," Buell said. "He is very spontaneous, and we genuinely have so much fun together no matter what we are doing. I am excited to spend the rest of my life with him."
Local journalism is essential.
Give directly to The Spokesman-Review's Northwest Passages community forums series -- which helps to offset the costs of several reporter and editor positions at the newspaper -- by using the easy options below. Gifts processed in this system are not tax deductible, but are predominately used to help meet the local financial requirements needed to receive national matching-grant funds.
Subscribe to the Spokane7 email newsletter
Get the day's top entertainment headlines delivered to your inbox every morning.
---