News > Idaho
Spokane-area skiers killed in Silver Mountain avalanche remembered as search for missing person continues
Jan. 8, 2020 Updated Thu., Jan. 9, 2020 at 6:49 p.m.
A skier rides the gondola down from Silver Mountain after an avalanche claimed the lives of two people on Tuesday, Jan. 7. (Kathy Plonka / The Spokesman-Review)Buy a print of this photo
THURSDAY UPDATE: Helicopter locates body of third skier killed in Silver Mountain avalanche
While friends and family mourned two longtime Silver Mountain skiers killed in an avalanche at the ski area Tuesday morning, the search for another skier reported missing by family Wednesday continued into the night.
Five people were rescued with minor injuries Tuesday from the avalanche that occurred on Wardner Peak, which ski patrol had just opened after a morning of avalanche-control explosions.
Carl Humphreys, 58, of Liberty Lake, and Scott Parsons, 48, of Spokane Valley, were identified by friends and family as the skiers who died.
Humphreys had just began skiing an expert run called 16 to 1 with a group of three others when the avalanche buried them. One woman was only partially buried and helped rescuers locate the others. Humphreys was found after about an hour beneath the powder. Medical personnel told volunteers they they detected shallow breathing from him, but the resort said he was transported to the hospital and died.
The Idaho Panhandle Avalanche Center issued an avalanche warning Tuesday morning for the Silver Valley region, citing high risk due to "rapid loading with new snow and wind slabs over the buried persistent weak layers." The center advised against travel in avalanche terrain.
The main avalanche that swept down the ski run has been described as a size 4 avalanche by rescuers combing the avalanche area. Such an avalanche is considered large on a a scale of 1-to-5, with 5 being the largest.
Parsons was not found until hours later and died at the hospital, the ski resort said around 8:30 p.m. The resort said at the same time that they believed all skiers were accounted for.
But at about 7:30 a.m. Wednesday, a person reported they had been unable to contact a family member who the resort confirmed had been skiing during the time of the avalanche. That call came about 15 minutes before the resort announced it was closed for the day. A van belonging to the missing skier was found in the Silver Mountain parking lot, according to a person assisting in the rescue efforts.
Jeff Colburn, a Silver Mountain manager, said 60 people and at least two dogs were searching the avalanche site Wednesday afternoon during a news conference recorded by KHQ. He said the search crews rotated through personnel from Kootenai County Search and Rescue, the Shoshone County Sheriff's Office and the other four ski resorts in the region, among other agencies.
The missing person was not located as of 8 p.m. Wednesday, as safety personnel were continuing to search debris, according to the resort. The ski area will be closed Thursday and Shoshone County Sheriff Mike Gunderson previously said a search would resume in the morning if crews did not find the skier Wednesday evening.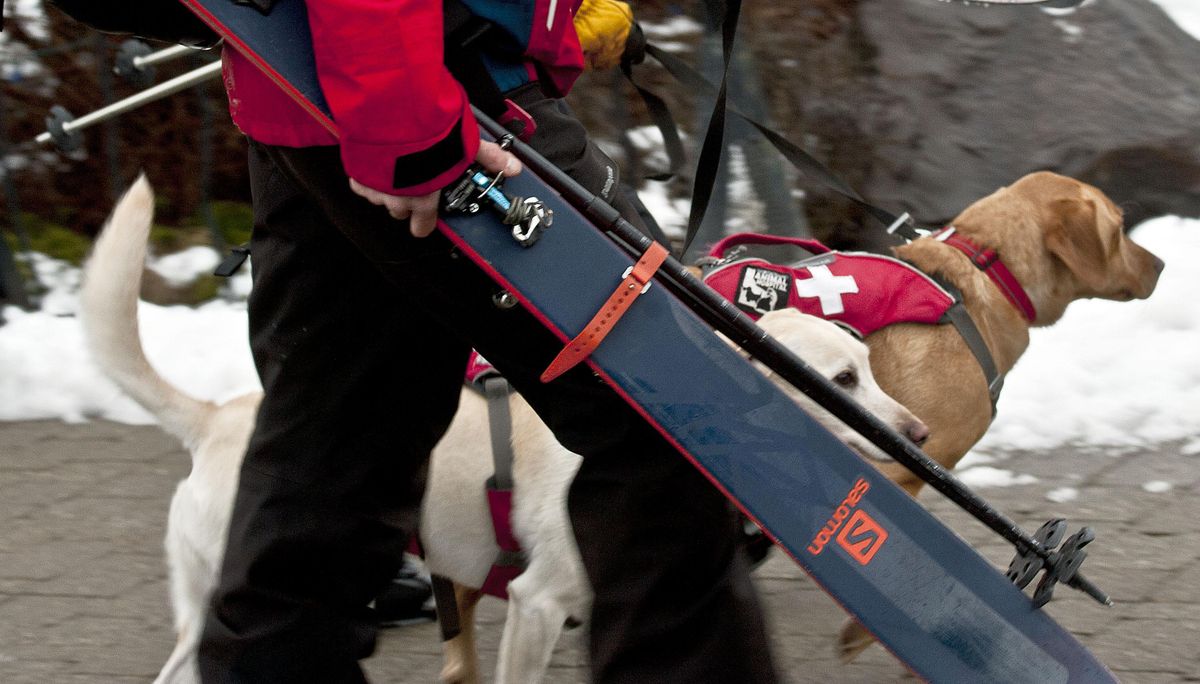 Search and rescue dogs arrive at Silver Mountain in Kellogg after an avalanche claimed the lives of two people on Tuesday, Jan. 7, 2020. (Kathy Plonka / The Spokesman-Review)Buy a print of this photo
Humphreys and Parsons, the men who died, were friends and frequent ski buddies, according to people who knew them.
Friends and family remembered Humphreys, of Liberty Lake, as a soft-hearted adrenaline junkie. Nicknames for the avid skier, mountain biker, whitewater rafter, diver, surfer and kayaker included Big Kahuna, Crazy Carl and the Honey Badger.
"His true passion was the outdoors," said Humphreys' stepson Darrick Hayman, a teacher in Western Washington. "He would 100% percent much rather play than work."
Humphreys lived in the Spokane area his whole life, graduating from Central Valley High School and attending Eastern Washington. He went on to a long career in the mortgage industry.
He learned to water ski and wakeboard on Liberty Lake long before it was popular, Hayman said, and then he figured out how to surf the lake trailing behind a boat. When the water froze, he swept it with neighbors for ice skating and hockey games.
Mike Raynor, the branch manager at Peak Mortgage, where Humphreys was a loan officer, said the adventure-seeker chose to ski or hit the water in the mornings and worked until late in the evening, rather than work normal hours.
"I would live vicariously through his adventures, because I couldn't do that. My wife would kill me," said Raynor, who regularly got lunch with Humphreys to discuss their families and worries. "I don't consider him as my employee. He was my friend."
Tracy Owen remembered playing cards with Humphreys during a regular group poker night when one of their friends collapsed due to a heart attack. Humphrey's jumped in to perform CPR, and the man he helped is alive today, Owen said.
In the time since Humphreys' wife of 25 years, Carra, was diagnosed with dementia, Hayman said his stepfather took care of her on his own until she was placed in assisted living last spring.
"He was a fantastic caretaker for her as long a he could do it himself," Hayman said. "It's been his life for the last three years."
Having no kids of his own, Hayman said, Humphreys first learned how to be around young kids with his grandchildren.
"He was always worried about making sure he was providing a good example to young kids, making sure he was supportive of the ways me and my wife parent," Hayman said. "He was a vital component of" raising them as good men.
Humphreys taught Hayman's youngest to mountain bike and now he competes on a mountain biking team. And though he was a risk-taker in his younger years, he learned to be more cautious as he grew older. He began wearing a helmet skiing 10 years ago, when it wasn't fashionable, and always made sure his grandsons had one.
Paul Hoskinson rode the gondola up to Silver Mountain with Humphreys and Parsons, who often drove together from the Spokane area, and he skied with them most of the morning. He said he opted not to head to Chair 4 and Wardner Peak but could just have easily been in line with them.
"For 20 years, we skied a thousand lines together," Hoskinson said of Humphreys. "He was a force on the hill."
Hoskinson, who skied with Parsons for about a decade, said he was a "really easygoing, get-along guy" who worked in web design and technology. It appears Parsons was involved in a number of other local businesses.
The memories Parsons posted to his social media showed a diving trip to the Maldives in November, as well as a budding passion for underwater photography and decade-old photos of cutting through fresh powder at Silver Mountain.
"He was a bigger than life guy who loved adventure which took him globe-trotting around the world," one of his friends, who could not be reached for an interview, wrote on Facebook. "Thank you for all the help and advice you have given me!"
Hoskinson said Humphreys often skied longer into the day than Parsons, so they would meet up in the afternoon at the lodge, where Parsons would be holding a drink or soaking in the hot tub, before heading west together.
Though Humphreys grew more careful in his later years, Hayman said he's confident news of an avalanche wouldn't have scared him away from the mountain.
"He would be chasing the next adventure," Hayman said.
Local journalism is essential.
Give directly to The Spokesman-Review's Northwest Passages community forums series -- which helps to offset the costs of several reporter and editor positions at the newspaper -- by using the easy options below. Gifts processed in this system are not tax deductible, but are predominately used to help meet the local financial requirements needed to receive national matching-grant funds.
Subscribe now to get breaking news alerts in your email inbox
Get breaking news delivered to your inbox as it happens.
---