News > Health
Evolving concussion care: Two new centers in Spokane offer neurological approach
Wed., Jan. 8, 2020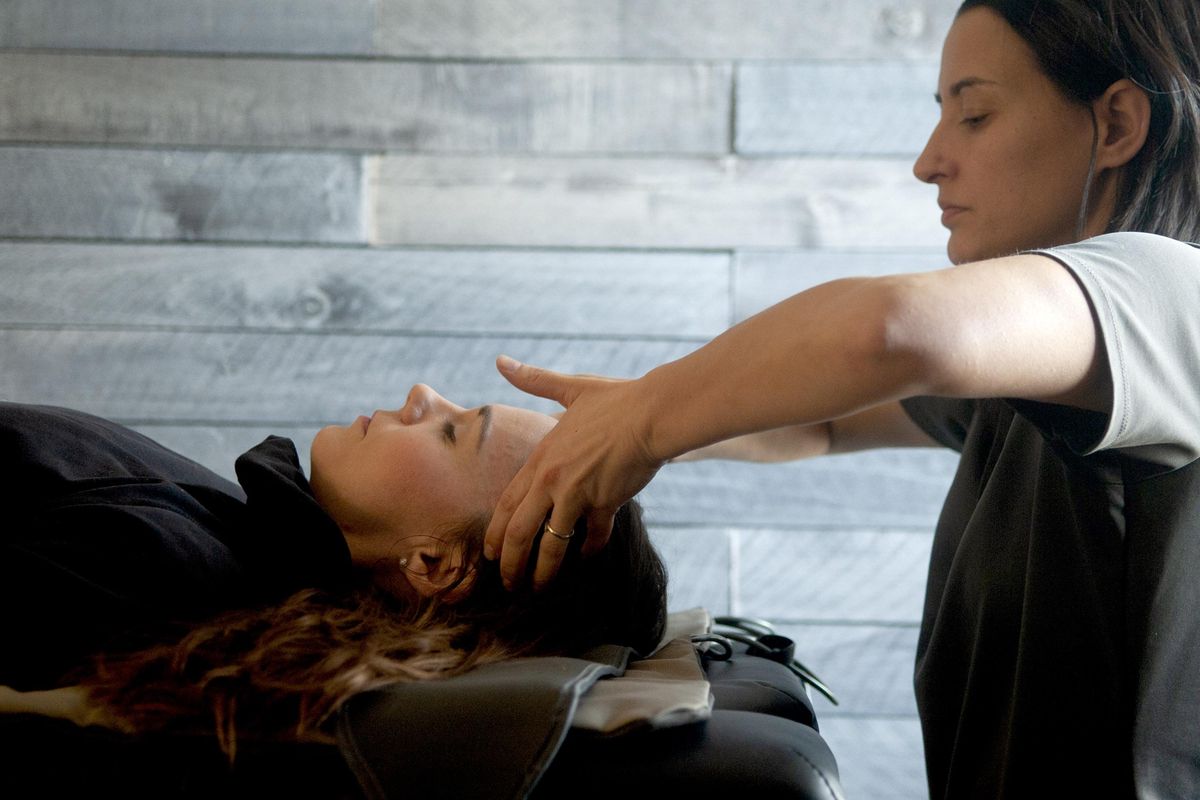 Occupational therapist Maile Mohsenian works with Krista Johnson at Empire Concussion and Trauma Recovery on Wednesday, Dec. 18, 2019. Kathy Plonka/THE SPOKESMAN-REVIEW (Kathy Plonka / The Spokesman-Review)
Concussion patient Krista Johnson rested as occupational therapist Maile Mohsenian put pressure against her body affecting the peripheral nervous system.
They were at Empire Concussion and Trauma Recovery on the South Hill, which Mohsenian opened three months ago and has a second location on the North Side. She also owns and operates Empire Pediatric Therapy at both locations.
Johnson's weekly treatments started within a week of an Oct. 3 accident when she was hit by a car. Among her concussion symptoms, she felt sensitivity to light and noises.
"I was super jumpy at the beginning, so with any loud noise, if my kids dropped something, it would bring me to tears," Johnson said. "This has calmed me down completely. I still have a little noise sensitivity, but it doesn't bother me as much."
Traditional physical and occupational therapies focus mainly on a biomechanical model, Mohsenian said. Getting the body to move repeatedly, or a patient to do a task over and over, helps the brain make a connection with that pattern.
Empire's therapists use other approaches to consider neural pathways and connections to the brain to aid concussion recovery, she said.
"We use an inside-out model," Mohsenian said. "When you think of the brain and the spinal cord being the central nervous system, and then all the nerves that go out to the rest of our body – the peripheral nervous system – I'm touching the peripheral nervous system to send messages to the brain."
In applying pressure to affect the nervous system, the brain also sends a message back down. "Instead of asking her to do an exercise over and over, to build that neural pathway, I work on her body to help heal the brain."
Concussion treatment in recent years has evolved, Mohsenian added, far past earlier recommendations that a person should just go home to rest and eventually the brain would heal itself.
A concussion is a type of traumatic brain injury caused by a blow or jolt to the head, or a hit to the body. Symptoms include headaches, nausea, balance and visual issues, noise sensitivity, fatigue, sleep problems, irritability, nervousness and difficulties concentrating and remembering.
Mohsenian said when a concussion or trauma occurs, the body goes into a "fight or flight" response. Typically, the body also goes into a protection posture that causes almost a rounded stance and affects reflexes, she added.
Empire's therapy rooms provide low stimulation with lowered lighting, while its therapists focus on neurological and body functions, Mohsenian said. The program uses the Masgutova Method known in parts of Europe as a neurological approach.
The method considers 22 primary reflexes that develop into neural pathways of the body for cognitive, emotional, behavioral, sensory and motor functions. Masgutova has techniques to bring the body out of a protection posture and back to normal functions, she said.
"If you look at all the primary reflexes, they're all responsible for the emotional and physical well-being of the body," Mohsenian said.
"When the body goes into protection, your reflexes go almost backward, or they stop working. Say you hit your head on something, and your body went into protection by putting your hands out, making your neck stiff and whatever of the primary 22 reflexes you went into, that reflex went through so much trauma that it got stuck.
"Now, we need to go back and re-educate it so the body goes back to homeostasis, a prior level of function."
Other concussion factors include inflammation in the brain and continuing tension in the body, along with built-up stress hormones. While concussion patients know cognitively that the traumas is over, "The brain stem doesn't have a time clock, so it continues to think you're in the trauma," she said.
She said Masgutova considers that with neurological steps to send signals to the brain.
Other clinic strategies include encouraging patients to follow an anti-inflammatory diet that's heavy on whole foods such as fruits and vegetables while avoiding processed foods.
Patients also spend time in sessions laying on a device called a BEMER, which stands for Bio Electro-Magnetic Energy Regulation. The medical device stimulates circulation of the smallest blood vessels by sending low-frequency electromagnetic pulses.
"Basically what it does is it increases microvascularization into areas of the body we can't," Mohsenian said. "It's not like you can ice the brain. This goes in and allows for more microvascularization to decrease discomfort."
She said the concussion and trauma sessions also help in retraining the body to relax, to be more in a state of "rest and digest." Most treatments have a patient laying down on the back or stomach to remove gravity and for a neutral position to send signals along neural pathways.
For Johnson, Mohsenian also massaged her forearm as one area where the body stores cortisol, a stress hormone. She said flushing that cortisol – among other benefits – can help a person get better sleep.
"Sleep is often a big issue with people who have concussions, so we always try to get the cortisol to decrease and increase serotonin levels by telling people to move a lot throughout the day," she said.
Depending on the severity of a concussion, someone might start with three times a week for about two weeks, then it goes to two times, followed by one time a week until the person doesn't have symptoms.
A mild concussion might require only two or three sessions. Clinic patients include those with concussions from vehicle accidents, but they are mostly from sports injuries. They include people recently diagnosed with a concussion and others who suffered from one years ago, she said.
"It's definitely more effective to get them right after a concussion, but there is still a significant amount of progress we can make for people who have what's called post-concussion syndrome."
Mohsenian said Empire's therapists go through hours of continuing education regarding trauma, auditory and visual care, and balance and inner ear protocols.
The center offers concussion and trauma recovery treatments, which means some patients experienced only trauma, such as veterans with post-traumatic stress disorder or sexual assault victims.
Empire's regular pediatric services include physical, occupational and speech therapies. It has long worked with children after concussions along with its other pediatric services, but Mohsenian said she kept hearing from adults who sought the clinic's approach for post-concussion care.
"I kept hearing from people in the community who were years out and still having concussion symptoms," Mohsenian said. They described being unable to work or having to lie down for the rest of the day.
"I feel we can fill the gap, like bringing the body out of protection and working on the hypersensitivity to visual and auditory stimuli."
Local journalism is essential.
Give directly to The Spokesman-Review's Northwest Passages community forums series -- which helps to offset the costs of several reporter and editor positions at the newspaper -- by using the easy options below. Gifts processed in this system are not tax deductible, but are predominately used to help meet the local financial requirements needed to receive national matching-grant funds.
Subscribe now to get breaking news alerts in your email inbox
Get breaking news delivered to your inbox as it happens.
---