A&E
'I had a rebirth in music': Coeur d'Alene country singer-songwriter Colby Acuff, 23, talks 'Life of a Rolling Stone'
Jan. 9, 2020 Updated Thu., Jan. 9, 2020 at 6:01 p.m.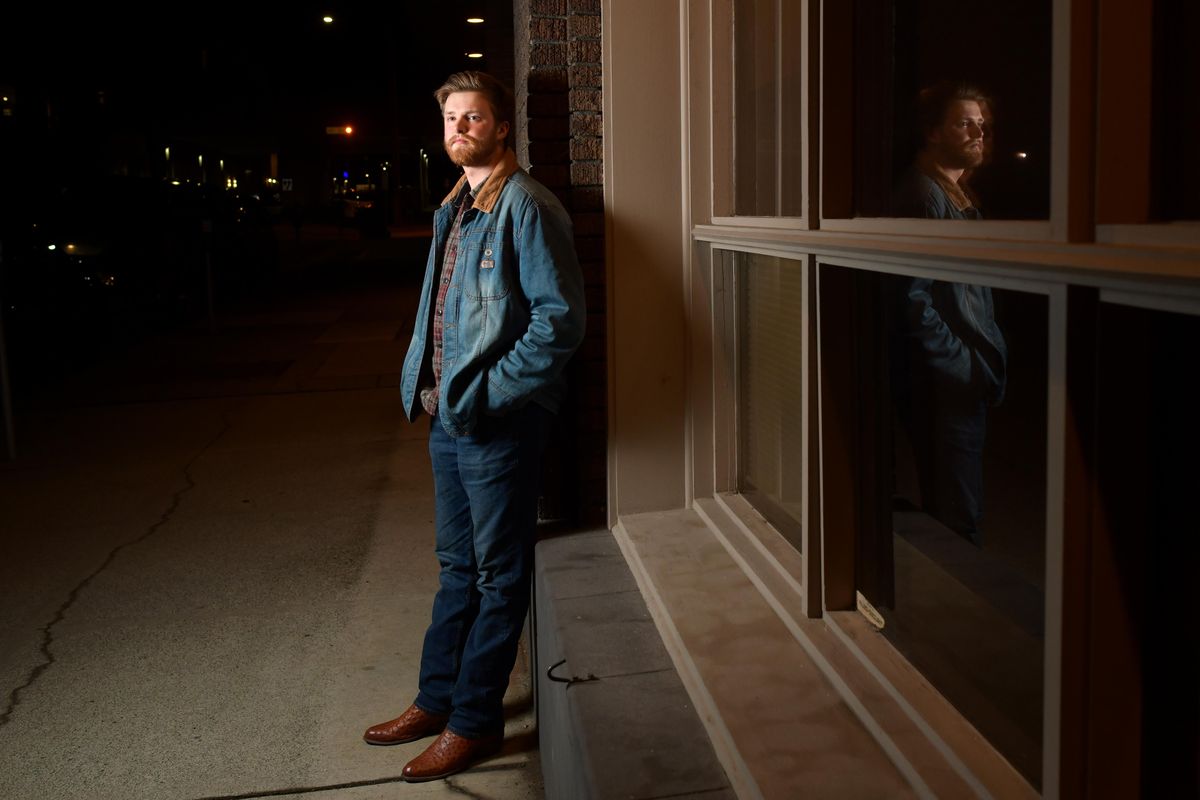 Country singer-songwriter Colby Acuff poses for a photo in downtown Spokane on Wednesday. Acuff, who hails from Coeur d'Alene, is releasing a new album, "Life of a Rolling Stone," next Wednesday. (Tyler Tjomsland / The Spokesman-Review)
Colby Acuff, a 23-year-old country singer-songwriter who was born and raised in Coeur d'Alene, is starting out 2020 with a bang by releasing his first full album, "Life of a Rolling Stone," next Wednesday on multiple mainstream platforms.
The University of Idaho graduate, who has been performing regularly since age 16, has shows in his college town of Moscow and hometown of Coeur d'Alene each month. Along with singing and writing songs, Acuff has played the piano since age 5 and also plays the guitar (his favorite instrument) and drums.
Acuff talked about his new music available on platforms including iTunes and Spotify (Pro tip: If you go to colbyacuff.com starting today, you can pre-save his new album on Spotify and Apple Music.); growing up in Idaho; his country music influences; and more over a few beers at the new Brick West Brewing on West Sprague downtown on Tuesday night:
Tell me about your new album, "Life of a Rolling Stone."
I've been writing songs since I was 16, but I kind of shelved all my music for a while. Then I started performing music again in my college town, Moscow, and linked up with a bass player. He wanted to go on tour, and I said, "I'll go on tour only if we do an album." That's when it all started.
I had a rebirth in music, so I actually wrote "Life of a Rolling Stone" for this album. Some of the songs on this album are from when I was 16 and 17, and some of them were written specifically for this album.
How long have you been working on this album?
We started recording this album in November at the Den Studios in Boise. The producer's name is Kyler Daron.
What are the influences of your songs on "Life of a Rolling Stone"?
The reason I love this album so much is because of the title song. The song is about being a musician where you're playing as background music and for tips. As Eric Church said it best, these boots have played "one night roadhouse stands for tips in empty rooms."
I started that song, and when I got to the second chorus, I realized that this song is not about me. I was writing subconsciously about Hank Williams, one of my heroes. It's about being a musician, and it's a dedication to him.
The songs on the album are based on experiences in my life. One of the songs is titled "The Moscow Drinking Team" about my buddies from college. I wrote a song about my girlfriend titled "Sparks Begin to Fly."
You've been performing since high school?
I played my first gig when I was actually 12, but I performed regularly starting at 16. At age 12, I was the lead singer and drummer in a band. Then I picked up a guitar and performed my first solo show at the downtown (Fraternal Order of) Eagles in Coeur d'Alene. I still play there today.
Who are your musical influences?
Hank Williams is my favorite songwriter and legend. My modern-day influences are Tyler Childers, Brothers Comatose and Luke Combs. I love Jason Isbell. A lot of songwriters. I've listened to Bobby Bare since I was 3 years old in a car seat. A lot of these songwriters have been a part of my life for a long time. And I'm a big fan of Sturgill Simpson and Eric Church.
What did you think of the Luke Combs concert at the Spokane Arena on Nov. 1?
It was great. He sounded just like he does on his albums. He's probably the best vocalist in country music right now. People would kill for that kind of powerful and raspy voice. He can sing anything.
He has 16 songs in the Top 25 right now, and he's already broken records by Garth Brooks, George Strait and Johnny Cash. He's amazing, he's a normal guy, and people love him.
A buddy of mine went to see Luke Combs in Boise in 2018, and there were 30 people. He got to talk to him one on one. At the arena in November, I went with that same buddy to see Luke Combs, where he sold out all 18,000 seats. He is a true success story.
How would you describe your music?
It's Americana and honest. I've been classifying myself as Big Sky country with Southern roots, as you'll see on my Spotify. I write with my emotions on my sleeve, and I hope that my honest music is relatable. It's my first full album, and all my inspirations have influenced me.
What's keeping you busy now besides the release of your new album?
Right now I'm working on a tour. I hope to go on tour in April throughout Montana. It's our first year, and I'm excited to learn a lot. I have a lot of good people on my side. I'm a fly-fishing guide, and I took the Brothers Comatose fly-fishing last summer. Meeting Brothers Comatose had a huge impact on me.
Along with music, I'm a guide for Northwest Outfitters, and I also am a real estate agent at Northwest Realty Group.
What has been the best part of growing up in Coeur d'Alene?
It's a mixture of things. Growing up in the outdoors is huge for me. I'm a huge outdoorsman. Fly-fishing and duck hunting. And I grew up around great people. That's another thing about Coeur d'Alene that I love.
What's the difference between performing in Coeur d'Alene and Moscow?
The difference between playing in Coeur d'Alene and Moscow is that Coeur d'Alene is really fun because you're playing weddings and fairs. I grew up playing in Coeur d'Alene at private events and a couple bars.
In Moscow, you're playing all these coffee and brew houses, and it's packed to the gills with a hundred college students. It is just the best thing, a rippin' fun time. Moscow allowed me to play my original music and believe in it.
I love playing in Coeur d'Alene and Moscow for different reasons. At one point, I was going to hang this up. I didn't know what I wanted to do. In college, it was a big rebirth for me to get my music to other people and have them react the way they have.
What's next for you, Colby?
After a small tour in Montana, we plan to play locally, and then next fall we'll do an Idaho tour. When we end the tour in Boise, we'll start working on a second album to be released about the same time next year.
Local journalism is essential.
Give directly to The Spokesman-Review's Northwest Passages community forums series -- which helps to offset the costs of several reporter and editor positions at the newspaper -- by using the easy options below. Gifts processed in this system are not tax deductible, but are predominately used to help meet the local financial requirements needed to receive national matching-grant funds.
Subscribe to the Spokane7 email newsletter
Get the day's top entertainment headlines delivered to your inbox every morning.
---