New year brings new theatrical productions to Inland Northwest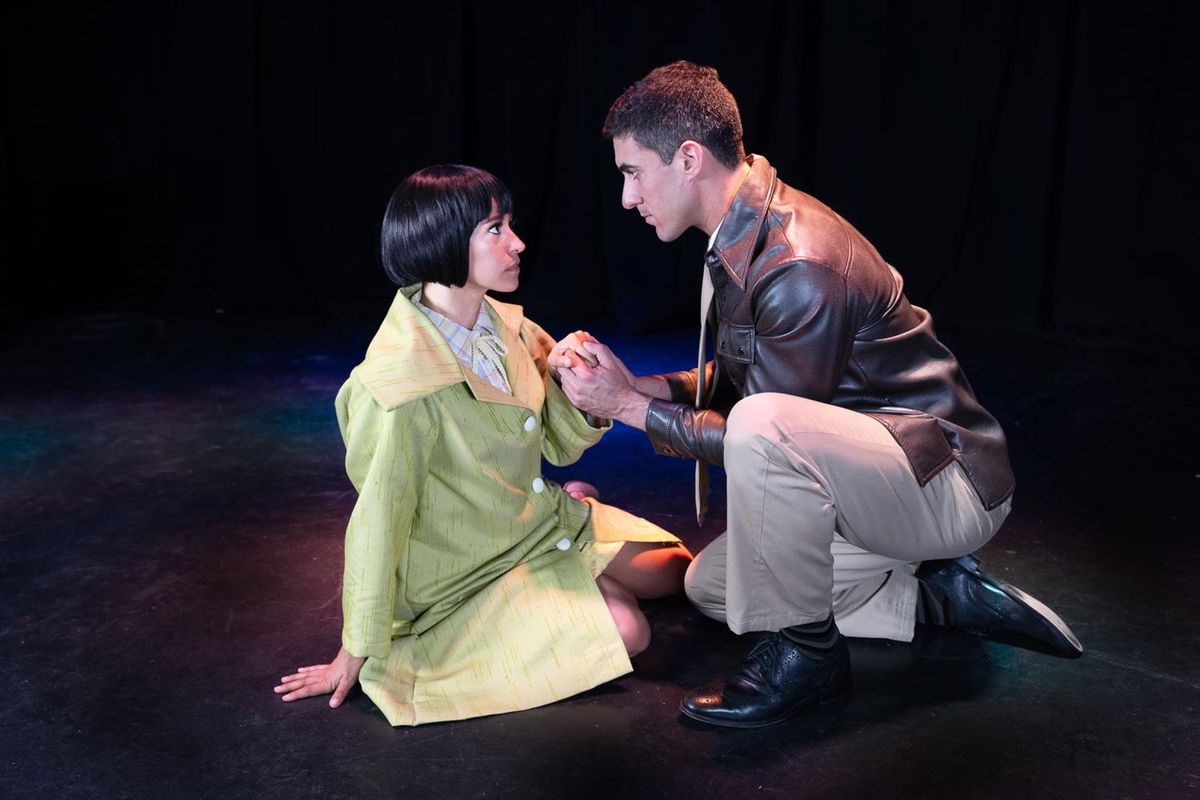 A new year means new theatrical productions are opening on four area stages this week.
Stage Left Theater, Spokane Civic Theatre, the First Interstate Center for the Arts and Lake City Playhouse will open "Mandelstam," "Present Laughter," "An American in Paris" and "Fun Home," respectively.
Read on to learn more about each production.
'Mandelstam'
When Joseph Stalin ruled, "One wrong word could get you killed." And after he writes a poem making fun of Stalin's mustache, Stalin has Russian poet Osip Mandelstam in his sights.
Things are set in motion when one night, Mandelstam's friend and fellow poet, Boris Pasternak, receives a phone call from Stalin asking him what should be done about Mandelstam.
Pasternak tries to convince Stalin that Mandelstam is harmless, but he is conflicted and wants to give the dictator the benefit of the doubt. But Mandelstam understands the danger of seeing Stalin as anything but the evil man he is.
Playwright Don Nigro's "Mandelstam" takes audiences on the poet's journey into exile as his work is destroyed and his wife, Nadezhda, works to preserve as much as she can.
The play opens at Stage Left Theater tonight and runs through Jan. 26. It's directed by Doug Dawson and stars Ben Dyck as Mandelstam, J.P. O'Shaughnessy as Stalin/the Devil, Sean Behary as Pasternak and Phletha Donean as Nadezhda/Mrs. Pasternak.
If you go: Today through Jan. 26. 7:30 p.m. Thursdays through Saturdays; 2 p.m. Sundays; Stage Left Theater, 108 W. Third Ave.; $20-$25, available through spokanestageleft.org.
'Present Laughter'
There are a lot of characters in Noël Coward's "Present Laughter," but they all have one person in common: Garry Essendine (Patrick McHenry-Kroetch).
Essendine, a suave matinee idol, is too old, according to his wife Liz (Elisabet Edwards), to be having multiple affairs. (Yes, his wife is aware of his affairs.) During the show, Essendine has encounters with Daphne Stillington (Abby Constable), a young admirer, and Joanna Lyppiatt (Rebecca Craven), the wife of his producer Hugo (R. Scott Cantrell).
Just before Essendine leaves on tour, things go downhill as the "full extent of his misdemeanors are discovered," which leads to a series of frantic comings and goings from nearly the entire cast.
In 2017, the revival was nominated for a Tony Award for best revival of a play, as well as best costume design. Kevin Kline, who played Essendine, won the Tony for best performance by an actor in a leading role in a play. He also won the Drama Desk Award for outstanding actor in a play.
Civic's production, directed by Melody Deatherage, opens tonight and runs through Feb. 2.
The play also stars Phedre Burney-Peters (Monica Reed), Paul J. Watts (Fred), Kaylan Martin (Roland Maule), Robert Tombari (Morris Dixon), Eve Luppert (Miss Erikson) and Mary Jo Rudolf (Lady Saltburn).
If you go: Today through Feb. 2. 7:30 p.m. Thursdays through Saturdays; 2 p.m. Sundays; Spokane Civic Theatre, Firth J. Chew Studio Theatre, 1020 N. Howard St.; $25; $15 all-ages rush 30 minutes before curtains, available through spokanecivictheatre.com.
'An American in Paris'
"An American in Paris," based on the 1951 Academy Award-winning film of the same name, combines beloved songs by George and Ira Gershwin and show-stopping dance numbers to bring love in the City of Light to the First Interstate Center for the Arts on Tuesday and Wednesday.
World War II veteran Jerry Mulligan (Branson Bice) decides to settle in newly liberated Paris to make a name for himself as a painter. He's settling in nicely when he meets shop girl Lise (Fiona Claire Huber), who has a secret of her own. But things get complicated when Mulligan learns he is not the only one interested in her.
The musical premiered at the Théâtre du Châtelet in Paris in 2014 and opened on Broadway the following year. The Broadway production went on to win multiple Tony, Drama Desk and Outer Critics Circle awards, among others.
"An American in Paris" features Gershwin classics like "I Got Rhythm," "Liza," " 'S Wonderful," "But Not For Me" and "Stairway to Paradise." The musical also stars Daniel Cardenas (Henri Baurel), T.J. Lamando (Adam Hochberg), Chris Carsten (Monsieur Baurel) and Jesse Graham Galas (Madame Baurel).
If you go: 7:30 p.m. Tuesday and Wednesday; First Interstate Center for the Arts, 334 W. Spokane Falls Blvd.; $49.50-$89.50, available through TicketsWest.
'Fun Home'
In Lake City Playhouse's production of the musical "Fun Home," the audience meets Alison (Ann Benson), Small Alison (Ruby Krajic) and Middle Alison (Olivia Davies). In other words, graphic novelist Alison Bechdel during three periods of her life.
After her father's unexpected death, Bechdel reflects on her past to tell his story, recalling time spent playing at the family's funeral home, coming to understand her own sexuality and "the looming, unanswerable questions about her father's hidden desires."
"Fun Home" opened Off-Broadway in 2013 and on Broadway in 2015. Both the Off-Broadway and Broadway productions were nominated for, and won, multiple awards, with the Broadway production taking home several Tony Awards, including best musical, best book of a musical and best original score.
Lake City Playhouse's production of "Fun Home" officially opens Jan. 17 and runs through Feb. 2, but audiences can get an early look at the musical on Thursday during the fundraiser for the North Idaho Pride Alliance.
The production also stars Josh Koester (Bruce), Simon Daly (Joan), Rebecca Walker (Helen), Niko Lucky (Christian), Max Holm (John) and Gabriel Single-Schwall (Roy/Mark/Pete/Bobby).
If you go: North Idaho Pride Alliance Benefit: 5:30 p.m. Thursday. Lake City Playhouse, 1320 E. Garden Ave., Coeur d'Alene; Benefit: $25, available through Eventbrite.
---