News > Spokane
100 years ago in Spokane: Spokane jitneys 'appear doomed' after court ruling
Sun., Jan. 12, 2020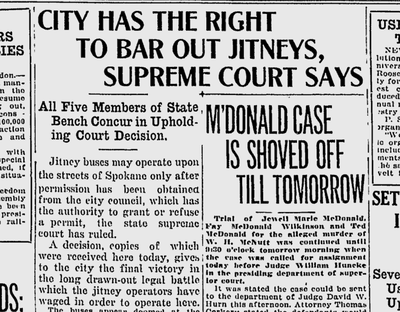 The city won a "final victory" in its legal battle to keep jitneys off of Spokane's streets, the Spokane Daily Chronicle reported.
The Washington State Supreme Court ruled that jitneys could operate only with the permission of the City Council — and the the City Council had already showed its willingness to ban them entirely.
Jitneys were small vans or buses, privately owned, which picked up paying passengers on set routes. The city had been opposed to them for years, on the grounds that they undercut the existing streetcar lines.
The Chronicle concluded that jitneys "appear doomed" in Spokane.
From the court beat: Dr. Mary Swartz was once again on trial for manslaughter in a Spokane courtroom.
At issue was whether Fay Hamilton died as the result of wounds inflicted during an abortion procedure conducted by Dr. Swartz.
This was the second trial on this charge. Dr. Swartz was found guilty in the first trial, but a new trial was granted on appeal.
An autopsy showed the cause of death resulted from blood poisoning induced by an abortion. However, as in the first trial, a great deal of conflicting evidence was presented.
A defense motion for dismissal was denied, and the case would probably go to the jury soon.
Local journalism is essential.
Give directly to The Spokesman-Review's Northwest Passages community forums series -- which helps to offset the costs of several reporter and editor positions at the newspaper -- by using the easy options below. Gifts processed in this system are not tax deductible, but are predominately used to help meet the local financial requirements needed to receive national matching-grant funds.
Subscribe to the Coronavirus newsletter
Get the day's latest Coronavirus news delivered to your inbox by subscribing to our newsletter.
---