News > Idaho
From mining towns to ski resorts, avalanches have killed dozens in North Idaho mountains
Sun., Jan. 12, 2020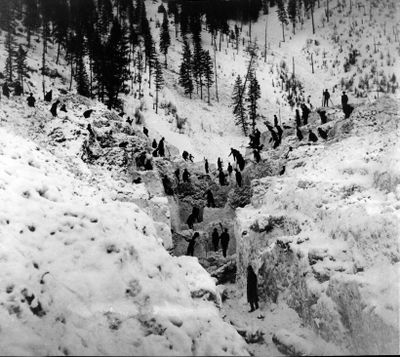 "Coming without the slightest warning, except for the thunderous roar momentarily preceding the shock, a huge avalanche swept down the precipitous sides of Custer mountain, completely burying the little town of Mace, Idaho, and filling the narrow Burke canyon to a depth of 75 feet, resulting in a toll of more than 20 killed and scores injured."
So began a Feb. 27, 1930, story in The Spokesman-Review, describing events that had occurred exactly two decades prior.
The destructive 1910 avalanche, which kicked off a week of natural disasters throughout the region, was recounted many times over the years – a reminder of the unavoidable dangers of shifting snow and ice.
"The Coeur d'Alenes face this menace of snowslides nearly every winter," read another Spokesman-Review story in 1937. "There have been many slides through the years, most of them claiming some lives. There is little that can be done about it."
Almost nothing remains of Mace, a mining town near the Montana border several miles north of what is now Interstate 90. In part, that's because the 1950s brought several more destructive avalanches to Mace.
Shortly after 1 a.m. on March 2, 1956, snow surged into the sleeping town, killing a 10-year-old boy and burying 20 other people in five houses, according to a story from the time.
The next year, on Feb. 5, two snowslides roared into the town of Wardner, about 20 miles west of Mace and just south of Kellogg. The toll, according to a story from the time, was: "One man dead; his wife critically injured. A mother and her small daughter 'badly hurt.' Another woman injured. Several homes demolished or damaged."
Wardner Peak is now part of the Silver Mountain Resort, where three skiers were killed and five others were buried in an avalanche on Tuesday.
It was not the first time an avalanche had buried skiers at the resort, which opened as Jackass Ski Bowl in 1968.
On Feb. 10, 1979, when the park was called Silverhorn Ski Resort, an avalanche swept up two Spokane men in their early 20s. One was trapped under 3 feet of snow for about 10 minutes, while the other managed to ski out of the sliding mass and call for help, according to a story from the time. The buried man was unconscious and not breathing when he was rescued, but he survived, the story said.
At Schweitzer Mountain Resort near Sandpoint, an experienced 28-year-old skier was killed on Feb. 15, 1981, when a small avalanche buried him within 100 yards of the chairlift, according to a story from the time. More than 100 volunteers on skis, snowmobiles and snowshoes searched for the man for five days before a rescue dog found him buried under at least 4 feet of snow, the story said.
Not all avalanches at ski resorts in the area have made headlines, and not all of them have been reported to safety authorities.
In December 2012, three skiers were buried but quickly rescued after small avalanches at Schweitzer.
Another two skiers were partially buried in two separate avalanches at Schweitzer in 2018, said Tom Eddy, the resort's snow safety supervisor. Both people were quickly extricated and were not injured.
There is no formal reporting process for inbound avalanches in the region, although that kind of information could be useful to the Idaho Panhandle Avalanche Center, which monitors snow conditions throughout the region and issues avalanche advisories, Eddy said.
"Coming from an IPAC standpoint, the more information that we can receive about any potential instabilities in our region is extremely helpful," said Eddy, who also serves as the board president for the nonprofit Friends of IPAC.
Spokesman-Review Outdoors editor Eli Francovich contributed to this report.
Local journalism is essential.
Give directly to The Spokesman-Review's Northwest Passages community forums series -- which helps to offset the costs of several reporter and editor positions at the newspaper -- by using the easy options below. Gifts processed in this system are not tax deductible, but are predominately used to help meet the local financial requirements needed to receive national matching-grant funds.
Subscribe to the Coronavirus newsletter
Get the day's latest Coronavirus news delivered to your inbox by subscribing to our newsletter.
---