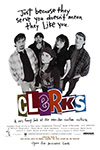 CLERKS
1994
Two not-really-competent clerks — one works at a convenience store and one at the video rental joint next door — discuss movies, their love lives and just about everything else — anything is better than waiting on those annoying customers.
STARRING
Brian O'Halloran and Jeff Anderson as the clerks and Jason Mewes and Smith himself as a couple of pot dealers who hang out in front of the store.
FACT
Smith actually was a clerk in that very convenience store. They'd shoot all night and then Smith would work all day. They filmed in black-and-white because Smith couldn't afford to have his film properly color-corrected.
FACT
The F-bomb is dropped 91 times in this film.

MALLRATS
1995
Dumped by their girlfriends on the same day, a couple of besties console each other by — what else? — hanging out at the mall, where they run across all their strange friends.
STARRING
Jason Lee, Jeremy London, Claire Forlani, Shannen Doherty, Ben Affleck — and, of course, Mewes and Smith.
FACT
Smith's "View Askewniverse" films famously take place in Jersey. But this one was filmed at Eden Prairie Center Mall, southwest of Minneapolis.
FACT
The studio wasn't sold on Mewes reprising his role as Jay so they brought in Seth Green to audition for the part.
FACT
Making a cameo appearance in which he offers romantic advice to one of the stars: Legendary Marvel comics creator Stan Lee.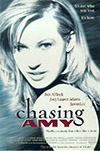 CHASING AMY
1997
Two comic book creators create a successful comic based on their lovable loser pals, Jay and Silent Bob. But the artist falls in love with another comic book artist, who happens to be a lesbian.
STARRING
Ben Affleck, Joey Lauren Adams, Jason Lee, Dwight Ewell, Mewes and Smith.
FACT
Smith was dating Adams at the time and based the story on his experiences with her.
FACT
Early in the film, Affleck's character, Banky, is accused by a comics fan of being a "tracer." That fan was played by Casey Affleck, Ben's brother.
FACT
Smith wrote three issues of the "Bluntman and Chronic" comic book shown in the film. And they were actually released by Image Comics.

DOGMA
1999
When two fallen angels plan to use a loophole to re-enter heaven and destroy all of creation, it's up to the last scion, the 13th disciple and two prophets — yes, those would be Jay and Silent Bob — to stop them.
STARRING
Ben Affleck, Matt Damon, Linda Fiorentino, Salma Hayek, Jason Lee, Chris Rock, Mewes and Smith.
FACT
Making a cameo appearance as God: singer/songwriter Alanis Morissette. Seriously.
FACT
Catholics turned out in droves to protest theaters that played the movie. Smith was so amused that he hopped out of his car one evening, picked up a spare sign and joined them. A local TV crew recognized him and interviewed him for the 11 o'clock news, but were kind enough to not out him in front of the mob.

JAY AND SILENT BOB STRIKE BACK
2001
When Jay and Silent Bob find out they're making a movie about Bluntman and Chronic — the comic book characters that are based on them — they take a road trip to Hollywood to demand their cut.
STARRING
Ben Affleck, Eliza Dushku, Shannon Elizabeth, Will Ferrell, Jason Lee, Mewes and Smith.
FACT
Ferrell plays a federal wildlife marshal named Willenholly ... think "Will and Holly," from the 1970s Saturday morning TV show "Land of the Lost."
FACT
Making a cameo as an actor playing a comic book villain: Mark Hamill. Making a cameo as a nun: Carrie Fisher.
FACT
The F-bomb is dropped 148 times in this film.
CLERKS II
2006
Dante and Randal move on from their dead-end jobs as convenience store clerks and get new dead-end jobs at a popular fast-food joint.
STARRING
Brian O'Halloran, Jeff Anderson, Rosario Dawson and guess who? Mewes and Smith.
FACT
The Mooby's burger joint was actually a closed-down Burger King in Buena Park, Calif., not far from Knott's Berry Farm.
FACT
By this point, Smith was able to feed on himself for material. For example, Randal's rant about the "Lord of the Rings" movies is taken nearly word-for-word from a rant Smith made onstage that appeared on "An Evening with Kevin Smith 2."
FACT
The F-bomb is dropped 136 times in this film.

JAY AND SILENT BOB REBOOT
2019
After Jay and Silent Bob are arrested for growing marijuana in the old video store, they discover there will be a rebooted "Bluntman and Chronic" movie. Naturally, they set off again for Hollywood.
STARRING
Everyone, say it along with me this time: Mewes! And Smith!
FACT
Originally, Stan Lee was to play a pivotal role near the climax of the movie. Smith had to rewrite after Lee's death.
FACT
Smith and Affleck had a falling out and barely spoke to each other for about 10 years. After a reporter asked Smith if Affleck would appear in this film, he added a part for him and filmed it at the last minute. Affleck called the cameo role "magical."
PLUS, TWO OTHERS
In 1994, Smith and his associates made an animated series for ABC-TV based on his original "Clerks" movie.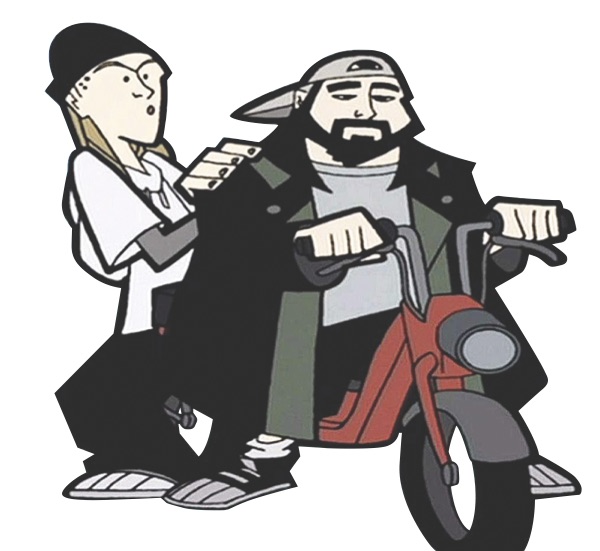 They made six episodes. ABC canceled the show after two were broadcast. The entire series would be released on DVD in 2001.
In 2013, Smith would try animation again, with an hour long movie: "Jay & Silent Bob's Super Groovy Cartoon Movie!"
Smith took the movie on the road, pairing it with Q&A sessions. It saw limited DVD release in 2015 and is now reportedly streaming on Netflix.
SMITH'S OTHER VENTURES
Smith wrote and directed "Jersey Girl" starring Affleck, Liv Tyler and George Carlin in 2004 and directed "Cop Out" starring Bruce Willis and Tracy Morgan in 2010.
In 2006, Smith was hired to write the script for a Superman movie — "Superman Lives," to star Nicolas Cage — but the project fell apart.
Smith has written a number of comic books: Most notably a six-issue Spider-Man/Black Cat team up, "The Evil That Men Do" and a six-issue Batman series, "The Widening Gyre."
Smith has appeared on reality TV shows, hosted a movie review show and has directed episodes of "The Goldbergs," "The Flash" and "Supergirl."
Smith owns a comic book store — Jay and Silent Bob's Secret Stash — in his hometown of Red Bank, NJ.