Stripped of party support, Rep. Matt Shea arrives in Olympia amid calls for his resignation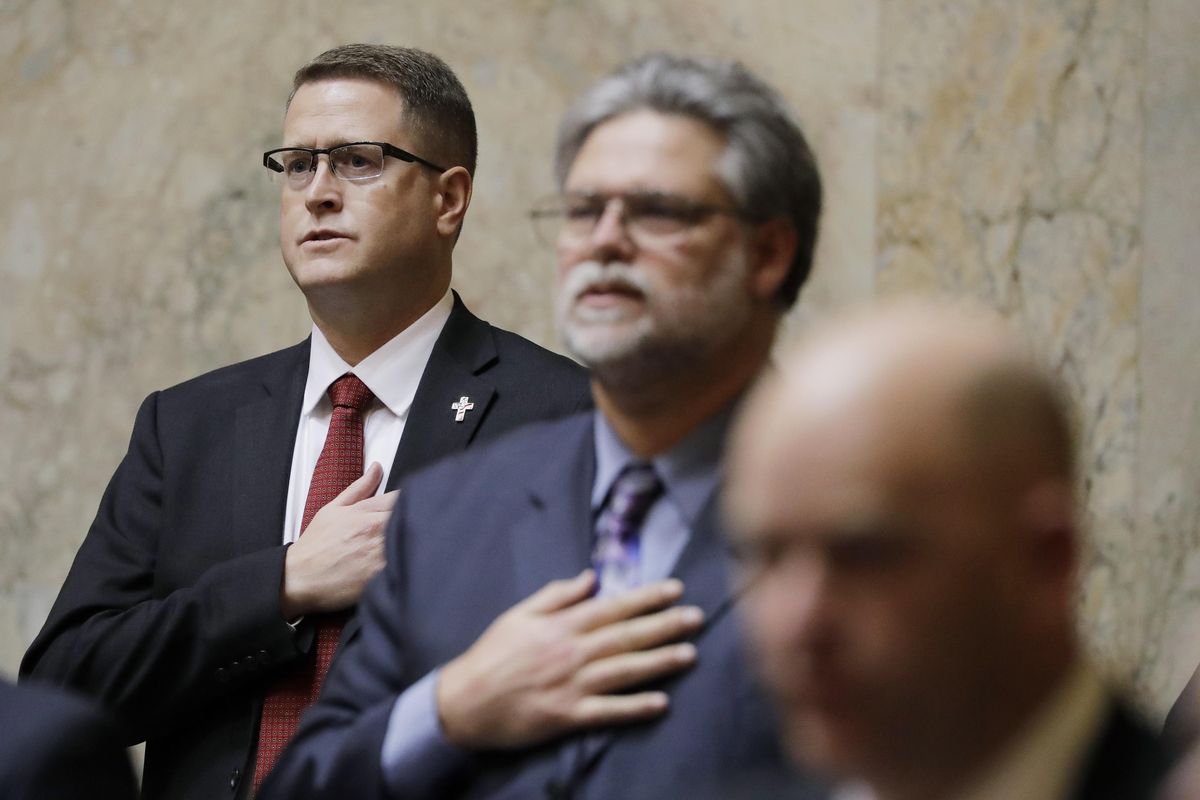 OLYMPIA – Washington state Rep. Matt Shea started the 2020 legislative session on a defiant note Monday, continuing to refuse bipartisan calls for his resignation even as he was stripped of his committee assignments and relegated to a seat in the back of the House floor.
"I'm still the state representative for the 4th Legislative District in Spokane Valley, Washington, and we are keeping up the fight this morning," Shea said in a video posted to Facebook, flanked by a few supporters on the fourth floor of the Capitol.
The Spokane Valley lawmaker criticized a House-commissioned investigation that arrived at many damning conclusions about him and his conspirators in the far-right "patriot" movement. The investigation by the Rampart Group detailed Shea's preparations for a Christian holy war and found that his role in an armed 2016 standoff at an Oregon wildlife refuge amounted to domestic terrorism.
Shea has insisted political opponents have denied him due process, though he and his attorney ignored requests to meet with investigators. He's been kicked out of the Republican caucus, meaning he no longer has a vote on legislative committees, can't rely on caucus staff and can't take part in GOP strategy meetings. On the House floor, he was moved to a new desk in a row that includes more Democrats than Republicans.
House leaders now are considering whether to vote on expelling Shea from the Legislature, a move that's happened only once in state history.
"This is a Marxist tactic, a Marxist strategy to weaponize labels against people and deny them due process, and an attempt to silence opposition," Shea said Monday, before accusing fellow lawmakers of persecuting Christians.
Republican Minority Leader J.T. Wilcox, of Yelm, has called on Shea to resign, though Wilcox and other lawmakers have expressed reluctance about expulsion proceedings, noting that voters have sent Shea to Olympia six times since 2008.
House Speaker Laurie Jinkins, D-Tacoma, last week said the whole chamber must consider expulsion, as the move would require some Republican votes to achieve a two-thirds majority.
Rep. Marcus Riccelli, a Spokane Democrat who serves as majority whip, said expulsion likely would be discussed at some point this week, but the topic didn't come up in the caucus meeting before Monday's opening ceremonies. The discussion was all about Jinkins' election as the first woman speaker of the state House, Riccelli said.
Meanwhile, Spokane City Council President Breean Beggs and local progressive activist Cynthia Hamilton addressed the Shea situation during a phone call with reporters Monday morning. The call was organized by the Western States Center, a Portland-based nonprofit that tracks white nationalism and far-right extremism in the Pacific Northwest.
"He refused to participate in the investigation, so I'd really like them to convene a hearing and put him under oath and ask him questions," Beggs said. "Since I'm a lawyer, I believe in due process, so he should have the right to call witnesses as well. But it needs to go forward."
Beggs was among a group of City Council members and other local progressives targeted in a dossier that Shea shared in private emails in 2017. Those leaked emails were first reported by The Spokesman-Review in August, along with other messages showing Shea sought to purchase GPS devices to track political opponents.
Hamilton started a group called Indivisible Spokane just after Donald Trump was elected president. Her name appeared in private text messages in 2017, first reported by the Guardian, in which Shea offered to conduct background checks on liberal demonstrators and his friends proposed graphic acts of violence.
"People who have a platform as a government official – if they're spreading words of hate and trying to undermine democratic institutions, and potentially bordering on calls for violence against people, they don't have a place in our elected government," Beggs said. "He obviously has some free speech rights in the world, but he should not be part of the government."
Following a pattern in recent weeks, Shea was again a topic of impassioned testimony by people who addressed the Spokane City Council on Monday evening. The city of Spokane is not in the 4th Legislative District, which covers Spokane Valley and the northeast corner of Spokane County.
In Olympia, some two dozen Shea supporters greeted arriving lawmakers and staff early Monday morning with hand-painted signs proclaiming "We Stand With Matt Shea," then joined a rally to support Initiative 976 on the north steps of the Capitol.
Ed Yasukawa, of Seattle, held a sign supporting Shea and another calling for the Legislature to pass a bill with the same language as the car tab initiative, which could overcome a court challenge.
"I like him because he stands up for liberty," Yasukawa said of Shea.
Peggy Hutt, of Gig Harbor, also held a sign supporting Shea and said the legislator had been denied due process when he was kicked out of the GOP caucus. Hutt, a member of the Tacoma Narrows Tea Party who said she has met Shea at many events over the years, called the Rampart Group report "fabricated crap."
"If he's done something wrong, where are the charges?" she said.
When the report was made public in December, House leaders said they had forwarded the findings to the FBI and the U.S. attorney's office.
Shea spoke to a receptive audience Friday evening at Covenant Church in Spokane Valley, where he was introduced by Pastor Ken Peters, who leads regular anti-abortion protests outside the Planned Parenthood clinic in Spokane.
During the event, which they called "Exposing Leftism Push Back Night," Peters called leftist ideology a "poison" and a "cancer" and urged his followers to resist "those that are attacking God's principles."
"In these last days, it's important that you pick and be on the right side because God is eliminating the middle," Peters said. "The middle is being eliminated, and you've got to pick a side. Politics as usual isn't going to fly anymore."
---