Sports
A Grip on Sports: Cougars, Chun don't waste any time in finding their next football coach
Tue., Jan. 14, 2020 A GRIP ON SPORTS • That didn't take long. Now we all have to learn how to pronounce Nick Rolovich's name. And scrap "Air Raid" for "Run and Shoot."
•••••••
• There are a lot of positives to Washington State athletic director Pat Chun moving quickly and hiring Rolovich as the Cougars' newest football coach. Let's highlight them:
– The former Hawaii coach was successful the past couple years at a geographically isolated school that usually struggles to win games. Does that sound familiar?
– He favors a unique offense with a long lineage that can be successful with a bunch of quick, small receivers and a pass-first quarterback. Again, a familiar refrain.
– He's not afraid to be playful off the field, which should remind WSU fans of the Mike Price days. He may not have dressed up as Tommy Trojan (yet) but he did bring a fortune teller to Mountain West media day.
– The short nature of the search, and its quick denouement, should make the transition easier and allow Rolovich to fill whatever gaps he wants to before February's second signing period.
– He's a former player, which will be a nice change of pace in Pullman.
There are also some warning signs, if you will, associated with the hire, if you are willing to entertain them on this day of celebration on the Palouse:
– Hawaii was his first head coaching chance and he was just a game over .500 in his four years at the helm. That can be tempered somewhat by the fact the Rainbow Warriors were 11-39 under Norm Chow in the four years prior to his hire.
– The recent record of former Mountain West coaches in the Pac-12 is a mixed bag – though it's a small one. On the plus side is Chris Petersen (Boise State to Washington). On the negative, there is Gary Andersen (Utah State to Oregon State). Other than that, there really hasn't been much movement between the West's two best conferences in the past decade or so.
– Hawaii's defense wasn't good under Rolovich, even last season when his team won 10 games. In fact, it was similar to Washington State's, giving up 31.9 points a contest (WSU allowed 31.4), though the Warriors were better against the pass and weaker vs. the run.
All in all, though, Rolovich is a hire that Chun will be able to trumpet at today's press conference. He'll be able to cite the similarities between the offensive philosophies, the quick success in Hawaii and a future potential, as Rolovich is some 20 years younger than his Pullman predecessor.
Is it a good hire? Sure. Heck, we will go as far as to say it's probably the best choice Chun could have made for Washington State, considering the pool of candidates who were, you know, actually interested in taking on the challenge WSU presents.
But for Rolovich to be successful (and we felt this way about Mike Leach as well), the defense has to be solid enough to keep the Cougars in games. At WSU it was two years ago. Last year it wasn't.
In other words, the head coach hire is a hit. But the most important hire may just be whomever Rolovich picks as his defensive coordinator. Ultimately, that will decide if his tenure starts off on the right foot.
•••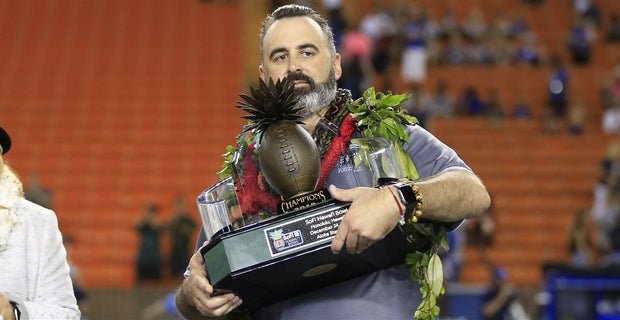 WSU: The Rolovich news broke late last night, as the national title game was winding down – and this old guy was already in bed. Luckily for S-R readers, Theo Lawson is a bit more of a night owl, because he not only put together a story about the news, he came up with a bunch of facts to introduce the newest Washington State football coach. … Earlier in the day, Theo was able to pass along a list of assistant coaches that already had decided to trade Pullman for Starkville, Mississippi. As is usually the case, the rest of Leach's assistants will also have to find new jobs. … We can pass along a few thoughts about Rolovich's hire from CougCenter, a lot from Hawaii and around the country. … Elsewhere in the Pac-12, Colorado hits the road after its win over Utah. … Arizona is trying to find itself after a lost weekend in Oregon. … In football news, the final AP poll has Utah ranked 16th and Oregon fifth. … Washington's newest football assistants aren't flashy. … The key question for Oregon: who replaces Justin Herbert? Four key defenders are coming back. … Ten new players are already on campus at Colorado. … Things have sure changed at USC. … Arizona State is one of the favorites for next season. … How do you think the Pac-12 officials did in the national title game? Jon Wilner has his opinion.
Gonzaga: Despite a two-win week, the Bulldogs' edge in the polls dissipated a bit, mainly because Baylor had an even better few days. Jim Meehan has a story about the poll results. … Jim spent some time yesterday talking with Larry Weir for the usual Monday Press Box pod. … The women's spot in the polls did not change. Jim Allen has the story. … We also have a story from the Washington Post on Johnathan Williams and the Wizards. … Around the WCC, BYU is getting a lot out of its best senior.
EWU: Around the Big Sky, Montana won the lone conference game last night, defeating visiting Portland State. … We missed this earlier but we thought we would pass along this Q&A with Northern Colorado's new football coach.
Preps: The spirit games are underway, starting last night with the Groovy Shoes battle between North Central and Shadle Park. Dave Nichols was in the Arena and has this story. … We also have girls and boys roundups from around the area.
Seahawks: The season is over. The players and Pete Carroll spoke a lot yesterday about what transpired, not only against Green Bay but overall. … The defense isn't what it was. It needs some work. And some clarity about Jadeveon Clowney. … Injuries took a huge toll on the offense.
•••       
• Winning a press conference is a big deal for an athletic director when hiring a football coach. That's why a lot of coaches are recycled from job to job. We'll give Chun some credit for hiring someone a bit different, a bit off the beaten-to-death path. And yet today's lovefest should be well received in most quarters. One thing is perfectly clear, however. Rolovich is coming into a much better situation than Leach did. It's more about maintaining than rebuilding. Until later …
Local journalism is essential.
Give directly to The Spokesman-Review's Northwest Passages community forums series -- which helps to offset the costs of several reporter and editor positions at the newspaper -- by using the easy options below. Gifts processed in this system are not tax deductible, but are predominately used to help meet the local financial requirements needed to receive national matching-grant funds.
Subscribe to the sports newsletter
Get the day's top sports headlines and breaking news delivered to your inbox by subscribing here.
---