A&E
Setting up shop: Birdie's Pie in Post Falls serves more than sweet and savory desserts
Tue., Jan. 14, 2020 To say that Sharee Moss has her fingers in many pies is not much of an exaggeration. She's a mother of five, a nurse practitioner in the pediatric ER at Sacred Heart, and she designs and builds her own homes.
Now her husband, Brad Moss, and she have opened their own pie shop in Post Falls lovingly named Birdie's Pie Shop.
"I think I just thrive on projects and chaos," she says while standing in the immaculate kitchen of the shop one rainy morning as a fresh apple pie finishes baking.
Opening Birdie's Pie Shop was a labor of love and something the Mosses had been thinking of doing for years. Then one day in 2018, Brad Moss was dropping off the kids at school and drove by a small building up for sale.
He called his wife immediately, telling her he'd found the perfect spot for the pie shop. Previously a vintage boutique, "It was teal and neon green and coral," said Sharee Moss, who was less than impressed. But something kept nagging at her to give the building a chance.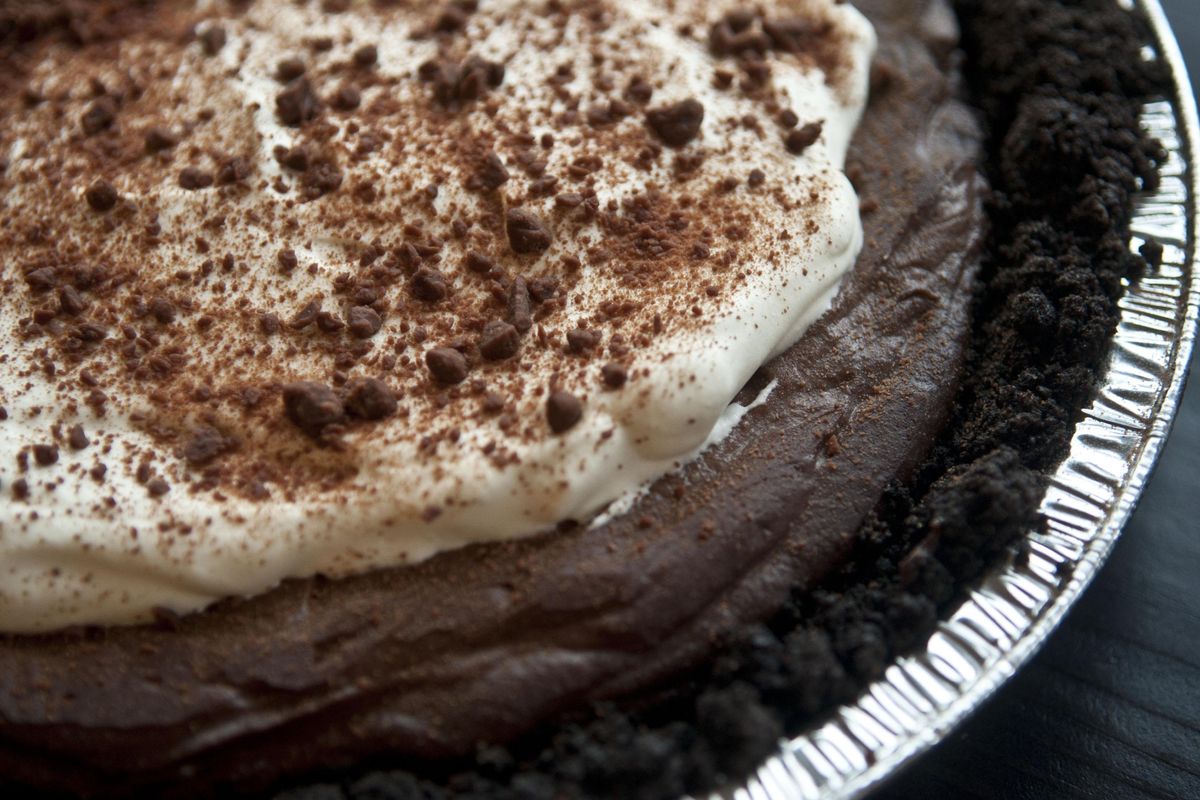 A chocolate pie at Birdie's Pie Shop in Post Falls on Jan. 8. (Kathy Plonka / The Spokesman-Review)
The couple purchased the building, Sharee Moss came up with a design, and renovations went on for about a year before the shop opened in December. "It took a lot of vision and a lot of creativity and a lot of work to get it to this point," Sharee Moss said.
With a clean, modern farmhouse vibe, Birdie's Pie Shop is reminiscent of simpler times gone by, and that's exactly how Moss wants it.
"We just like the quaint connection that it provides," she said. "I want (customers) to feel like they're family. I want them to feel like they're coming home. I want them to feel like they remember when and remember that nostalgic memory of eating pie."
The pie shop is named after Birdella Lybbert, a longtime Greenacres resident who took Sharee Moss' parents under her wing decades ago when the family first moved to the area. They became so close that the kids started calling her Grandma Birdie.
"I had no idea she wasn't (my actual grandmother) until I started learning about genetics," Moss said. "She was the most selfless, serviceable, just amazing example of hospitality.
And she was famous for her delicious pies. Grandma Birdie taught Moss' mother, and then Moss, everything she knew.
Moss, one of 11 children, grew up using that knowledge to bake pies for the family's large Thanksgiving gatherings. "It just continued to grow from there," she says of her love for pie.
All of the pies at Birdie's Pie Shop are inspired by or adapted from the ones Grandma Birdie made. The Mosses hired a professional baker to help create each fresh, hand-crafted pie.
It appears they're a hit. The shop regularly sells out. Moss suggests calling ahead to order if you want to guarantee that your flavor of pie will still be there when you arrive.
Just like Grandma Birdie, Moss doesn't play favorites; she loves each of her pies equally. Five flavors are always available: apple, key lime, chocolate cream, triple berry and classic pecan.
Seasonal flavors will rotate in and out of the menu, including a savory option; currently, it's chicken pot pie.
"It's really hard to say which is our bestseller because people really love the triple berry being from North Idaho," Moss said, adding that key lime also is popular even among people who swear they've never liked that flavor.
"It has little secret touches of things everywhere," she said. The classic pecan is made with maple syrup, which gives it a deep, rich flavor; and the chocolate cream is very dark and thick – a chocolate lover's dream. "And the apple, of course, is a classic," Moss said.
The pies come in three sizes. "Bites" are 2-inch pies sold by the dozen for $18. "Personal" pies are equivalent to a generous slice of pie (or two) and sell for $4.95 for one and $19.50 for a pack of four (because "who can ever decide on one?" Moss said).
"Whole" pies are $28 and pack a delicious punch baked in deep, 10-inch pans and weighing 5 pounds. Savory pies are available in personal and whole sizes and are $6.95 to $32.
No order is too small or too large. Birdie's caters to large events, weddings and office parties and will even take custom orders for a single pie. Just call at least 24-48 hours in advance, and Moss said they will do their best to make it happen.
Most of the business at the shop so far has been takeout, but there is seating for 15, and the Mosses open up an adjacent space and stay open later on Friday nights to accommodate people who are out on date night.
Date night "is something that my husband and I have tried to do every Friday," Moss said. "It's a commitment we've tried to make to each other, and so we're trying to encourage that in couples, to come out and enjoy each other over, of course, pie."
Strengthening relationships is a big part of what drives Birdie's Pie Shop. That's why the Mosses have renovated the other half of the shop into a crafting and learning space called "Paint & Pie," where couples, friends and strangers can create things for their homes.
"We'll do rustic boards and things like that, and instead of having wine or alcohol, you'll get pie," Moss said.
Classes can accommodate 12 people and will be on Friday and Saturday from 6-9 pm. Depending on the size of the project, classes will range from $30-$60. Check paintandpie.com for more details.
The Mosses also decided to renovate the upstairs floor of the shop into an Airbnb. When they first came up with the idea, Moss worried, "Who would want to rent a little upstairs place on a busy street in Post Falls?"
But once they completed the renovation last March, the reservation calendar quickly filled up. The two-bedroom apartment, affectionately dubbed "The Perch," was booked all summer.
"We like to create stuff from nothing," Moss said of her and Brad's knack for coming up with ideas and making them happen. And Post Falls has proven to be the perfect place for those dreams to come true.
"Post Falls is still this little town that's growing," Moss said. "Spokane is large and Coeur d'Alene is large, and it seems like (setting up shop there) would be the natural choice.
"But we really wanted to give back to our own local community and be able to grow with them and trust them that they would then support us."
She paused to glance around the little shop her husband and she created. "When people are eating here and they enjoy the pies and they're laughing and I'm baking and I look up and I see families connecting, that's my favorite part."
Local journalism is essential.
Give directly to The Spokesman-Review's Northwest Passages community forums series -- which helps to offset the costs of several reporter and editor positions at the newspaper -- by using the easy options below. Gifts processed in this system are not tax deductible, but are predominately used to help meet the local financial requirements needed to receive national matching-grant funds.
Subscribe to the Spokane7 email newsletter
Get the day's top entertainment headlines delivered to your inbox every morning.
---