News > Spokane
100 years ago in Spokane: Strange new disease claims another victim
Wed., Jan. 15, 2020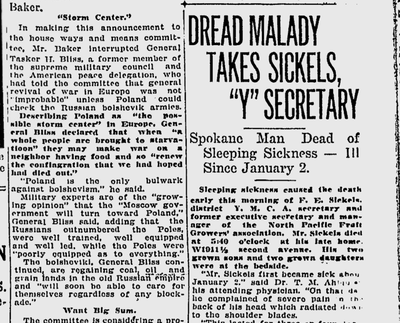 A dreaded new disease called variously "sleeping sickness" or "sleepy sickness" claimed another Spokane victim, the Spokane Daily Chronicle reported.
F.E. Sickels, 59, the district secretary of the YMCA, died after suffering from encephalitis lethargica for nearly two weeks.
It began with a severe pain in the back of his head, radiating down into the shoulder blades. After a few days he developed drooping eyelids, insomnia and "wandering incoherent speech." His insomnia then turned into continual drowsiness.
In the later stages, it turned to a "low delirium," fever and difficulty swallowing. He died after the inflammation of his brain continued to grow.
This rare disease had recently shown up with more frequency around the world, and researchers were baffled.
From the court beat: Jury selection in the McDonald siblings murder case was going slowly, because many of the people in the jury pool were opposed to the death penalty and were thus disqualified.
Also, the case had been so widely discussed in Spokane that practically all of the potential jurors said they have read about it and discussed it in the past. The McDonald siblings were charged with murdering W.H. McNutt, a former business partner, and burying him in a shallow grave near Newport.
The subject of spiritualism also became a surprising issue. That's because spiritualist Selma Armour was credited, at least partially, with convincing Mrs. McNutt that her missing husband had been murdered and was lying in a grave.
Outside the courtroom, Ted McDonald said that he and his two sisters were optimistic about their prospects.
"Of course, we realize we are in an embarrassing situation, but we are confident of vindication in conclusion," he said. "We are resigned to the inevitable results of such a fiercely contested case as this must prove to be, but we are confident that our case will be splendidly and concisely presented and that we have nothing to fear in the end."
He noted that Jewell Marie McDonald was "in poor health." The paper called her a "tubercular subject."
Local journalism is essential.
Give directly to The Spokesman-Review's Northwest Passages community forums series -- which helps to offset the costs of several reporter and editor positions at the newspaper -- by using the easy options below. Gifts processed in this system are not tax deductible, but are predominately used to help meet the local financial requirements needed to receive national matching-grant funds.
Subscribe to the Coronavirus newsletter
Get the day's latest Coronavirus news delivered to your inbox by subscribing to our newsletter.
---