Sports
A Grip on Sports: As we herald an arrival in the Palouse, we also mourn a passing
Wed., Jan. 15, 2020 A GRIP ON SPORTS • There is news. Heck, there is always news. That's why it's called, well, news in the first place. Some of it is worth celebrating, some of it is really sad.
•••••••
• Most of what we consider news today comes from the Palouse. On this side of the border there is the change that is ongoing in the Washington State football program.
The news yesterday wasn't the hiring of Nick Rolovich. That had already been successfully leaked out. What was new was the former Hawaii coach stepping off a small plane and into the Pullman snow, wide-brimmed hat and boots in place.
It was a symbolic, made-for-social-media moment that made it clear he had transferred his allegiance from the wide sand beaches of the islands to the white snow of Eastern Washington.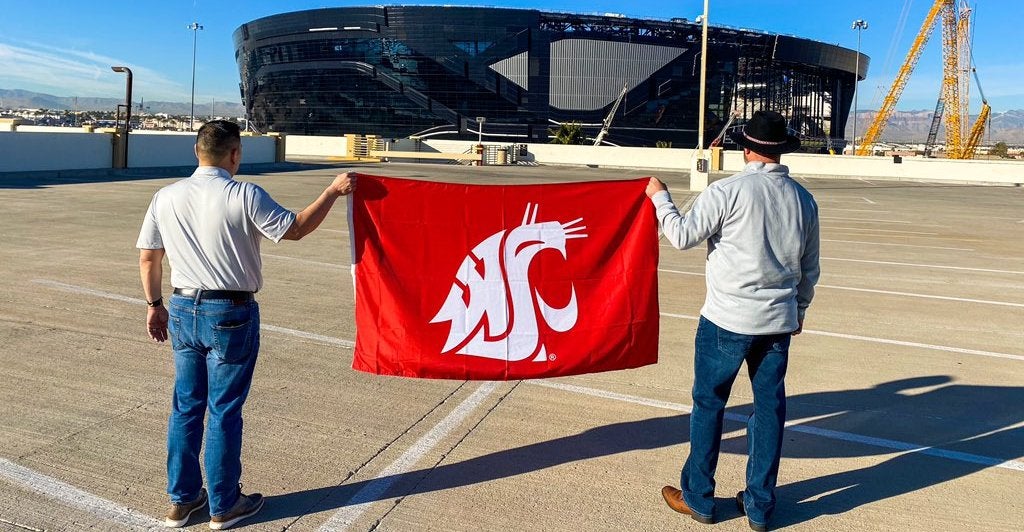 Cool? Sure. And then he stepped into a meeting with his new players, fired them up and sent them out to tell the world what they thought. Somewhere in that time he also found a second or two to sign some sort of official agreement, because WSU finally sent out a press release to say the Rolo Era was now rolling.
Cougar fans everywhere will get to a chance to hear their new coach today, as a media event has been scheduled for early afternoon. They'll get the chance to find out if a guy who looks like the Marlboro Man (look it up if that marketing genius of an idea had faded away before you were born) can actually, you know, speak.
Of course he can. And no matter what he says, it will serve as a rallying cry for the next few weeks, months and, if the Washington State administration gets its way, years.
Heck, he might even mention wanting to win the Apple Cup. Wouldn't that be different?
• There was also sad as sad-can-be news from the Palouse yesterday.
Pete Isakson, known by many after his more than two decades working at Idaho and WSU, died suddenly. He was 48.
I met Pete within my first few days of taking over the WSU beat more than a decade ago. He was a gregarious sort who was easy to like, good traits for someone who raised money and/or marketed either media properties or athletics. He did a bit of all of that while in Pullman and Moscow, but the crowning jewel of his career probably was serving as interim athletic director at UI for about a year not that long ago.
Even when Pete was working at Washington State you could tell he was a Vandal at heart. He loved the school. And his wife and family.
How did you know? Pete always made it clear. He loved to extol the virtues of whatever or whomever he was communicating about. He always saw the positive side. Because of that, he was always a joy to chat with, whether just for a few minutes passing in a hall or for an extended conversation behind closed doors.
It had been a while since I had experienced Pete's joy. We both left Pullman a while ago for other pursuits and our paths didn't cross as often as they used to.
But when they did it was like they had been running next to each other every day. He was that type of person. And he will be missed.
•••
WSU: Where to start? OK, first with football, then to hoops. John Blanchette kicks off the day with his thoughts on the new head coach and what the hire means for the Cougars. … Theo Lawson takes you through the day in Pullman as Nick Rolovich stepped off the plane and into his new job. … Theo also shares the players' reaction to the hire. … Rolovich is one of the subjects Larry Weir shared with Adam Shackleford on the latest Press Box pod. … OK, there is also basketball news, though not as positive. The Cougars are hurting. There are a lot of them injured, forcing Kyle Smith the juggle the rotation. Theo has more in this story. … Here's some positive basketball news: When Klay Thompson's number is retired this Saturday – we will be in Pullman and have a column on the event – his Warriors' teammate, Stephen Curry, will be there as well. Theo has that story as well. … If you were wondering what's happening with Robert Franks, we've got you covered. … Elsewhere in the Pac-12, this news from John Canzano about the Pac-12 Network and spring events is the proverbial canary-in-a-coal-mine. The Network is dying. … In conference hoops,  Washington is off to a rough start in Pac-12 play. … Oregon is getting healthy. … Colorado heads for the desert. … Utah wants a center that draws attention. The Utes are also headed to Arizona. … There should be some clarity after this weekend. … Will there ever be clarity at USC? The athletic department is changing. … In football news, it looks as if Oregon has found its offensive coordinator. The Ducks hope to continue their ascent next season. … The transfer portal at UCLA is crowded. … Who will be good next season? … Probably not Arizona.
Gonzaga: The Zags' coaching staff has been pretty stable over the years, with only an occasional change as assistants strike out on their own. But GU had a sea change this season, bringing in a fresh face with fresh ideas in Roger Powell Jr. Jim Meehan has more on how Powell is fitting in with Mark Few's program. … Nominees for the McDonald's All-American Game, a process I must admit I don't understand at all, were announced yesterday. The Zags' three commits/signees for next season were all nominated. Jim has all the particulars in this piece. … Around the WCC, it was a mixed week for BYU.
Idaho: Peter Harriman has Pete Isakson's obituary in today's paper.
Preps: Yes, there was basketball last night, despite the weather – I almost bit the snow walking into a gym, despite walking slowly like a 63-year-old man with a bad hip. Anyhow, we can pass along roundups from GSL girls and GSL boys as well as the area boys and girls games.
Chiefs: Spokane was at home last night and Kevin Dudley was there. The Chiefs? Not so much, as they were walloped by Kamloops 6-3 in the Arena.
Seahawks: Say what you will about Marshawn Lynch, but the guy know how to market a T-shirt. … The Hawks will have 19 free agents. What will they do? … Russell Wilson didn't seem too happy – about a lot of things.
•••       
• When I first started covering Washington State, it was supposed to be a one-year gig. It turned into five-plus. The first thing I did, however, was buy a wide-brimmed Tilley hat to wear while observing football practice. A doctor friend had recommended it to protect against the sun's harmful rays in August and September. Then it kept my glasses (and hair) dry in October, November and December. It became a signature for me, as ugly as it looked. (Function over form has always been my motto.) So yesterday, as I was looking around at photos of Rolovich, I noticed he was a wide-brimmed hat guy too. Smart man. Until later …
Local journalism is essential.
Give directly to The Spokesman-Review's Northwest Passages community forums series -- which helps to offset the costs of several reporter and editor positions at the newspaper -- by using the easy options below. Gifts processed in this system are not tax deductible, but are predominately used to help meet the local financial requirements needed to receive national matching-grant funds.
Subscribe to the sports newsletter
Get the day's top sports headlines and breaking news delivered to your inbox by subscribing here.
---