Sports
A Grip on Sports: From Steve Gleason's honor to a new football coach and beyond, it's a busy week for those with WSU connections
Thu., Jan. 16, 2020 A GRIP ON SPORTS • It's a good week to be a graduate of Washington State University. Or an incoming freshman. At least that's how it seems from this vantage point.
•••••••
• It's not too often those in power in the other Washington can come together to celebrate something or someone. But that's what happened yesterday and the catalyst, as he often was while growing up in Spokane and matriculating in Pullman, was Steve Gleason.
Gleason was in D.C. to receive the Congressional Gold Medal, Congress' way of honoring people who have done extraordinary things. And make no mistake about it, as he battles ALS, Steve Gleason has done, and continues to do, extraordinary things.
Sure, it's different than the extraordinary things he used to do in the classroom and on the football and baseball fields for Gonzaga Prep and Washington State. Or the extraordinary things he did while playing for the New Orleans Saints, including the most famous blocked punt in that franchise's history.
But those early times in the Inland Northwest were the foundation for what has happened in the past decade for Gleason, who has fought the hardest fight a human can wage with intelligence, equanimity and, yes, humor – all traits he displayed while honing his athletic skills.
Gleason has always been a special athlete and being confided to a wheelchair hasn't changed that. The core of what it means to be an extraordinary athlete is in the mind, a mental toughness that triggers the ability to set and meet goals, identify and overcome adversity and become a role model for others. It's not about winning or losing on the scoreboard, it's about how one goes about meeting that challenge.
No one has met that challenge better than Steve Gleason.
He's a hero in the right sense of the word. He has been his entire life. And will continue to be into whatever future he may have.
• The ceremony in D.C. yesterday was unique in one way. The partisan nature of our elected leaders seemed to disappear, at least for a little while. And it disappeared on an historic day for the nation. It's amazing what the behavior of one human being, no matter their circumstances, can initiate among others.
Our Kip Hill was at the ceremony and has this story.
• Gleason's alma mater is in the midst of a sea change in its football program, transitioning from Mike Leach to Nick Rolovich.
That transition culminates this afternoon, as Rolovich, the former University of Hawaii coach, will officially be introduced to the Cougar faithful – and the media.
It is one of the final celebrations of the hire, though there may be some introductions to booster groups down the road. Still, after today, the hard work really begins.
Mainly, Rolovich has to put together a staff. It has to be well balanced between assistant coaches that teach the game, prepare an exceptional game plan and, probably most importantly, recruit the heck out of it.
Let's be honest. The 11-win season of a year ago may have papered over an issue that has been growing in Pullman. The Cougars were struggling to attract the athletes they need to be successful on the defensive side of the ball.
Part of that was Leach's philosophy concerning roster makeup. He always wanted more of the available scholarships to go to offensive players. They are the fuel that makes the Air Raid go.
But, with fewer resources dedicated to the defensive side, identifying and attracting diamonds in the rough was crucial. It hasn't happened with as much consistency the past three or four years, leading to the lack of success experienced on that side of the ball this last season.
It has to be shored up for the Cougars to be successful, no matter how productive the offensive scheme is. And that takes players. The type of players, like Hercules Mata'afa, Daniel Ekuale, Frankie Luvu, Xavier Cooper, Destiny Vaeao and Jalen Thompson, who were making their mark in Pullman for a while.
Rolovich has connections all over the West Coast. He'll need to tap them to put together the type of staff that can attract such talents to the Palouse in the future.
•••
WSU: Speaking of recruits, Theo Lawson did just that yesterday. He spent some time on the phone with those future players who signed on with Washington State while Leach was still in charge. Those conversations led to this story. … Theo also has his basketball responsibilities, what with the Cougars hosting Oregon tonight – that is covered in this preview – and Klay Thompson's number retirement ceremony coming Saturday. Theo has some news on that front as well. … All of that (and more) came up yesterday in my conversation with Larry Weir on the latest Press Box pod. … The Rolovich hire seems to be the right one to the Times' Larry Stone. … Elsewhere in the Pac-12, the new offensive coordinator at Washington is already receiving advice. … So is Oregon's choice for the same position. … USC is losing a lineman to the NFL. … In basketball news, there was one game last night. Stanford stayed undefeated in conference by beating UCLA in Pauley. … The Huskies, trying to snap a two-game losing streak, host Oregon State at Hec Ed tonight. The Beavers have been up and down. … Colorado has been mainly down in the desert recently. … Arizona State is looking for consistency. … Is there a blueprint for stopping USC's best player? … One Utah player is experiencing a homecoming this week. … The biggest game tonight may just be between No. 6 Oregon and third-ranked Stanford in women's hoop.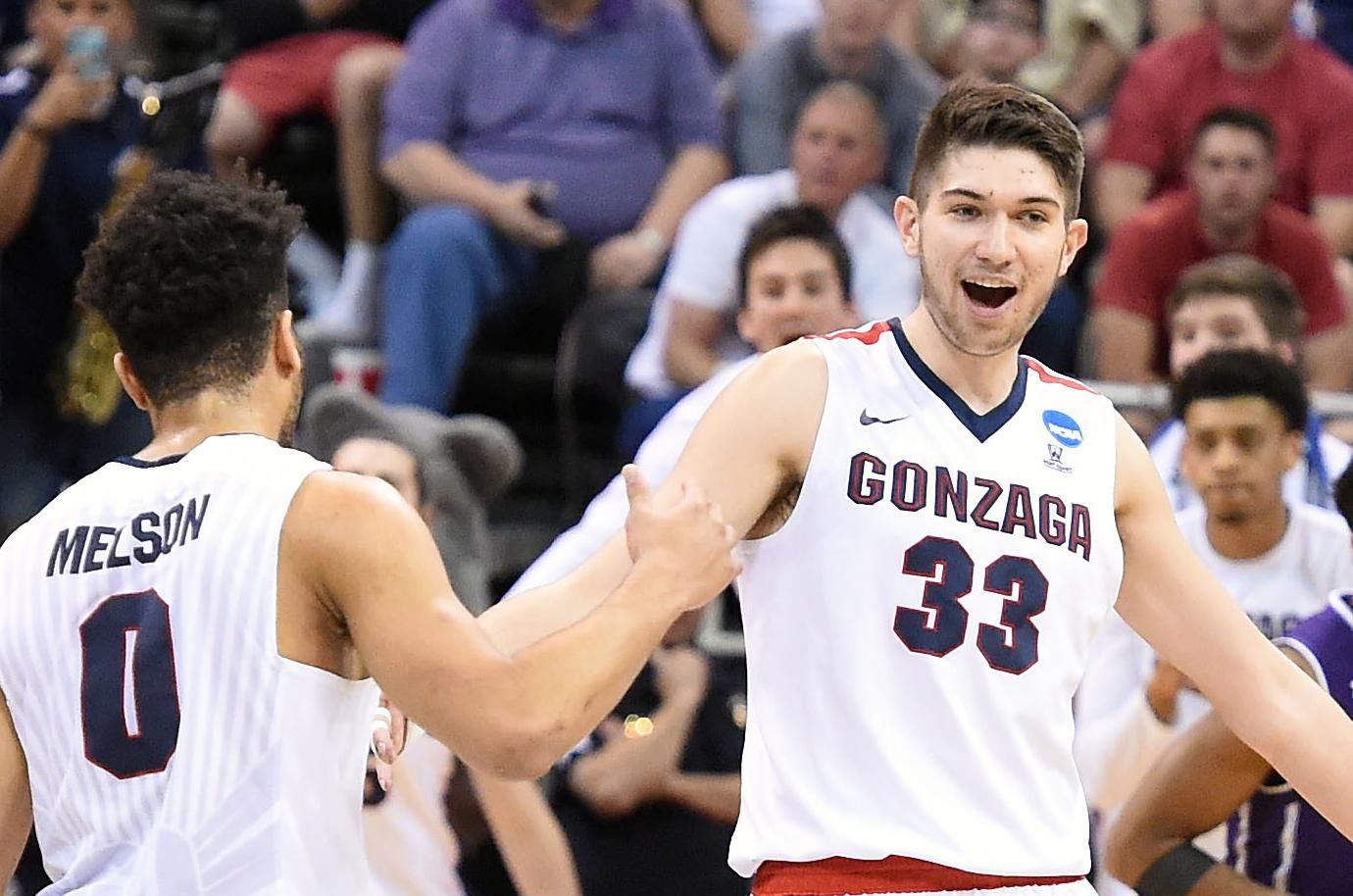 Gonzaga: The Zag men are back in Spokane for a three-game homestand. It begins tonight with a matchup with surprising Santa Clara, alma mater of our buddy Bud Nameck. Jim Meehan has a preview of tonight's late (8 p.m. tip) game in McCarthey. We'll be back here this evening with our TV Take concerning the ESPN2 broadcast. … Jim also takes a look at the key matchup which actually concerns a couple of frontcourt players. … The women's team is on the road, facing a couple of schools in the lower end of the WCC standings. Jim Allen has a preview of the weekend ahead. … Around the WCC, a walk-on helps supply energy for BYU.
EWU and Idaho: When the two schools meet, as they do tonight in Moscow, it means something special for Idaho interim coach Zac Claus. After all, he's a graduate of Eastern Washington and played two seasons in Cheney. Peter Harriman has a preview of tonight's contest. … Former Eastern offensive coordinator Bodie Reeder has moved from North Texas to Utah State. … Around the Big Sky, Weber State heads up the road to Idaho State tonight. … If Northern Arizona is playing, the result will probably be close. … In football news, former Cal Poly coach Tim Walsh is back in coaching. At Santa Margarita High, Klay Thompson's alma mater.
NIC: The Cardinals remained undefeated in Northwest Athletic Conference play by handing visiting Wenatchee Valley its first conference loss last night.
Preps: The Valley's largest Spirit Game, Central Valley and University battling for the Stinky Sneaker, went CV's way. Dave Nichols was in the Arena and has this story. … Dave also has a feature on the Momberg sisters, whose transfer to Mead High from Montana has changed them, as well as a prep notebook. … There is wrestling news, with Ryan Collingwood writing about Mead senior Chase Randall's chase of another state title, and Steve Christilaw sharing the story of a young official. … County treasurer Michael Baumgartner has run the numbers and feels a downtown football stadium could save taxpayers up to $2 million over a remodeled Albi site. He's urging the Spokane school board to look at the decision once again. Jim Allen has the story.
Seahawks: Is the glass half full or half empty? It may depend on if you watch the offense late in games. … The offensive line needs to stay healthy.
Sounders: A new season of training is underway with Seattle welcoming some new faces.
•••       
• Raise your hand if this pattern of snow on every other day is already starting to wear you down. Yes, my hand is up. Sweeping the deck 17 times a day in a cold, biting wind isn't my idea of fun. Honestly, I can't wait until Kim retires and we can spend January, February and the first 21 days of March, someplace warm. You know, the heart of winter (or darkness, with apologies to Joseph Conrad). You know, a couple 40-degree days would clear much of the ice. That would be appreciated. Until later …
Local journalism is essential.
Give directly to The Spokesman-Review's Northwest Passages community forums series -- which helps to offset the costs of several reporter and editor positions at the newspaper -- by using the easy options below. Gifts processed in this system are not tax deductible, but are predominately used to help meet the local financial requirements needed to receive national matching-grant funds.
Subscribe to the sports newsletter
Get the day's top sports headlines and breaking news delivered to your inbox by subscribing here.
---