News > Spokane
100 years ago in Spokane: Sheriff finds no bullet holes at scene of McNutt murder
UPDATED: Sun., Jan. 19, 2020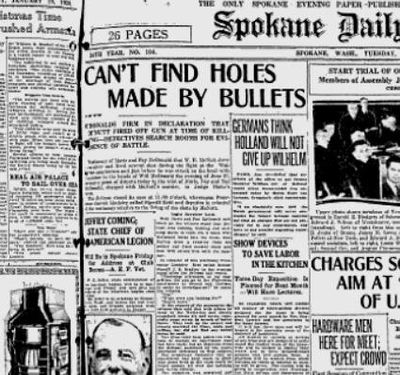 The prosecution attempted to poke holes in the story of the McDonald sisters by demonstrating that there were no bullet holes in the Wolverine apartment where W.H. McNutt was murdered.
Fay and Marie McDonald both testified that during a violent quarrel, McNutt drew a revolver and fired several times before Will McDonald struck him in the head with a hammer.
However, Sheriff George Reid and a deputy took the stand to say that a thorough search of the crime scene revealed zero bullet holes.
The defense attempted to show that the room had been repaired and wallpapered since the incident.
Earlier in the day, prosecutors conducted "a most severe cross-examination" of Ted McDonald, 17, the younger brother. The defense contended that the murder and the subsequent removal and burial of the body had been the sole work of Will McDonald, still at large, and that Ted had nothing to do with it.
Ted McDonald testified that he was not even present at the Wolverine at the time of the murder. He knew nothing about it until later that evening when he arrived and his sisters told him that Will had killed McNutt. His sisters told him that Will had already departed with the body, on the way to bury it at the Scotia ranch, near Newport.
Ted said that his sisters asked him to drive out to Scotia to "try and get Will to bring the body back and notify the police." But when Ted drove to the ranch, Will told him "it was too late, that he had already buried the body."
Despite the severe cross-examination, Ted McDonald "did not become tangled in his story," said the Spokane Daily Chronicle.
The Chronicle reported that the trial had been interrupted by "frequent commotions in the coutroom and at one time Judge Blake ordered the room cleared, but relented." At one point, Marie McDonald "cried for an hour."
Local journalism is essential.
Give directly to The Spokesman-Review's Northwest Passages community forums series -- which helps to offset the costs of several reporter and editor positions at the newspaper -- by using the easy options below. Gifts processed in this system are not tax deductible, but are predominately used to help meet the local financial requirements needed to receive national matching-grant funds.
Subscribe to the Coronavirus newsletter
Get the day's latest Coronavirus news delivered to your inbox by subscribing to our newsletter.
---