The Big Burn
A man reportedly lost his life in this home in Wallace, Idaho, attempting to rescue his pet parrot.
MUSEUM OF NORTH IDAHO
A man reportedly lost his life in this home in Wallace, Idaho, attempting to rescue his pet parrot.
By Charles Apple
The Spokesman-Review
The Great Fire of 1910 — better known in these parts as The Big Burn — came to life on Aug. 20, 1910, when gale-force winds caused a number of smaller wildfires throughout northern Idaho and northwestern Montana to grow and combine into much larger blazes.
The Burn kept on burning until a cold front swept through on Aug. 21, introducing some much -welcome precipitation into the dry region. Eight-seven people — including 78 firefighters would lose their lives in the biggest wildfire in U.S. history.
Fighting the burn
Firefighting techniques were not very effective in 1910. Rangers recruited help from nearby railroad construction camps and from Spokane. They went into the blaze with neither proper equipment nor protective clothing.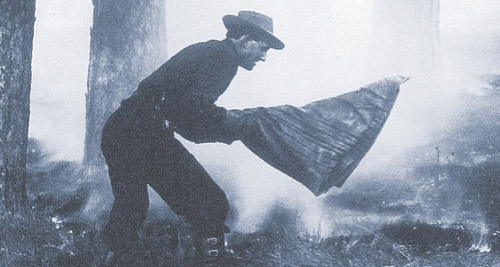 U.S. FOREST SERVICE
Among those who pitched in to fight the Burn: The U.S. Army's 25th Infantry Regiment — better known as the Buffalo Soldiers, one of five all-African-American regiments that had been operating since 1866.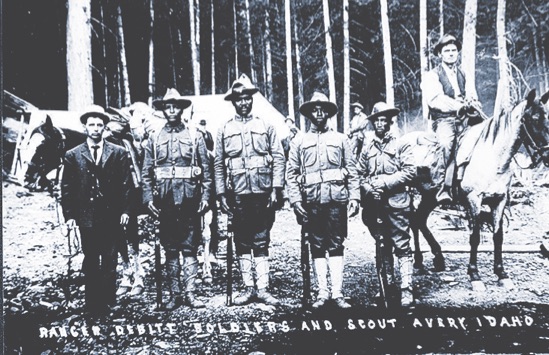 U.S. FOREST SERVICE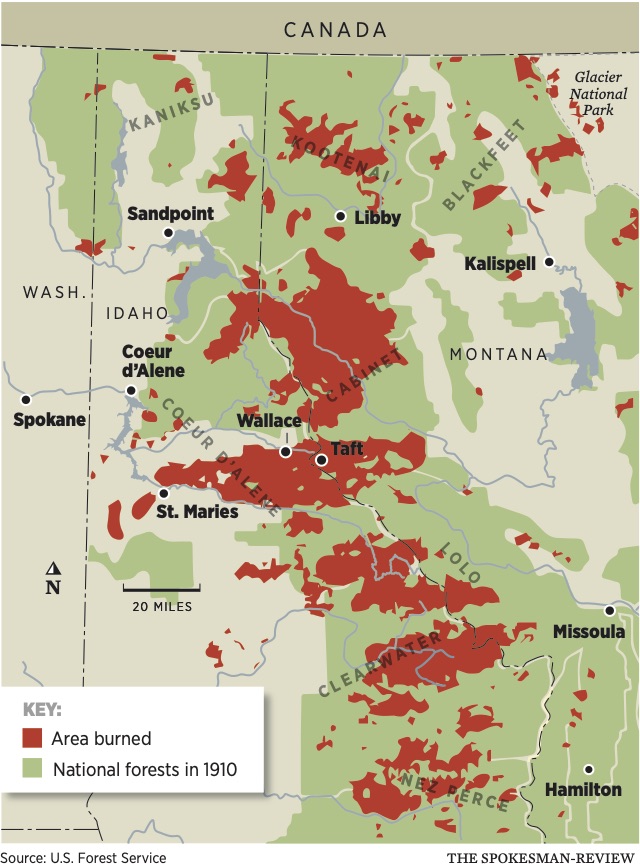 Ed Pulaski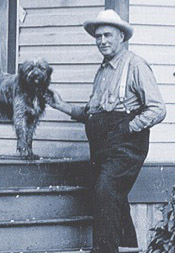 U.S. FOREST SERVICE REGION ARCHIVES
Ed Pulaski, a Forest Service ranger based in Wallace, was leading a 45-man firefighting crew near the west fork of Placer Creek when they suddenly found themselves cut off by the fire. Pulaski directed his men to crawl into a nearby abandoned prospectors' mine and to lie flat on the ground, below the smoke. Forty of the 45 men would survive.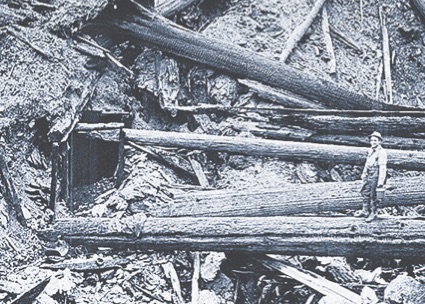 U.S. FOREST SERVICE
A year after the Big Burn, Pulaski would introduce a specialized firefighting tool with a head that contained an axe-like tool and a hoe-like tool. What came to be called a "Pulaski tool" is still in use today.
Taft, Montana
A boom village had sprung up in 1907 not far from where a 1.7-mile railroad tunnel was bored through what came to be called the St. Paul Pass. An estimated 3,200 people lived there at one time, but it was reportedly a pretty rough place: There were 23 saloons in town ... and "300 women and only one decent one," wrote someone at the time.
The Big Burn completely wiped out Taft. Rangers attempted to recruit firefighters in Taft's saloons with little luck. The town was evacuated. What used to be Taft is now Exit 5 on I-90. There's not much left but a pile of sand to use by snowplows and discarded railroad ties.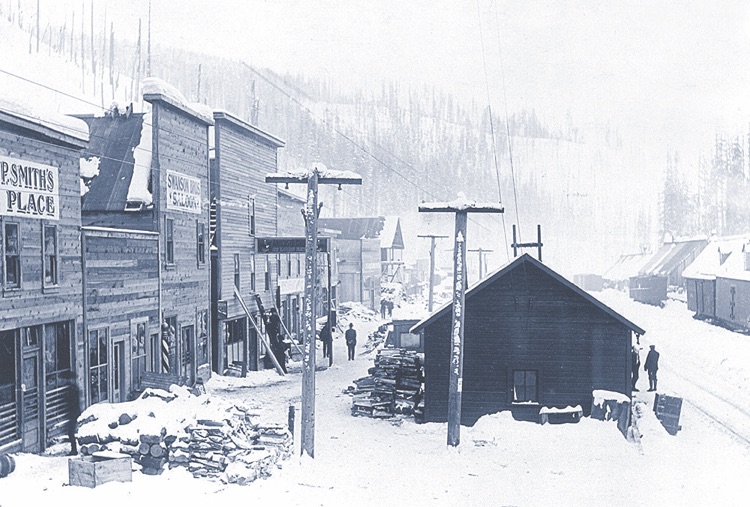 MONATANA HISTORICAL SOCIETY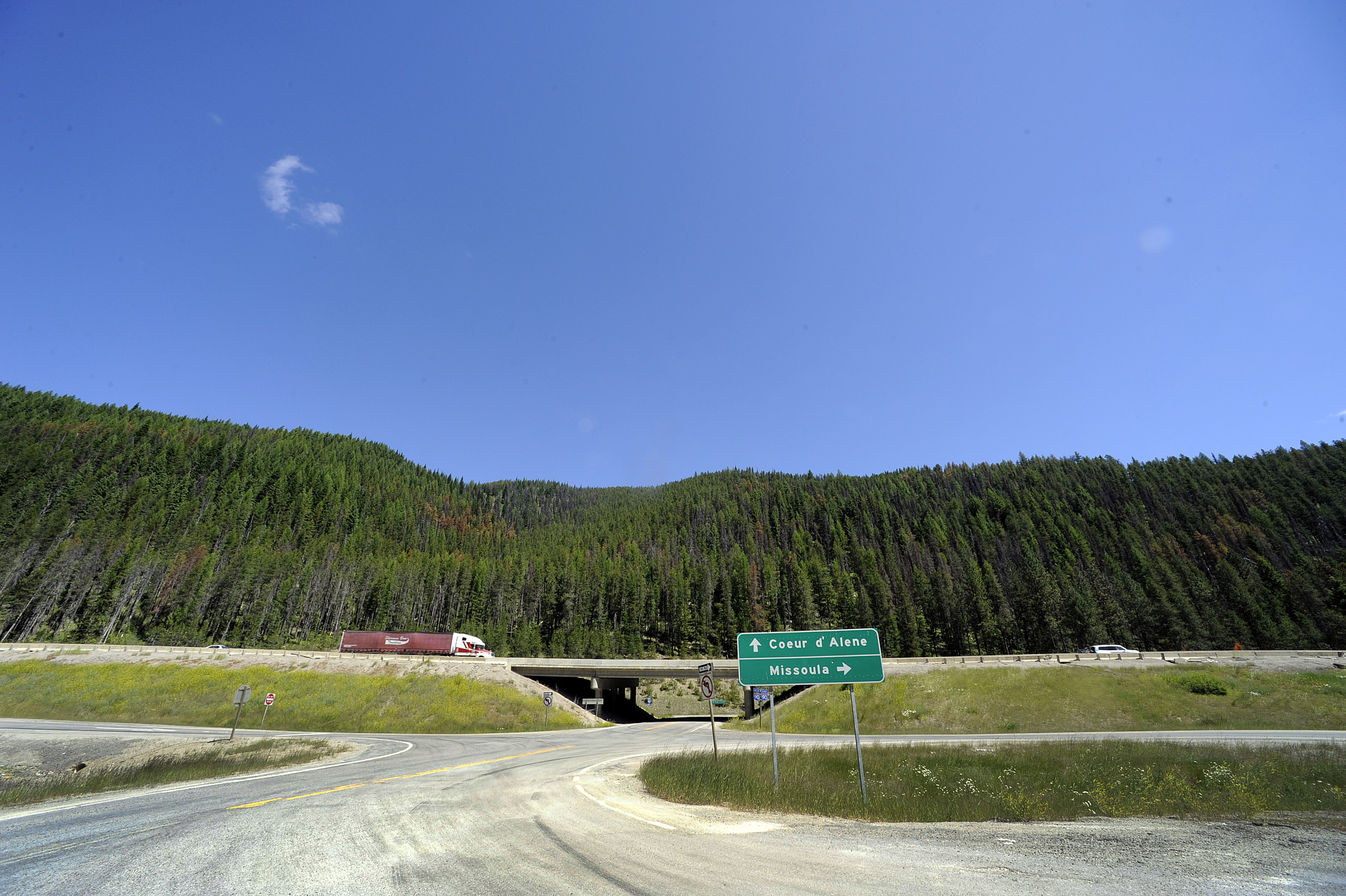 THE SPOKESMAN-REVIEW PHOTO ARCHIVES

Largest wildfires in U.S. history
While there have have been larger fires — in terms of acreage burned — in Canada, the Big Burn is, by far, the largest wildfire in U.S. history. The most recent of the Top 15 — the Montana wildfires of 2017 — rank at No. 7.
Sources: The Spokesman-Review files, "The Big Burn: Teddy Roosevelt and the Fire that Saved America" by Tomothy Egan, The New York Times, Time magazine, American Experience, 1910fire.com, ForestHistory.org, the National Park Service