News > Idaho
Fire causes roof collapse in downtown Coeur d'Alene, displaces 6 businesses
Jan. 20, 2020 Updated Tue., Jan. 21, 2020 at 4:32 p.m. Six downtown Coeur d'Alene businesses are without a home and facing uncertain futures after fire ripped through their building at Fourth Street and Lakeside Avenue early Monday.
Coeur d'Alene fire inspector Craig Etherton said his department got a call reporting the fire at about 1:15 a.m. The first crews to arrive were confronted with a fire on the roof.
"There was fire coming from an HVAC unit," Etherton said. "They got the fire out and thought everything was good."
When firefighters went up on the roof to inspect it, however, they noticed it felt spongy and realized there was fire in the attic under their feet, Etherton said. The crews got to work again, but then had to be pulled from the building for safety issues.
"We started getting roof collapses and pulled everyone out," Etherton said.
Crews used an aerial ladder to dump water on the building for hours before the flames were out, Etherton said.
"It's going to be a large dollar loss," he said. "It's a big building."
Records on file with the Kootenai County assessor's office show David Rucker purchased the building and its 0.38-acre lot in 2013. The assessor's office appraised the property at just over $1 million last summer, up from $888,000 the year before.
Rucker, a California-based developer, has owned at least a half-dozen properties in Coeur d'Alene. Attempts to reach him by phone were not successful.
The brick walls of the burned building are still standing, but the roof is completely gone above Cole Taylor Salon, Schmidty's Burgers, Heart City Tattoo and 720 Haberdashery. A portion of the roof over a Farmers Insurance agency still remains.
The corner of the building that housed Emerge, an artist cooperative that includes an art gallery, was not heavily damaged thanks to a fire wall separating the space from Schmidty's Burgers, Etherton said.
"It did its work," he said. "It kept the fire at bay."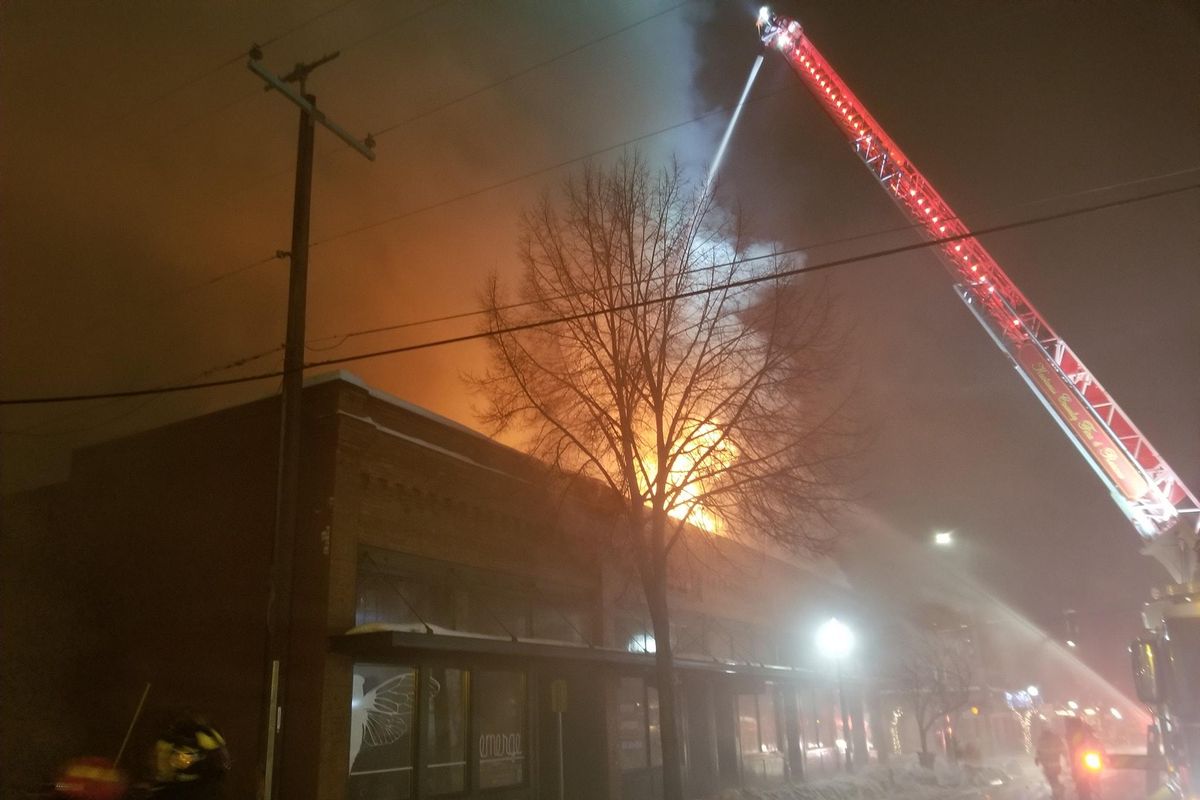 Coeur d'Alene firefighters respond to a structure fire that displaced six businesses at Fourth Street and Lakeside Avenue early Monday, Jan. 20, 2020. (Courtesy photo / Coeur d'Alene Fire Department)
The fire wall gave the firefighters time to go inside and save the artwork, which they carried to Cisco's Art Gallery next door.
Emerge director Jeni Hegsted showed up Monday morning after the fire was out with a crew of volunteers and employees to collect the artwork. She thanked Etherton for the work the firefighters did to save it.
"We couldn't believe how much you got out," she said. "It means so much to us."
While the space Emerge occupies received mostly smoke damage, the building cannot be occupied, Etherton said.
Hegsted said she had no idea what would be next for Emerge. The group was set to host a "2020 Emerge Artist Incubator: Professional Development for Emerging Artists" event in early February. Hegsted said she didn't know if the series of professional development classes and workshops would be able to continue.
"It will be a very long process over the next couple of months," she said. "We just don't know any of those answers."
Luis Gomez, owner of 720 Haberdashery, woke Monday morning to news of the fire and went to see what might be saved. He opened his shop in August.
"It's a brand-new business," he said.
As he watched firefighters enter his shop to pull out racks of new suits and clothing customers had dropped off for alterations, Gomez said he was determined to rebuild his business. His wife, Shannon Murphy-Gomez, stood by the growing pile of clothing that firefighters piled on the sidewalk.
She said she and her husband were concerned mostly about getting customers' clothing professionally cleaned and the alterations completed so the items could be returned to them.
"We're thinking about them," she said. "We're not worried about ourselves."
She said they were grateful the damage wasn't total. "It could have been worse if it was just rubble," she said.
Cole Taylor Salon posted on its Facebook page that eight stylists worked in the shop and are now without a place to work.
"I want to say thank you to everyone in the community who has reached out and offered help and prayers," the post said. "We are lucky to live in a community that comes together in times like this."
Schmidty's Burgers also posted a Facebook message for its customers.
"We are obviously not going to be open for a while, at least in this location," the post said. "We will post more as we find out more info."
The Coeur d'Alene Fire Department asked people to avoid the area while crews remained at the scene Monday morning. Lakeside Avenue was closed between Third and Fifth streets, and Fourth was closed between Sherman and Coeur d'Alene avenues. The streets reopened in the afternoon.
Etherton said the cause of the fire was still under investigation Monday afternoon. He said he had no idea when or if Emerge would be able to return to its relatively undamaged corner of the building.
"It's generally an unsafe building," he said.
Spokesman-Review reporter Chad Sokol contributed to this story.
Local journalism is essential.
Give directly to The Spokesman-Review's Northwest Passages community forums series -- which helps to offset the costs of several reporter and editor positions at the newspaper -- by using the easy options below. Gifts processed in this system are not tax deductible, but are predominately used to help meet the local financial requirements needed to receive national matching-grant funds.
Subscribe now to get breaking news alerts in your email inbox
Get breaking news delivered to your inbox as it happens.
---