Sports
A Grip on Sports: The Cougars' new football coach, Nick Rolovich, already seems to understand the cultural essence of the school's fans
Mon., Jan. 20, 2020 A GRIP ON SPORTS • You can have all the press conferences you want. All the orchestrated events or appearances at basketball games and on television shows too. But nothing – ever – will endear the Washington State faithful to new football coach Nick Rolovich as much as something he did last night in Seattle. Meet random Cougar fans in a bar? Genius.
•••••••
• The tweet appeared a little after 9 Sunday night. You know, just as some of us are contemplating hitting the sack. It came from Rolovich, still in his first week leading the Cougar football program. He was in Seattle and wondered if any WSU fans might want to meet with him at a Magnolia watering hole.
You know, share some chicken wings, an adult beverage and talk about crossing routes.
The typical thing Nick Saban does every Sunday night in Birmingham. Probably.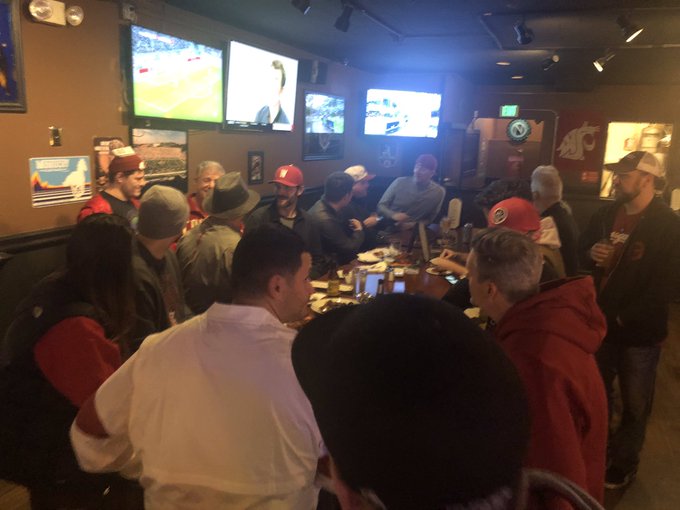 Not surprisingly, Rolovich ended up with a lot of company.
As Gardner Minshew once famously said, Washington State fans never lose a party. Or a chance to have one. And if that party includes the head football coach, well, how could you resist?
Now we know we are speaking in generalities here. There are many of the Cougar faithful who would show up to spend time with Rolovich and imbibe with, say, nothing more intoxicating than water. And pass on anything with meat involved. Doesn't make them any less a Coug, really, but it also doesn't fit into the school's long-cultivated narrative.
No matter. Rolovich seems like the type of guy who would be willing to get to know everyone who happens to have a Crimson sweatshirt in the closet.
Give Mike Leach his due. He won a lot of football games in his eight seasons in Pullman. He pulled the Cougars from the depths of football hell. He made going to a bowl an annual event. But buddy up with folks who say "Go Cougs" every chance they get?
Nope. That wasn't his thing.
It seems to be the lifeblood of his successor.
That and hot wings.
•••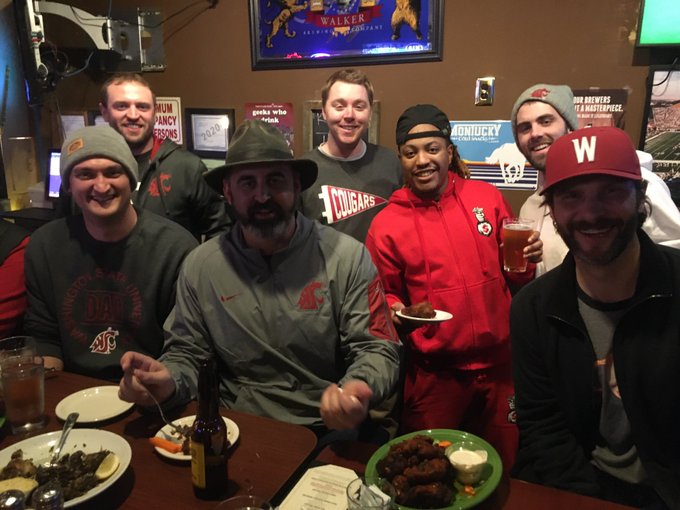 WSU: Theo Lawson was in Spokane last night. I'm sure of it. But that didn't stop him from reporting on Rolovich's impromptu – we sincerely hope it wasn't orchestrated; that would ruin the fun – get together. … Earlier in the day, Theo had written about the Wyoming defensive coordinator Rolovich wants to bring to the Palouse. And what to expect when the hire becomes official. … The women jumped out to a large lead against Arizona State yesterday but couldn't hold it. … Elsewhere in the Pac-12, Washington needs a closer. … This far into the season, Utah is still searching for an offensive identity. … Hey, UCLA won a home game. It was over California. … Hard work is leading to more playing time for one Arizona Wildcat.
Gonzaga: It's almost impossible these days for Jim Meehan to put together a Gonzaga rewind story without covering some sort of injury. It's been that type of season. And yet here the Zags are, 20-1 and ranked No. 1. Kudos to the medical staff. … Around the WCC, It's a familiar pattern. BYU pounds inferior foes and loses the big game.
Idaho: There is a memorial service today in Moscow for Pete Isakson, who died last week. Peter Harriman mentions that, but his story today focuses on what Isakson, the former UI interim athletic director, meant to interim basketball coach Zak Claus.
•••
• We have to lift our 75-pound, 16- or 17-year old dog, a black Lab mix named Yogi (his age was never established when we got him at the shelter back in the day), into the back of the Toyota this morning and take him in for his physical. He's been doing OK, despite not being able to see in the dark or hear much of anything except my best whistle. Every day is a gift, one he seems to still enjoy. So hopefully we'll get a clean bill of health and he'll see another spring. And summer. And beyond. Until later …
Subscribe to the sports newsletter
Get the day's top sports headlines and breaking news delivered to your inbox by subscribing here.
---