Warning signs were there for Spokane woman missing more than a year; now she is feared dead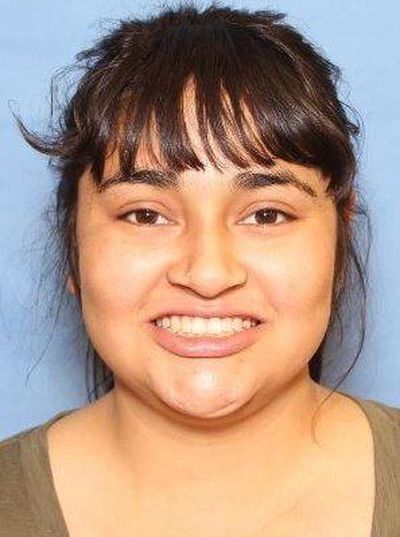 Courtney Holden cried out for help before she went missing a year and a half ago.
But no one heard her.
The 27-year-old had bruises on her body that she told family and friends came from beatings inflicted by her adoptive brother, Joshua Holden. The last time her biological brother saw her about two years ago, she had a black eye, according to police reports.
When Joshua moved back in with his mother, Judy Holden, after his parents' divorce in 2014, neighbors say he set up a slew of security cameras around their residence on Heroy Avenue, about a block from Rogers High School in northeast Spokane.
"Smile, you're on camera" signs are scattered throughout the front yard of the home with a handful of cameras pointing in different directions.
The cameras made Courtney nervous to leave the house, one neighbor told police. She knew she'd get in trouble with Joshua for sneaking out.
One neighbor's phone would ring in the middle of the night with Courtney on the line crying about how Joshua was out of control and wouldn't allow her to have a life.
Joshua and Judy often called Courtney "Cindy," short for Cinderella, in reference to all the work she did around the house, one person close with the family told police.
Courtney never had a cellphone or a car. At one point, she was allowed to chat with a neighbor over the back fence, but eventually that stopped, too.
One person talked to Courtney every day via Facebook until Joshua discovered she had an account.
"I gotta go. I gotta go. Josh is coming," her final message from nearly two years ago said.
And then her account went dark.
On a summer day in 2018, Courtney was dragging a large duffel bag out the front door when her adoptive mother, Judy, chased after her and said, "Get back in that house," one neighbor recounted to Spokane police.
"No, I'm not staying here anymore," the neighbor recalled hearing Courtney say.
But then Joshua, at more than 6 feet tall and 300 pounds, forcibly picked up 160-pound Courtney and brought her back inside. She wasn't able to put up a fight, the neighbor said.
That was the last time that neighbor, and perhaps anyone outside that home, saw Courtney.
Police fear she may be dead.
A lack of reports
Domestic violence experts attribute a number of factors to why cases like Courtney Holden's aren't always reported.
One is the social assumption that somebody else is taking care of it, said Morgan Colburn, YWCA director of counseling, advocacy and outreach.
"We can't assume that as a society and culture anymore, because what if nobody did do it," said Colburn.
Colburn said the fear of retaliation also can be a factor.
"And sometimes people see this as a family problem … something that needs to be dealt with in the home," she said.
Though power dynamics in every relationship are different, Colburn said some warning signs of domestic abuse that might warrant a call to law enforcement are acts of violence or not seeing someone for a long period of time.
"That could be a time to call," Colburn said. "Certainly anytime you see children involved."
Annie Murphy, chair of the Spokane Regional Domestic Violence Coalition, said other warning signs may include victims missing work or appointments, isolating themselves or talking about a family member's jealously or control over them.
And if police respond to a domestic violence incident and a victim lies to investigators, it could be that they are lying for their own safety.
"That shouldn't be a deterrent to call," said Colburn, because if police see any proof of violence, they are required to make an arrest.
And if family or friends are concerned about a loved one, they should let that person know they're available to provide support, Colburn said – "that they can always call you, that they can come over."
"I think there's a lot of power just in believing victims," Murphy said.
Spokane County has the highest rate of domestic violence in Washington and nearly double the state average, according to state data. And a majority of homicides locally are related to domestic violence, according to law enforcement officials.
"This continues to be a reality in our community, and we as community members need to be proactive about how to end this," Murphy said.
Services for victims of domestic violence involving intimate partners are available at the YWCA, and Lutheran Community Services supports victims with varying relationships to their abusers. The YWCA also operates a 24/7 hotline at (509) 326-2255.
"We need to let victims know that we're always available for them," Murphy said. "We can't escape domestic violence in our own community."
The search for Courtney
The initial concern about Courtney Holden's whereabouts came from the father of her child and his current girlfriend because they hadn't seen Courtney in two years and the father wanted to see his child.
The Spokane Police Department tried to perform a welfare check on Courtney in early October, but it quickly turned into a missing person case that was turned over to major crimes Detective Randy Lesser.
Lesser spoke with The Spokesman-Review about the investigation after search warrants he filed in Spokane County Superior Court became public. This account of Courtney's disappearance and the investigation is based on police interviews and court records.
When patrol officers and detectives went to the house on separate occasions, Joshua and Judy Holden refused to cooperate with the investigation, which isn't normal when it comes to welfare checks and missing person cases, Lesser said.
The day Courtney was reported missing, a woman claiming to be her called Crime Check and said she was fine. A police dispatcher also spoke to a woman claiming to be Courtney. But police later learned it was really Courtney's sister, who wouldn't tell Lesser why she had impersonated her.
"My concern is that she could potentially be deceased," Lesser told The Spokesman-Review.
Lesser said Joshua's history of violence is especially concerning.
Joshua was charged with rape in 2005, but the case was dropped just before trial when the victim stopped cooperating with prosecutors. Investigators were in the process of obtaining DNA evidence, and court documents from that case say Holden was a suspect in another rape in 2003.
Neighbors and family described Joshua as "unstable," violent and diagnosed with paranoid schizophrenia. A neighbor said Joshua doesn't have a job and Judy "cowers" before him.
Joshua also was arrested on charges related to unlawful imprisonment and domestic violence, and he has been convicted of burglary.
Family members said Joshua and Judy had bragged to them about knowing ways to elude police, and Joshua had made comments about how easy it would be to kill someone and hide the body.
"People don't just disappear, especially if they have a child," Lesser said.
And by all accounts, Courtney was a loving mother who would never abandon her child, court documents say.
When neighbors saw Courtney's child at the home over the last year, they noticed he called Joshua "Daddy" and Judy "Mom," something a family member said was normal even when Courtney was around.
A woman dating one of Courtney's siblings, who happens to share her name, told police Joshua insisted she be called by an alias at the home or else it would upset Courtney's child.
For the year and a half or so that no one outside Courtney's home saw her, Joshua and Judy told neighbors and family that Courtney was traveling with a boyfriend, a nameless long-range truck driver none of them had met. Sometimes the story was that she'd run off with a fiancé. Other times she was just inside the house but not available to visit.
Judy told Lesser that Courtney had been home a few days prior when he came knocking in early October. She said Courtney had left the home on foot with her son in tow.
When Lesser asked for Judy's phone number, she deadbolted the door while retrieving it, according to court documents. She then reluctantly allowed police inside to see Courtney's room.
"She became very nervous," Lesser said.
The home was extremely cluttered, with piles of belongings covering every open space on the counters, Lesser wrote in court documents. Courtney's room also was cluttered and the mattress was bare. It didn't appear anyone had been staying there, Lesser said.
At one point, Judy panicked after losing sight of one of the detectives behind a closed door. She told the investigators to leave when Lesser asked to look around the rest of the residence for Courtney's child.
Later that same day, a neighbor told Lesser they had seen Joshua, Judy and one of Courtney's sisters drive off in a van with Courtney's child.
Lesser determined Courtney received her last prescription refill in July 2018 after getting medication every month or two for the past year. She hadn't had a doctor's appointment since October 2017.
But despite the gap in medical records, money continued to be withdrawn from Courtney's bank account each month and her EBT (food stamps) card was used to buy groceries.
Video footage showed Joshua and Judy with a young child purchasing the groceries. And cameras captured the pair making the final withdrawal from Courtney's bank account on the day she was reported missing in early October.
By Oct. 24, Joshua and Judy had left their home. Lesser wrote that the DVR from the home surveillance system was removed and the family's six pets were gone when police went to execute a search warrant.
Cellphone numbers police associated with Joshua and Judy were deactivated in mid-November, but two new numbers on the account were activated the same day. They had Texas area codes.
Then a neighbor called police about a month after the Holdens left to let officers know there was activity at the home. It was one of Judy's daughters and her husband, who had flown up from Texas to check on the residence. They said they hadn't seen Courtney in two years and that Judy was off on a retirement road trip. The husband told police that Joshua and Judy had the child, but the sister said Courtney had him.
Lesser traveled to Texas in mid-December in search of Joshua and Judy. Officers found them at Courtney's sister's home, and they also had Courtney's child.
Joshua and Judy were arrested on identity theft and custodial interference charges for using Courtney's bank accounts and concealing her child, Lesser said. The child was OK and handed over to his father. The other family members aren't facing criminal charges.
Police have searched Judy's properties in Spokane with cadaver dogs but did not find anything, Lesser said. Searches at the residence in Texas provided no additional clues to Courtney's whereabouts.
Officers also searched a vehicle and a travel trailer belonging to Judy at an RV park in Oklahoma, Lesser said. Joshua and Judy checked in under fake names and likely arrived sometime in November.
Joshua, 40, and Judy, 74, remain jailed in Texas, where they have declined interviews with police, Lesser said. They have not agreed to be extradited to Spokane, so police are in the process of obtaining a governor's warrant to bring them back.
"This one is probably one of the more in-depth cases trying to locate a person," Lesser said about the monthslong investigation. "I've got four notebooks full of stuff."
Anyone with information about Courtney Holden may contact Detective Lesser at (509) 625-4016 and reference case No. 2019-20191912.
---