News > Spokane
Spinning their business: Cycling gym expands to second location after just six months
Wed., Jan. 22, 2020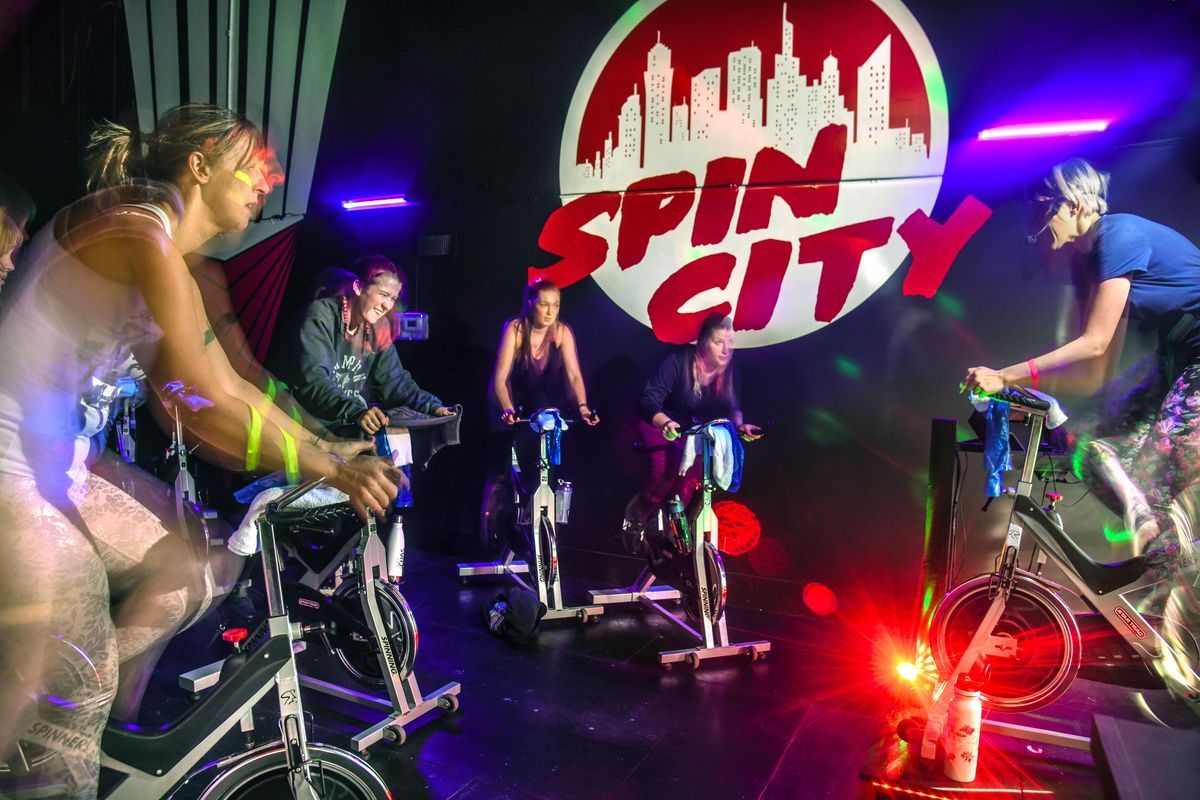 Anna Steele, indoor cycling instructor, right, leads a spin class under black light on Jan. 8 at Spin City. (Dan Pelle / The Spokesman-Review)
A dark room, black lights, blaring music and the whir of spinning wheels all add to the atmosphere of fun and focus at a Spin City cycling class. In recent years, spin classes and other cycling gym chains, like Soulcycle, have seen explosive popularity.
They often cater to a young clientele and are frequented by social media influencers. Spin City founders Krystal Collazo and Jared Muller hope to bring the trend to a new demographic. Collazo is a mom in her 30s, and Muller, a dad to two teenage girls, just turned 40.
"It's intimidating when you walk in and you don't see anyone who kind of looks like you," Collazo said. "So I'm hoping that with our studio that they can look at me or look at Jared and be like, 'OK, you guys look like someone I see every day.' "
When Collazo was 20, she had her son, Marshall, and gained about 80 pounds. "It was dramatic, especially being so young," Collazo said. "That changed my whole body, and it was probably five years before I even thought about working out."
Then she found roller derby and began to live a more active lifestyle. "Roller derby changed her life," Muller said. "It transformed my body," Collazo said. The couple met online about five years ago, and Muller pushed Collazo to take a spin class with him, something he really enjoyed.
Collazo, on the other hand, didn't like the gym atmosphere and was worried about taking a class there. "I didn't like gyms. I have never really been into fitness," Collazo said. "I love it, but I didn't see anyone who kind of looked like me."
So Collazo and Muller purchased stationary bikes and would cycle at home. Muller already owned Precision Woodworking, a construction business, but wanted to start something new before he turned 40.
He took a Spokane Neighborhood Action Partners small-business course that helped him build a business plan. He received a loan from the program, as well, and the couple opened their first Spin City location in June.
The matte black building on North Monroe Street has the Spin City logo, a play on the 2005 movie "Sin City," emblazoned on the side of the building. Their second location adjacent to Spokane Crossfit on Mission Street opened this month.
Riders can just show up or register online in advance. Classes are $15 for walk-ins, but riders also can buy a 10-class pass or a monthly membership. Spin City's new studio has black walls with white angel wings painted by local artist Amber Hoit.
The dark room feels like a cocoon for patrons as they enter and set up their bikes. Once class starts, the lights dim and the instructor is the one highlighted by black lights, creating room to engage with other riders but also the ability to fade into the dark, yet lively room.
Collazo and Muller teach classes themselves but also have hired instructors to teach classes in their own styles. "People come to certain classes for certain instructors," Muller said.
He usually plays EDM while Collazo plays hip hop or rap. "Anna is a totally different style than we usually do," Collazo said of one of her instructors. "She's just like a cycle focus, so she'll be doing a lot of climbs, a lot of sprints.
Other classes are more beat driven. "I think that what I like to offer is a variety," Collazo said. "I like how we're all kind of different."
While spin is often portrayed as a feminine workout, Muller hopes to lead by example as a spin instructor. "I hope that they see me up there because I'm 230 pounds, but I can instruct a class," Muller said.
Spin City is one of a handful of cycling gyms in Spokane, including the Union and the national chain Cyclebar.
The new Spin City location also has a yoga studio where Collazo hopes to offer classes that expand Spin City's reach.
"We're going to be offering different styles of yoga," Collazo said. "I found some really awesome ladies who teach yoga and one gal teaches buti yoga that's more tribal."
They also plan to offer barre classes in the new space. After six months of owning a business, the couple is getting ready for another upcoming transition. Collazo plans to attend nursing school in the fall.
"I'm a natural caregiver, and, even when I'm instructing, I feel like I've changed my mindset as to they're here for help," Collazo said. "And I'm here to help them, so that's how I just like to go about teaching."
Local journalism is essential.
Give directly to The Spokesman-Review's Northwest Passages community forums series -- which helps to offset the costs of several reporter and editor positions at the newspaper -- by using the easy options below. Gifts processed in this system are not tax deductible, but are predominately used to help meet the local financial requirements needed to receive national matching-grant funds.
Subscribe now to get breaking news alerts in your email inbox
Get breaking news delivered to your inbox as it happens.
---