News > Spokane
100 years ago in Spokane: Bandleader praises jazz as 'really and truly melodious'
Sat., Jan. 25, 2020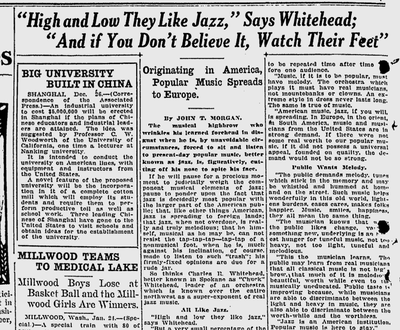 Jazz music was here to stay.
That was the message delivered by Spokane band leader Charles "Chuck" Whitehead, the Spokane Daily Chronicle reported.
Whitehead said it was time for musical "highbrows" to face facts. Jazz had become overwhelmingly popular with the larger American public; it was spreading to Europe and other foreign lands; and "it was "really and truly melodious" when not overdone.
Whitehead said some people continued to turn up "disdainful noses" at jazz. But orchestra leaders knew that people applaud only "perfunctorily" when presented with "heavy" classical music. But when presented with lighter, popular jazz, they become "sincerely enthusiastic."
The telltale sign, he said, was the tap-tap-tapping of toes in the audience.
Whitehead said that when jazz first arrived, it depended on "extremely syncopated" music and on the "acrobatics of the drummer." But now, in 1920, the term jazz had been extended to include nearly all of popular music.
"The public demands melody, tunes which stick in the memory and may be whistled and hummed at home and on the street," he said.
Jazz delivers those qualities and "lightens burdens, eases cares and makes folks happier," he believed.
It should come as no surprise that Whitehead's orchestra was known throughout the Northwest as a "super-exponent of real jazz music."
The young Bing Crosby, destined to be a world-famous jazz singer, was a Whitehead fan.
Local journalism is essential.
Give directly to The Spokesman-Review's Northwest Passages community forums series -- which helps to offset the costs of several reporter and editor positions at the newspaper -- by using the easy options below. Gifts processed in this system are not tax deductible, but are predominately used to help meet the local financial requirements needed to receive national matching-grant funds.
Subscribe now to get breaking news alerts in your email inbox
Get breaking news delivered to your inbox as it happens.
---