News > Pacific NW
Start of Asotin County judge's trial for sexual misconduct will be delayed
UPDATED: Sat., Jan. 25, 2020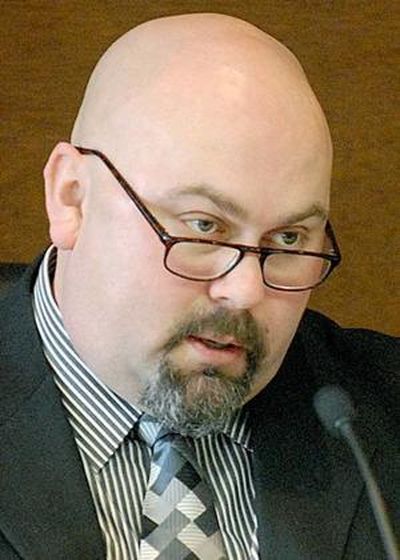 SPOKANE – The trial of an Asotin County judge facing six felony sexual misconduct charges has been postponed to give the defense more time to prepare.
Scott D. Gallina, 56, was supposed to go to trial March 9, but Spokane County Judge Michael Price granted the defendant's request to push back the start date so additional witnesses can be interviewed. No start date has been set.
"This case will probably be one of the more complex, if not the most complex, this department has ever had," Price said Friday at a hearing in his Spokane courtroom.
Gallina, who served as the Superior Court judge in Asotin, Garfield and Columbia counties for five years, was arrested April 10 following an investigation by the Washington State Patrol. He remains out of custody on paid administrative leave and denies any wrongdoing.
Defense attorney Carl Oreskovich, of Spokane, said he will need at least three more months to diligently prepare for Gallina's lengthy trial, which is expected to span several weeks in Asotin County.
Price acknowledged the defense counsel has an "extraordinary burden to zealously defend his client," who, if convicted, is facing at least 17 years in prison on the low end of the sentencing range. The two Class A felonies – rape and indecent liberties– carry maximum penalties of up to life in prison.
"I am going to suggest the stakes don't get any higher than that," Price said. "(The defense counsel) cannot leave any stone unturned. He owes it to his client and the court and the counsel for the state."
Based on past experiences with the state's attorneys, Price anticipates the two prosecutors will be "exquisitely prepared" to present their case when jury selection begins. "That's how they roll," he said. "They don't miss a beat."
The Spokane judge asked the state's attorneys, Melanie Tratnik and Sean Waite, of Seattle, and the defense team to submit their calendars and any possible conflicts that would prevent them from presenting their cases over a three- to five-week time period this spring or summer.
In the latest information provided to the court, the state dropped one of the fourth-degree assault charges, which involved a third alleged victim, along with the sexual assault protection order for that individual. The current charges are related to alleged crimes against two women who worked with Gallina in Superior Court.
Tratnik said a plea offer was presented to the defense in December and rejected. The defendant was informed if he didn't accept the deal, the gross misdemeanor charges of fourth-degree assault would be elevated to felonies in accordance with state laws on crimes committed inside a courthouse. The new charges do not involve any new information or witnesses, Tratnik said.
At the close of the two-hour proceeding, Gallina stood before the judge to be arraigned on amended charges of second-degree rape, indecent liberties with forcible compulsion and four counts of third-degree assault. He entered a "not guilty" plea after each count was read.
Judge Price said he will hear all of the pretrial motions at a daylong hearing, yet to be set.
Another unknown is where it will be conducted in the Asotin County Courthouse. Price said he plans to make a trip to Asotin to view the building before making a decision on whether it will take place in District or Superior Court. An attorney from each side may accompany him on the visit, which will be done after hours or on a weekend so the judge doesn't run into any potential witnesses.
The Gallina case presents significant challenges, including the duration, location and number of witnesses who will testify. The court anticipates sending out hundreds of summons to potential jurors in the weeks leading up to the proceeding.
Price said he had hoped for a change of venue because it would have resolved many of the challenges of conducting a trial in the same building where the alleged crimes occurred. Typically, jurors would never be walking near crime scenes or viewing witnesses doing their everyday jobs. However, it is the defendant's "absolute right" to have the matter heard in Asotin County, Price said, and the logistics will be worked out.
At the pretrial hearing, the judge also will be making decisions on subpoenas from the defense for the alleged victims' cellphone records, emails, texts and social media posts. Attorneys for the women have objected to the request.
In addition, the state filed a 40-page memorandum Friday afternoon on the admissibility of evidence of "prior bad acts," which will be considered by the court.
According to the document, Gallina sexually harassed multiple women who worked in Asotin and Columbia counties, and demonstrated the same pattern of misconduct during the 23 years he worked as a private attorney.
The allegations against the judge range from inappropriate comments and touching to putting a woman in a chokehold while she was seated in his chambers and digitally penetrating her, according to the document.
The state alleges women in three separate locations developed safety plans to try to protect each other from Gallina's "unchecked predatory behavior."
"Gallina follows a common plan in which he makes progressive intrusions, and increases the gravity of his sexual advances when he is able to isolate a woman," Tratnik wrote. "Gallina's brazen and predatory behavior went unchecked and unreported for years, because the victims felt powerless to accuse the only Superior Court judge in the county of misconduct."
Gallina was committing "extraordinarily inappropriate behavior," often in plain view, throughout all the years he worked at the Asotin and Columbia county courthouses, without facing any consequences, Tratnik said.
"None of these women felt they could report Gallina's behavior, either because they wouldn't be believed or because they believed no one would be willing or able to stop the behavior of a man as powerful as Gallina."
During an interview with investigators, Gallina reportedly admitted giving women shoulder rubs and said it was not uncommon for women to hug him or him to hug them. He admitted he may have kissed somebody on top of the head and said he was "very paternal" and probably an "overly affectionate person," according to the document.
He denied numerous accusations, such as off-color comments, kissing anyone on the lips, pulling clothes off women, pulling hair, biting anyone, pushing women up against walls and forcefully groping them, putting his hand down anyone's underwear or bending anyone over a desk and grinding on them.
At the motion hearing, the state plans to argue Gallina's past behavior against a multitude of women over many years is highly relevant and should be admissible at trial.
Local journalism is essential.
Give directly to The Spokesman-Review's Northwest Passages community forums series -- which helps to offset the costs of several reporter and editor positions at the newspaper -- by using the easy options below. Gifts processed in this system are not tax deductible, but are predominately used to help meet the local financial requirements needed to receive national matching-grant funds.
Subscribe to the Coronavirus newsletter
Get the day's latest Coronavirus news delivered to your inbox by subscribing to our newsletter.
---