Sports
A Grip on Sports: This season's Cougars seem to be waking up the ghosts of basketball success past
Thu., Jan. 30, 2020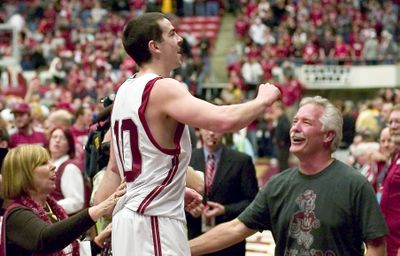 A GRIP ON SPORTS • What is it about Arizona State, Washington State, Pullman and last-second shots? Oh, and throw in left-handed shooting guards too. A wild-ending happened again last night in the Palouse and this time it was CJ Elleby who played the hero role.
•••••••
• It has been nearly 11 years ago now since Taylor Rochestie was a senior for the Cougars. Eleven years of up-and-down basketball, though mostly down. Back then, though, Washington State was still packing Beasley Coliseum and still contending in the Pac-10.
Though by the time Arizona State visited on the last day of February in 2009, the Cougars were wallowing in the middle of the conference standings. The Sun Devils weren't and led by James Harden, were trying like crazy to stay in the conference title chase.
It was Senior Night in Pullman and the Cougars were saying goodbye to Rochestie, Aron Baynes, Daven Harmeling and Caleb Forrest. The game would come down to the final shot.
There were some parallels last night when ASU visited, though the Sun Devils don't seem to have anyone the caliber of Harden – Remy Martin, maybe someday – nor do the Cougars draw more than 10,000 to a game unless Klay Thompson is in town to receive an award.
But Wednesday night's game was tight and it came down to the final possession. As WSU coach Kyle Smith said afterward, all he wanted was to have the ball in Elleby's hands.
Tony Bennett felt the same on that Saturday 11 years ago, if you substitute Rochestie's name for Elleby's. For both coaches, one just beginning his Washington State tenure, the other, unknown to anyone, about to end his, it worked out.
Rochestie hoisted up a 28-footer at the end of overtime that day, the nothing-but-net 3-pointer lifting the Cougars to a dramatic 51-49 win over ASU. Last night it was Elleby's turn, as his late-game, step-back 3-pointer found the net and helped Washington State finally subdue the Sun Devils 67-65.
And allow some of us hear echoes of the past.
It's those echoes Smith is trying to reproduce. This Washington State group plays defense as tenaciously as that last Bennett squad, albeit in a different way. And the Cougars play with their best effort nearly every time out. That gives them a chance in most every contest, especially at home (WSU is 10-2 in Beasley this season).
It will take Smith's program a while to climb out of the hole it has fallen into the past few years, but the ladder finally seems to be in place. All the Cougars have to do is pull themselves up, rung by rung.
Last night? They took a couple of steps. And harkened back to the most recent WSU Golden Age.
• I noticed something odd this morning while perusing the Pac-12 standings. Every team in the conference is at least three games over .500 at home this season. And all but UCLA are six games better.
Heck, the Cougars' 10-2 mark is only tied for sixth-best in the league. Oregon is undefeated after 12 home games, while Stanford, Arizona, Utah and USC have only lost once this year on their home courts.
It's either great scheduling, a true advantage or an anomaly. We vote for the last one.
• Funny thing. The coach of Arizona State on that night in Pullman 11 years ago? Yep, Herb Sendek.
He'll be on the sidelines tonight in the Bay Area when Gonzaga takes on his Santa Clara team in a West Coast Conference matchup.
Sendek's tenure at ASU was successful by a lot of measures, but not enough for the veteran coach to keep his job.
He's been at Santa Clara for a while now, though the Broncos have yet to reach the heights Sendek's best Arizona State teams did. Maybe someday. After he's recruited another James Harden.
Ya, right. That will happen.
•••
WSU: Theo Lawson witnessed last night's win, one that seemed as if it might be a bit easier than it ended up. After all, the Cougars led by double digits in the second half. But Arizona State has been fighting back recently and actually led late in this one. … Nick Rolovich's hire is out of character for the Pac-12 these days. … Elsewhere in the Pac-12, Washington hasn't had a lot of basketball success lately. Maybe the formula is off a bit. Tonight, the Huskies host Arizona, which is looking for its first true road win of the season. … Oregon heads to California trying to stay atop the conference standings. … Oregon State is at the bottom of the standings with a trip to Stanford tonight. … Will a veteran Colorado team look past UCLA? The Bruins aren't the toughest game on the L.A. road trip anymore. … USC wants to finish the month strong and be even better in February. Utah has other plans. … In football news, Arizona State's Herm Edwards might soon be $1 million richer.
Gonzaga: The Zags travel to Santa Clara tonight, heading there having defeated the Broncos by an average of more than 50 points in each of the last three meetings. Jim Meehan gets to enjoy the Bay Area weather though he had to write a preview of the game and a look at the key matchup. … We'll be back tonight with a TV Take of the game broadcast on the CBS Sports Network. Don't worry Gonzaga fans. Steve Lavin is not the analyst for the game. It is former Virginia coach Pete Gillen. … The women will host San Diego tonight, putting their national-best 18-game winning streak on the line. Jim Allen has a preview of the game but that's not his most fun story today. That label has to be applied to this piece on the Zags' practice players. They are a bit different than the players they are attempting to make better each day. … Around the WCC, BYU's TJ Hawes may see his consecutive game streak snapped this week as his wife is expecting a baby. The Cougars need to bounce back this week.
CCS: The Sasquatch picked up a road win in Yakima last night.
Preps: Oh sure, we have the usual girls and boys basketball roundups from last night, but we have more. A lot more. … Dave Nichols has a story on the success Central Valley's boys have had this season, success built around a team concept. … Ryan Collingwood has a feature on a West Valley wrestler who has bounced back from injury to have a stellar season. … Dave also has three basketball players of the week and spoke with Larry Weir for the latest Press Box pod.
Chiefs: Spokane trailed for most of the night and lost at Kamloops, 4-2.
Running: Steve Christilaw introduces us to a local woman who has had a lot of running success. Like the event she competes in, it's been a marathon career.
Seahawks: The offense will probably look a lot the same next season.
•••       
• As we said, we will be back tonight with our TV Take from the Gonzaga game. I am going out on a limb here and predicting this one will be much closer than the matchup with Santa Clara in Spokane. Until later …
Local journalism is essential.
Give directly to The Spokesman-Review's Northwest Passages community forums series -- which helps to offset the costs of several reporter and editor positions at the newspaper -- by using the easy options below. Gifts processed in this system are not tax deductible, but are predominately used to help meet the local financial requirements needed to receive national matching-grant funds.
Subscribe to the sports newsletter
Get the day's top sports headlines and breaking news delivered to your inbox by subscribing here.
---