News > Idaho
Ready, set, woof: Two local dogs competing in Puppy Bowl
Fri., Jan. 31, 2020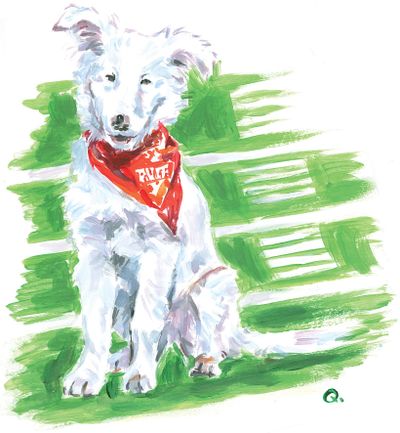 Two local dogs are competing in the Puppy Bowl this Sunday.
The dogs are from Double J Dog Ranch, a nonprofit in Hauser, Idaho, that rescues, re-homes and offers sanctuary to disabled dogs.
The Puppy Bowl is the same day as the Super Bowl and features puppies up for adoption at shelters across the United States.
One of the competitors, Filbert, is a deaf and partially blind sheltie mix. The other is Daphne, a German shepherd puppy with megaesophagus.
Double J also has a 6-year-old deaf border collie mix named Lulu competing in Dog Bowl III on Saturday. The Dog Bowl features older dogs who need adopting.
"She just took the field by storm on Dog Bowl, worth watching the game," said Cristene Justus, founder of Double J.
Justus has taken one of her rescues to the Puppy Bowl every year since 2015.
"They reach out to different rescues and shelters across the country and invite them to come," Justus said.
Justus took the dogs to New York in October to film the competitions, but she still hasn't seen the fully edited version.
Animal Planet came out to Double J to interview Justus and showcase the dogs, ahead of the game.
The video highlighted how Justus trains the disabled puppies to become well-mannered members of their future families.
The goal of the Puppy Bowl is to encourage people across the country to adopt a dog, and it has worked for Filbert and Daphne, who both were re-homed after filming.
Lulu is still at Double J and up for adoption, along with about six other dogs waiting for a new home.
Justus is looking forward to watching the Puppy Bowl on Sunday with friends and supporters at Embers by the Lake in Hauser, just a short way from the ranch.
"It's going to be a pretty good turnout," Justus said. "Last year we packed the house, and I think it's going to be jammed this year."
Local journalism is essential.
Give directly to The Spokesman-Review's Northwest Passages community forums series -- which helps to offset the costs of several reporter and editor positions at the newspaper -- by using the easy options below. Gifts processed in this system are not tax deductible, but are predominately used to help meet the local financial requirements needed to receive national matching-grant funds.
Subscribe to the Coronavirus newsletter
Get the day's latest Coronavirus news delivered to your inbox by subscribing to our newsletter.
---