News > Idaho
'He saved us': Widow recalls life, death of husband who drowned at Corbin Park
UPDATED: Thu., July 2, 2020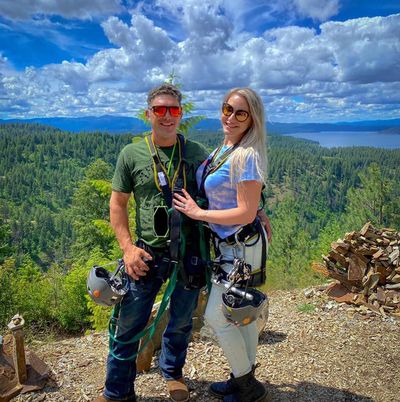 The wife of a man who drowned in the Spokane River at Corbin Park said he died trying to save her and their daughter from a dangerous undertow they'd never experienced before, despite being an avid boaters and swimmers.
Heather Gardner said her husband, Gabriel Gardner – who always went by an abbreviated form of his middle name, Luke – loved to hike, swim and boat. He was Heather's "adventure buddy." They never missed a chance to be doing something outdoors, Heather said, whether that was hiking to the rock slides at Priest Lake or zip lining across Lake Coeur d'Alene, as they had just a couple of weeks ago for Father's Day.
Luke and Heather were married in 2012, after having been together "some way or another" for 10 years, Heather said. He'd graduated from high school in Post Falls, and she was a student from Hayden Lake. They met through mutual friends and had done everything together since.
He was the hardest worker she'd known, and a devoted father to their three children. Luke loved his job at a concrete company, and would even work cash jobs on the weekends to make a little extra so he, Heather and the kids could go do something fun. Heather taught fitness classes at a local studio, and he'd always come after work with the kids to support her.
"The kids and I were his whole life," Heather said. "He worked all day then came home and spent time with us. We were his hobby."
On Saturday, the family was at the river at Corbin Park, only expecting to have the boats out on the water for a couple of hours before Brayden, 12, had to be at karate. The family had spent countless days on the river like this, even at this exact spot, Heather said. The kids always wore life jackets, but she and Luke were strong swimmers and usually didn't, she said.
Heather was on a kayak with their youngest child, 21-month-old Kinzlee, who Heather said is the "spitting image" of Luke. Brayden followed on another kayak close behind. They were only a few feet from shore, with Luke filming on his phone nearby.
"Everything was normal until it wasn't," Heather said. "I didn't even know what happened. The boat flipped out from under us, and I never saw that kayak again."
Heather's kayak suddenly was pulled into what she described as a "cyclone," knocking her and Kinzlee into the water. Luke dropped the phone and jumped into the water to grab them.
Luke grabbed Kinzlee, gave her to Brayden and told him to go as fast as he could to get help, Heather said. Then he dove into the water after her.
Heather said she fell back on her training from high school swim team – she tried to lay flat on her back and paddle as hard as she could. Even if she had been wearing a life jacket, she didn't think it would have helped.
"You can't move anywhere," Heather said. "You're just stuck. I opened my eyes to see the light, but then it started getting dark. I thought it was going to be the end."
Eventually, someone on shore got an inner tube out to Heather and dragged her back to shore. Heather's mom ran over to see if she was OK.
"She asked, 'Where's Luke?' I didn't even realize he was gone," Heather said.
Heather said she is a strong swimmer, but Luke was stronger. She never expected he would have gone under.
After several minutes of searching by family and friends, the Kootenai County Sheriff's Office dive team was called to the river around 6 p.m. Luke was found around 7 p.m. and pronounced dead on the scene, according to a sheriff's office press release.
Heather said the spot where the kayak went under didn't look rough. It seemed just like every other part of the river.
Had they known about the dangerous water conditions, Heather said they never would have gone near the river that day.
"There was no warning, none at all," Heather said. "There were kids and dogs swimming right near where we went under. Nobody should have been in that water."
Heather later heard the Post Falls Dam, a few miles upstream from where they were swimming, had been opened without warning that day. She hasn't been contacted by Avista, the utility that owns the dam, or anyone else that might know what happened, she said.
Annie Gannon, a spokesperson for Avista, said Wednesday night the dam had been running at normal operations with no recent changes. Gannon said river flows have recently slowed enough to allow the dam's spillway gates to close, but that didn't occur until Thursday.
"Since we don't have visibility into these specific circumstances, we wouldn't want to speculate," Gannon said. "There are so many factors that contribute to conditions at any given location in a river."
Heather said to their children, Brayden, Kinzlee and Lillee, 7, Luke's death isn't "quite real" yet. Heather, though, said a part of her was still with him.
"It's hard when the person you do literally everything with is suddenly just gone," Heather said. "And it could have been prevented. It was just senseless to me."
The family is planning a small, intimate memorial service for Luke next week. Heather said a larger celebration of life is planned for Luke's 36th birthday in August.
"He was a hero and he saved us," Heather said. "And he would have done it a million times over."
Local journalism is essential.
Give directly to The Spokesman-Review's Northwest Passages community forums series -- which helps to offset the costs of several reporter and editor positions at the newspaper -- by using the easy options below. Gifts processed in this system are not tax deductible, but are predominately used to help meet the local financial requirements needed to receive national matching-grant funds.
Subscribe to the Coronavirus newsletter
Get the day's latest Coronavirus news delivered to your inbox by subscribing to our newsletter.
---