Three Republicans challenging Attorney General Bob Ferguson's bid for third term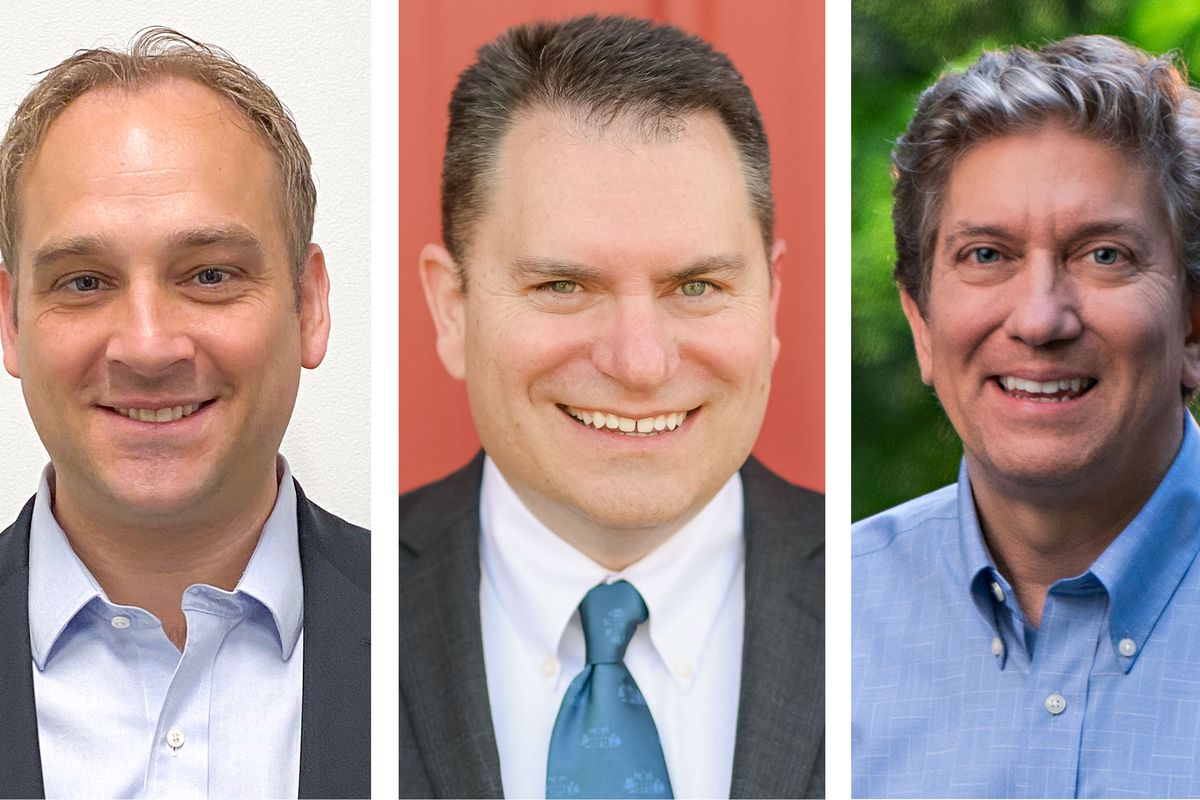 The difference four years makes in Washington elections is probably most obvious in the state attorney general's race.
Four years ago, Republicans couldn't muster an opponent to Democrat Bob Ferguson in his first re-election campaign. Ferguson easily defeated Libertarian Joshua Trumbull, his only challenger in the primary and general that year.
But 2016 also saw the election of Donald Trump as president, and Ferguson became one of the most active legal challengers of Trump policies. Among the policies he's taken on are restrictions on immigrants from certain Muslim countries and the reallocation of money in the Defense Department budget for helping construct a wall along the border with Mexico. This year, he has three Republican challengers, who see the office as a platform to address problems plaguing the state like homelessness and business development, as well as being head of the state's largest legal office.
"The attorney general's office has always been suing the federal government," said Mike Vaska, a shareholder in Foster Garvey, one of the state's largest private firms.
For decades it has been locked in legal battles over the cleanup of the Hanford Nuclear Reservation, he noted, but the last three years have been different.
"Bob has made made it partisan, not about the issues, and we need to change that," he said.
The state should take on the federal government when Washington is being harmed and is the only one that can handle it, Vaska said. An example of that would be challenging the Navy's practice of scraping ships and polluting Puget Sound. But it should not sue over things that others can handle, such as changes to federal rules on incandescent bulbs because "there's a lot of groups interested in that."
Brett Rogers, a lawyer who manages the Seattle Police Department's parking enforcement office, contends Ferguson isn't consistent in the legal fights with the federal government. He sees a contradiction between the state challenging the increase in flights at Whidbey Naval Air Station while also suing over a decision to divert military construction funds bound for Washington bases to the border wall.
"Love him or hate him, Trump was duly elected and has certain powers," Rogers said.
Ferguson's office has filed or been part of 40 lawsuits against the Trump administration in the last 3 1/2 years, and hasn't lost a case, although many are still on appeal. In an interview last summer, he said he would never have predicted such a successful string but it stems in large part from the administration not following the proper procedures when it decides to change a rule or a policy.
The state should have stayed out of the dispute over the Tri-Cities florist who refused to provide arrangements for a gay wedding, Rogers argued, and allowed it to remain a civil dispute between the two sides rather than filing a consumer-protection case. The state won that case in the Washington Supreme Court, which ruled twice that the refusal violated the state's anti-discrimination and consumer-protection laws, but the case is before the U.S. Supreme Court.
Matt Larkin, the third challenger in the race, argued an attorney general has limited resources and should make better choices in cases. He was critical of Ferguson for taking health club owners in Snohomish and Pierce counties to court for violating orders to remain closed because of COVID-19.
"Was that a good fight to pick?" Larkin asked. The attorney general's office should be more "business friendly," he said.
Ferguson filed consumer-protection lawsuits against the two gyms for violating the statewide public health order despite repeated warnings and for having an unfair advantage over competitors who stayed closed. The gyms signed a settlement agreement to close.
Each challenger has a resume that he argues is more important for the next occupant of the office.
Rogers stresses his experience in law enforcement, first in Wisconsin and later with the Seattle Police Department. He was also an investigator in the Seattle Public Schools before returning to the police department in a civilian position to manage the parking enforcement office. He suspended his small private practice when deciding to run.
Larkin worked in the Spokane County prosecutor's office as a third-year student at Gonzaga Law School and later in the Pierce County prosecutor's office. While working on a Master of Law and litigation at George Washington University he also worked in the George W. Bush White House, checking the legal aspects of the president's speeches. He left the Pierce County office to return to his family manufacturing business, Romac, which was started by his grandfather.
"I'm used to juggling a lot," Larkin said. "You don't need to be an experienced litigator to solve these problems. You need to be a leader."
Vaska contends his decades of experience in a major law firm, where he works on consumer protection and anti-trust cases, is the best fit for the job that involves leading an office of hundreds of attorneys and staff. He's also the only one of the three with previous election experience, having run for attorney general in 2004, and losing in the GOP primary to eventual winner Rob McKenna, who is endorsing him this time. He's also the current chairman of the Mainstream Republicans of Washington, a moderate-to-conservative group that includes such GOP veterans as former Gov. Dan Evans, former U.S. Sen. Slade Gorton and former Washington Secretary of State Sam Reed.
State primaries are no longer partisan elections, so in theory two GOP challengers could advance to the general election. But Ferguson has strong support from Democrats and has raised more than $3.3 million for the campaign to go with the name familiarity of running statewide twice and holding a high-profile office. The primary race is for the other spot on the general election ballot.
By comparison, Larkin has raised $180,000, Vaska $172,000 and Rogers about $40,000, and all three are scrambling to get their name before voters. Because of restrictions tied to the COVID-19 pandemic, the opportunities to meet large groups of voters in person have mostly disappeared, but the chances to appear by internet conferencing to local political gatherings around the state have grown.
Jim Camden can be reached at (509) 879-7461 or at jimc@spokesman.com.
---