Pandemic hasn't deterred all Spokanites from using lime scooters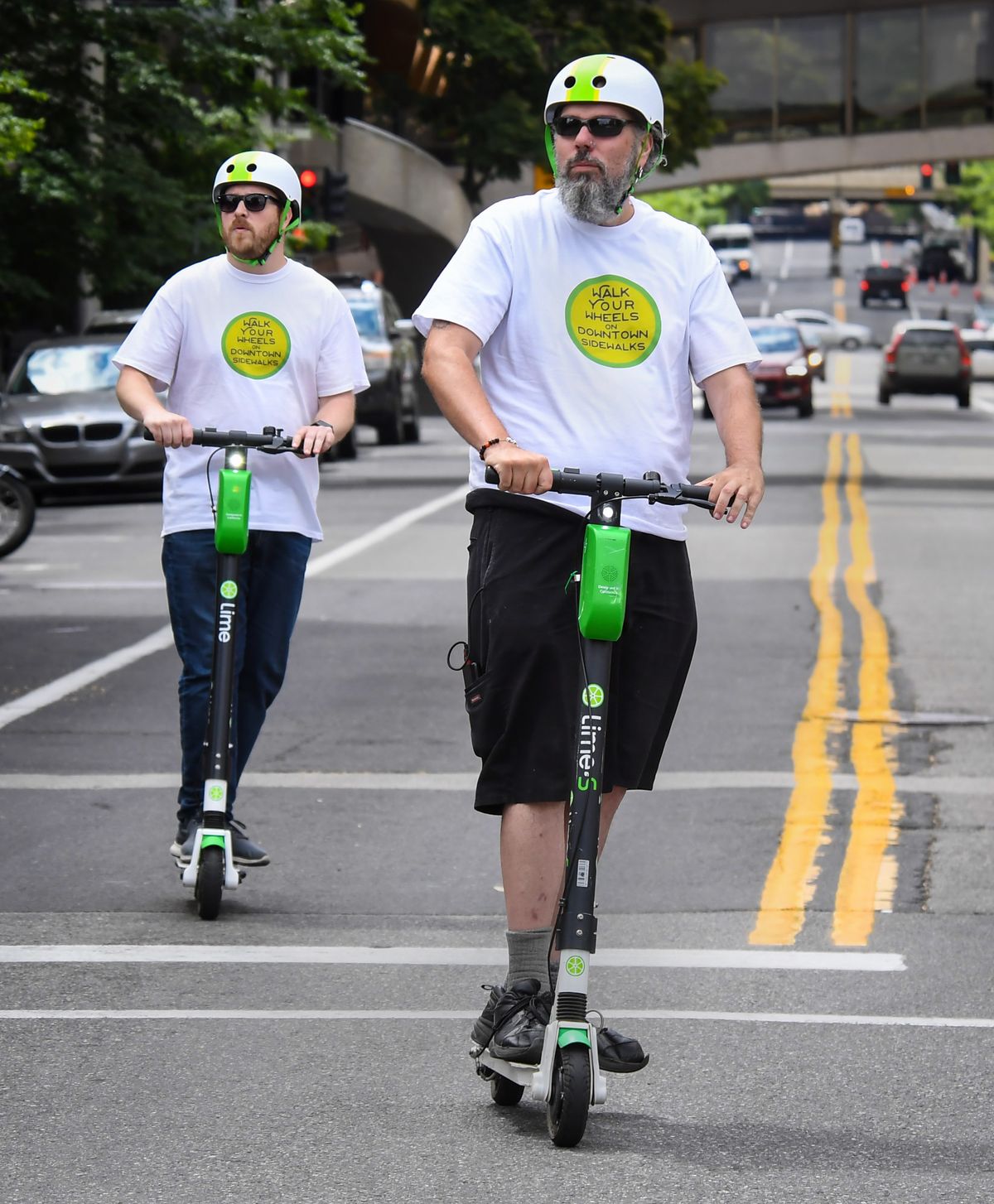 The modern sign of the arrival of summer in Spokane – Lime scooters – finally hit the sidewalks this week after a delay caused by the pandemic.
And at least the most enthusiastic fans are ready to ride.
Isaac Stokoe dropped off his long board with a roommate who was at a downtown restaurant so he could ride the scooter home.
Stokoe saves cash during the winter to ride Lime scooters in the summer. He's been a fan since they first were introduced to Spokane about two years ago.
"I just find them really entertaining," he said. "At first, I didn't really look at it as a necessity to go to and from work, but now I see it's really helpful."
Stokoe who lives about 5 miles from downtown and makes the trek nearly every day for his shift at Madeline's Cafe and Patisserie, said using the scooters has cut his gas costs. Being able to use his car less makes him feel a bit better about attempts to reduce his carbon footprint.
But with concerns surrounding the increase in COVID-19 cases and the use of public transportation many have opted out of using the scooters. The company stated it would be sanitizing the scooters at least once a day and advised users to wash their hands and use hand sanitizer.
Lime is touting its service as an open-air option that allows riders to maintain 6 feet of social distance. Lime points to recent studies demonstrating coronavirus spread is most pronounced in indoor settings and Centers for Disease Control guidance that suggests the virus is not primarily transmitted through touching surfaces as evidence its service is safe.
Stokoe said he'll sanitize the scooter before and after each use and will wash his hands right when he gets to work or back home. He's also been keeping an eye on the number of COVID-19 cases in the area but is confident people will be conscious of safety procedures, he added.
Companies that rent scooters in urban areas already were struggling before the pandemic. Lime, for instance, laid off 100 employees early this year even before COVID-19 became a significant concern in the United States, according to Fortune.
After the pandemic, the picture looked worse and Lime laid off an additional 80 employees.
Lime officials told Fortune they are seeing encouraging signs even during the pandemic as the amount they earn per ride has risen because users are riding them for longer distances.
Jesse Paine was walking around Riverfront Park when she stopped for a scooter.
Daniel Shanley, who was at the park with Paine, said he's only used the scooters once or twice before. He said he doesn't really have any COVID-19-related concerns or precautions he's taking before using the scooter.
Paine said she also uses Lime scooters every time around summer.
More recently, she makes sure to wash her hands when she gets home and avoids touching her face.
"They make it easier to get around downtown with all the traffic, and they're convenient cause they're everywhere," Paine said.
Concerns about the germs aren't the only potential obstacle for Lime riders.
Amy Shook, who was sitting with her children and a cousin visiting from St. Louis, said using Lime scooters is no easy task.
Lime scooter users need to download an app and pay through it. Shook, who doesn't have a cellphone, said she's been wanting to try it and is sure her children would as well because they look like fun.
---