News > Local business
Spokane couple launches subscription box business featuring products from local, regional makers
Sun., July 5, 2020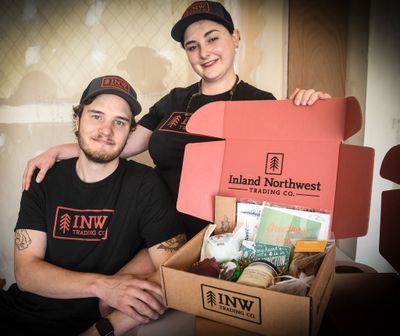 The idea of launching a business during a global pandemic might seem counterintuitive to some, but for Spokane residents Mariah Brooks and Gary Bailey, it's providing an opportunity to follow their dream.
Bailey was working as a communications specialist and Brooks in the restaurant industry before they were laid off from their jobs because of COVID-19.
The couple combined their creativity and desire to support the community and launched Inland Northwest Trading Co., a monthly, subscription box service featuring a collection of handmade items from Inland Northwest-based and regional producers.
The subscription box service gives customers a new way to support local and regional makers, Brooks said.
"When COVID-19 hit, we realized how much of an impact it was going to have on local makers," Brooks said, adding that producers could no longer sell items at farmers' markets during the onset of the pandemic. "If (producers) didn't have a website, there was no way to interact with customers."
The couple handpicks each product in the subscription boxes. Brooks handles the product and consumer relations side of the business, while Bailey, a graphic designer, oversees marketing, branding, photography, screenprinting and website and packaging design.
Brooks and Bailey, who are operating the business out of their garage, personally deliver the subscription boxes to local customers.
The subscription box service officially launched Wednesday, with the first round of deliveries going out to about 25 homes, Brooks said.
"Gary and I spent four hours hand-delivering almost every single box," Brooks said, adding they also shipped boxes to out-of-state customers.
Prices vary depending on size of the subscription boxes. A basic box, which is $29.95 a month, includes six to eight items. A standard box, at $39.99 a month, contains seven to 10 items. A big box costs $49.99 a month and includes more than 12 items.
Items from July's subscription box included temporary tattoos by Spokane-based 18th Avenue Designs; key chains by A Redhead's Touch, operated by 16-year-old local resident Trevor Waggoner; bath bombs by BeYOUtiful Bath Bombs & More; sea salt-infused caramel chews from Yakima-based Copper Pot Caramels; stickers from Missoula-based Noteworthy Paper & Press, and much more.
"Each item is a labor of love," Brooks said.
Prior to launching Inland Northwest Trading Co., Brooks spent weeks researching makers in the Inland Northwest. She ordered items from them to get a sense of the quality and the overall customer experience. She then partnered with makers to feature various items in the subscription boxes.
The response from customers has been overwhelmingly positive, with many expressing excitement upon receiving their subscription boxes. Some have even recorded and posted unboxing videos online, Brooks said.
"We were so concerned with logistics and getting deliveries done, we didn't think about the fact that people would be seeing and reacting to our boxes," Brooks said. "Some people met us at the door and were so excited."
The couple has already received enough orders to do a second round of deliveries on July 15. New subscribers will be able to receive boxes if they sign up at inwtradingco.com before then.
The couple aims to eventually open an online marketplace featuring individual items from local makers as well as other customized subscription boxes. Bailey is also working with producers to create their own websites.
Inland Northwest Trading Co. also focuses on sharing stories behind the products and the makers who create them, Brooks said.
"It's also giving people the opportunity to try really cool stuff," Brooks said. "People are making awesome things and some are hard-to-find products."
Local journalism is essential.
Give directly to The Spokesman-Review's Northwest Passages community forums series -- which helps to offset the costs of several reporter and editor positions at the newspaper -- by using the easy options below. Gifts processed in this system are not tax deductible, but are predominately used to help meet the local financial requirements needed to receive national matching-grant funds.
Subscribe now to get breaking news alerts in your email inbox
Get breaking news delivered to your inbox as it happens.
---