100 years ago in Spokane: Busy Independence Day for fire department leads to proposal to ban firecrackers
UPDATED: Thu., Sept. 3, 2020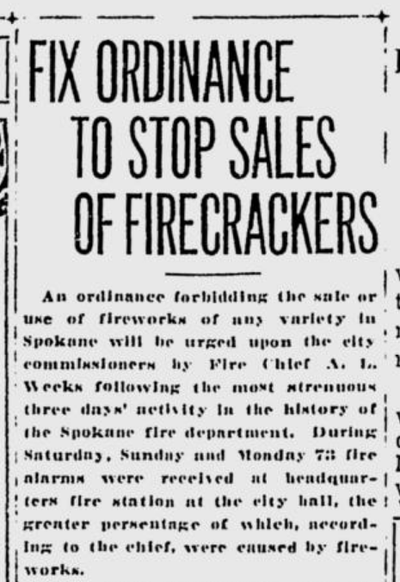 Following a record 73 fire alarms in Spokane on Fourth of July weekend 1920, Spokane Fire Chief A.L. Weeks proposed a new ordinance forbidding the sale or use of firecrackers of any kind.
Even the so-called safe-and-sane fireworks should be banned, he said.
"The small firecrackers now allowed by ordinance are prolific sources of fires," said the fire chief. "In fact, the small crackers, owing to their greater use, are more dangerous than the larger variety."
He said the fire department for years has been advocating a law prohibiting the "sale and use of such explosives in any form."
He said most of the fires were grass fires, shed fires and small house fires, and that Spokane was lucky the damage was not worse.
The City Council had not yet weighed in on the fire chief's proposal.
From the water sports beat: The Coeur d'Alene Regatta drew an estimated crowd of 10,000, nearly half of them traveling from the Spokane area via the Inland Electric Railway.
Hundreds competed in the swimming and diving competitions, including Dorothy Williams, the youngest entrant at age 6.
The Spokane YMCA won the team competition, with the Spokane high school team in second place.
The motorboat "Freckles" – equipped with an airplane engine – won the coveted regatta trophy in the 4-mile derby race.
Also on this date
(From the Associated Press)
1854: The first official meeting of the Republican Party took place in Jackson, Michigan.
Local journalism is essential.
Give directly to The Spokesman-Review's Northwest Passages community forums series -- which helps to offset the costs of several reporter and editor positions at the newspaper -- by using the easy options below. Gifts processed in this system are not tax deductible, but are predominately used to help meet the local financial requirements needed to receive national matching-grant funds.
Subscribe to the Coronavirus newsletter
Get the day's latest Coronavirus news delivered to your inbox by subscribing to our newsletter.
---