3rd victim recovered from plane crash over Lake Coeur d'Alene; 5 still missing
July 6, 2020 Updated Mon., July 6, 2020 at 10:08 p.m.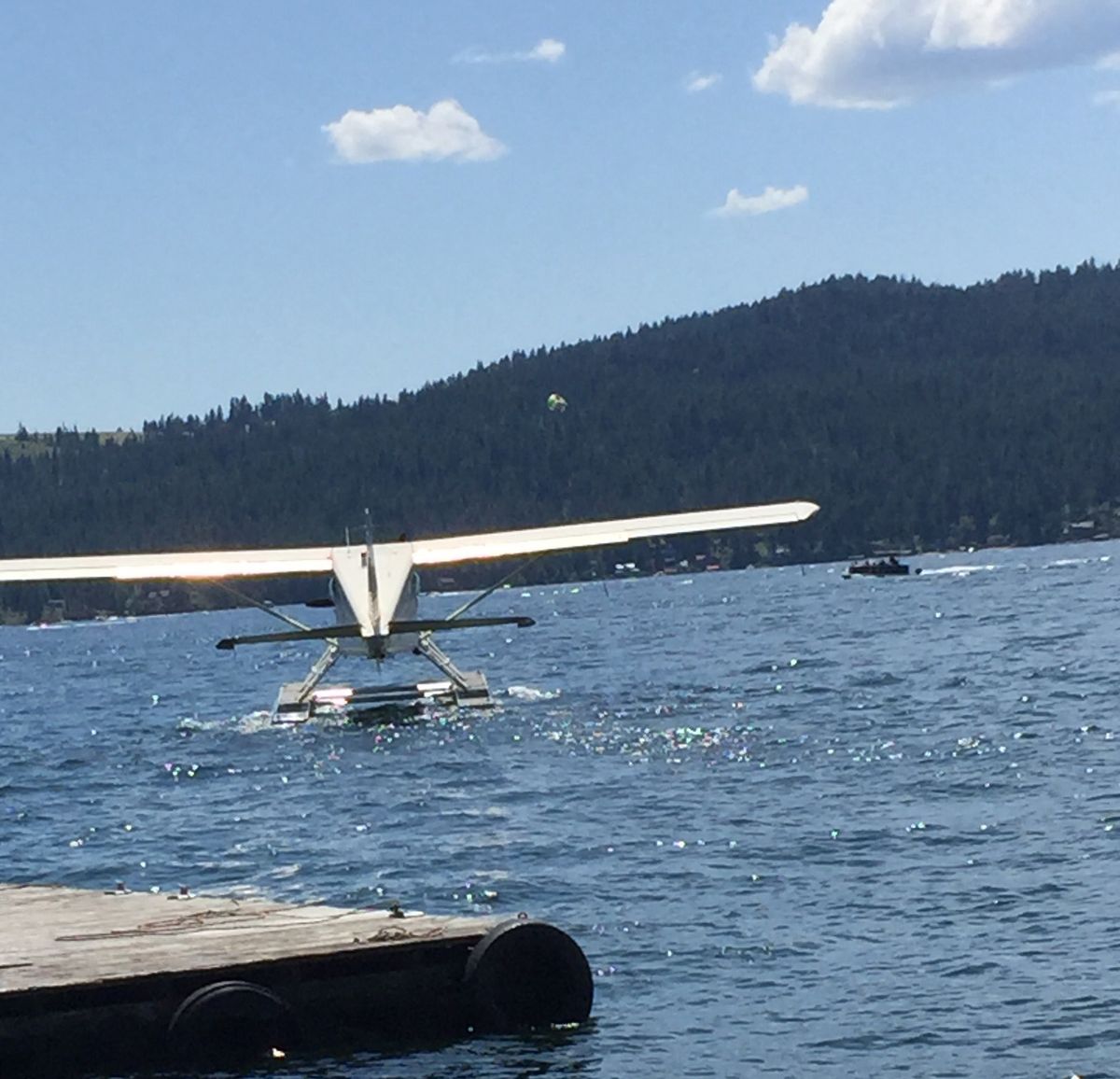 Michelle Schlote, a tourist in Coeur d'Alene, took this photo of a de Havilland seaplane that was involved in a midair crash on Sunday as it took off for its last flight. The plane collided in midair with a Cessna that had taken off from Felts Field in Spokane. (Courtesy of Michelle Schlote)
The body of a third victim was recovered from Lake Coeur d'Alene after two planes collided in midair Sunday afternoon, and authorities on Monday said they had located two others among the underwater wreckage.
The planes, carrying at least eight people, crashed over the lake between Black Bay and Powderhorn Bay around 2:20 p.m. Sunday. One was a de Havilland DHC-2 operated by Coeur d'Alene-based Brooks Seaplanes, and the other was a Cessna TU206G that had taken off from Felts Field in Spokane, authorities said.
Lt. Ryan Higgins of the Kootenai County Sheriff's Office identified the pilot of the de Havilland as Neil Lunt, 58, of Liberty Lake, who is listed as the owner of Brooks Seaplanes.
The passengers included Sean K. Fredrickson, 48, of Lake Oswego, Oregon; his 16-year-old son, Hayden; his 16-year-old stepdaughter, Sofie; and his 11-year-old stepson, Quinn. Higgins said detectives were working to identify a fifth passenger, an adult male.
Fredrickson's uncle, Timm Fredrickson, said Sean was loved by those he worked with as a manager of golf courses throughout Oregon. He had a "serious passion" for golf and was a skilled soccer player, a talent he passed on to Hayden.
Sean Fredrickson was a devoted father to all three of the children who died in the crash, his uncle said.
"It hit me like a ton of bricks when I heard," Timm Fredrickson said. "To think of being up in the seaplane, having a great time and then it's all over the next minute, it leaves an emptiness in my heart."
The two occupants of the Cessna have been identified, but Higgins said the sheriff's office was withholding their names until authorities could notify their families. The plane is registered to a Lewiston company, Echo Rental Co., but Higgins said it wasn't immediately clear where the occupants were from.
Echo Rentals did not immediately respond to a request for comment Monday afternoon.
The bodies of three victims had been recovered Monday afternoon, but the county coroner had not yet confirmed their identities, Higgins said. Both planes remained under 127 feet of water.
Two victims were recovered from the wreckage by nearby boaters before the planes sank "fairly quickly," Higgins said. The third was recovered from the lake floor using a remote-operated vehicle around midnight Sunday.
Higgins said two more victims had been located at the bottom of the lake using sonar. Divers planned to attempt to recover those bodies Monday, then continue searching for the remaining three victims, Higgins said.
Because the victims and wreckage were so deep underwater, Higgins said commercial dive teams or more specialized equipment may be needed to find and recover them. Repeated dives at that depth are "incredibly dangerous," and the county dive team may need backup, he said.
The recovery effort could take at least a week, Higgins said.
The U.S. Coast Guard assisted the sheriff's office and local fire departments on Sunday but is not involved in the ongoing recovery effort.
Petty Officer Michael Clark said Monday the Coast Guard had been on the lake as part of a multi-agency boating safety operation, monitoring for impaired boaters during the Fourth of July weekend.
Terry Williams, a spokesman for the National Transportation Safety Board, said two investigators were expected to arrive in Idaho on Monday night.
Williams said the investigation was still in the "very, very, very early stages," and no cause could yet be determined.
The crash is the worst civilian aviation accident in the Inland Northwest in recent memory. In 2007, 10 people died when a Cessna 208 returning from a skydiving event in Boise crashed near White Pass. In 2018, a Cessna 172 broke apart in midair and plummeted into a field near Deer Park, killing two men and their flight instructor.
Reporter Emma Epperly contributed to this report.
Local journalism is essential.
Give directly to The Spokesman-Review's Northwest Passages community forums series -- which helps to offset the costs of several reporter and editor positions at the newspaper -- by using the easy options below. Gifts processed in this system are not tax deductible, but are predominately used to help meet the local financial requirements needed to receive national matching-grant funds.
Subscribe now to get breaking news alerts in your email inbox
Get breaking news delivered to your inbox as it happens.
---