News > Washington
Spokane Tribe to hold special election on COVID-19 aid funds
UPDATED: Thu., July 9, 2020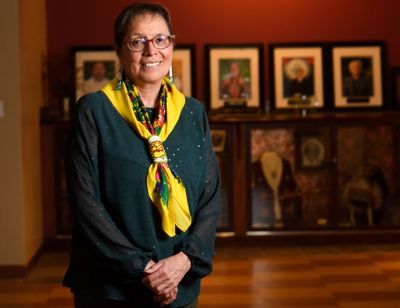 Members of the Spokane Tribe of Indians will be able to vote on whether every tribal citizen adult will receive a $2,000 payment in COVID-19 aid funding in a special election Saturday.
According to a petition posted to the tribe's website, it received $19 million in aid from the Coronavirus Aid, Relief, and Economic Security, or CARES, Act for COVID-19 expenses. The petition, which tribal voters will weigh in on Saturday, calls for approximately 25% of that funding to go to all tribal citizens for unforeseen emergency needs caused by the pandemic. If the initiative is approved, adult Spokane Tribe citizens who were 18 years old by June 30 would receive a direct payment of $2,000, and children who are 17 and under would receive $1,000.
The petition for direct payments was submitted June 15, and the tribe's constitution requires it to hold a special election within 45 days if there is not a regular election in 90 days.
Chairwoman Carol Evans said the Spokane Tribe had been hit hard by COVID-19 due to the lack of broadband internet on the reservation and the already high rate of unemployment. She said accessing telehealth care or education over the internet has been especially difficult for many families. Families already in poverty were struggling with the increased price of food and other increased costs during the pandemic, she said.
Evans said the tribe has already budgeted some of the federal COVID-19 aid money, from the CARES Act as well as other sources, to set up a quarantine facility and purchase personal protective equipment. The tribe has also considered purchasing cell towers to increase internet access on the reservation.
She said polling places have been set up in Spokane and on the reservation .
According to the special election public notice, at least 234 people must vote for this initiative, which is 51% of the average voter turnout of regular tribal elections held during the previous five years.
Voters can participate in the election by going to one of four polling stations – the Spokane Tribe Temporary Assistance for Needy Families building at 232 E. Lyons Ave. in Spokane, the Alfred McCoy Administration Building in Wellpinit, the West End Community Center in West End and the Ford Community Center on New House Lane in Ford – between 8 a.m. and 8 p.m. on Saturday.
Local journalism is essential.
Give directly to The Spokesman-Review's Northwest Passages community forums series -- which helps to offset the costs of several reporter and editor positions at the newspaper -- by using the easy options below. Gifts processed in this system are not tax deductible, but are predominately used to help meet the local financial requirements needed to receive national matching-grant funds.
Subscribe to the Coronavirus newsletter
Get the day's latest Coronavirus news delivered to your inbox by subscribing to our newsletter.
---