We're 'Waist Deep': Garrin Hertel connects America's past failure to handling of coronavirus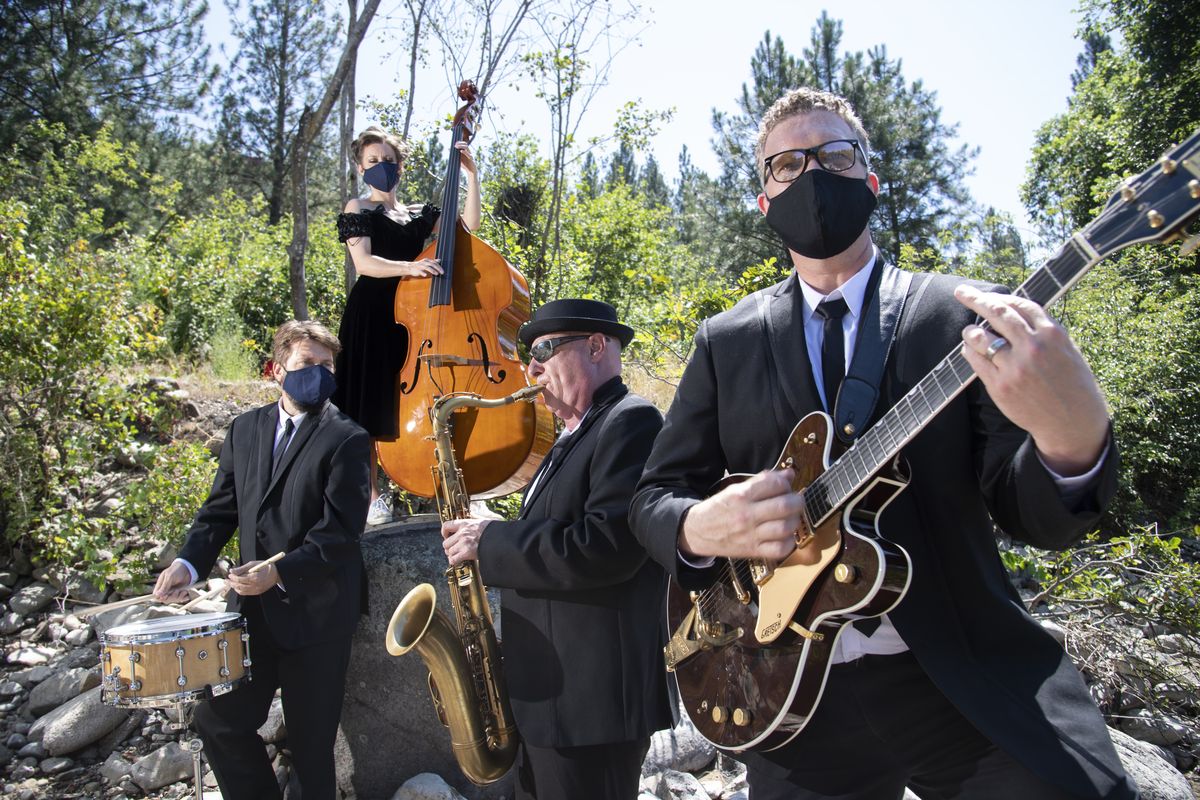 The past impacts the present, and it informs the future.
Garrin Hertel's mind played a surprising trick on the versatile musician in March.
The strange combination of vanilla and ash was the aroma registered in Hertel's brain when the hulking Gonzaga alum ("I'm 6-foot-7, but I didn't play basketball," Hertel said) placed a mask on his face to protect him from the novel coronavirus.
The face covering was scentless, but Hertel, 48, had a flashback to his childhood. When Mount St. Helens erupted 40 years ago, children in Spokane were forced to wear masks due to the fallout from the deadliest and most economically destructive volcanic event in U.S. history.
"My friend and I poured vanilla seasoning on our masks so it would be more pleasant than just smelling our hot breath like everyone else," Hertel said. "It was a lot more pleasant. When I put a mask on three months ago, the vanilla and ash came flooding back. I could smell the vanilla and ash as if it were there."
The new normal placed Hertel back to his days when he lived along Indian Trail.
"I remember my family was on the way to Fairchild Air Force base, and we heard (on the radio) that the air show we were going to see was canceled," he said. "All of a sudden, the sky turned nighttime black at 2 p.m. It looked like snow was falling, but it was ash. I'll never forget when we went home, we huddled in a neighbor's home. There were about 12 families huddled in a house, and we sang songs to avoid the kids freaking out."
It was similar, yet different for Hertel, who is the father of nine children, when the coronavirus struck. When he was a child, Hertel recalls missing school for a week and sporting a mask for an additional seven days. School has been out since March, and face coverings have become the new T-shirt. Hertel's family has been hanging out. But the only singing going on is with his band, the Rockabilly Space Force, who recorded a cover of Pete Seeger's timeless "Waist Deep in the Big Muddy" for their COVID-19 Quarantine Session.
The group, which has been together for only nine months, also created an inventive video, which includes vintage film of President Lyndon Johnson and contemporary footage of Gov. Jay Inslee and President Trump, as well as some local landmarks.
Fast Eddie's and Caruso Sandwiches and Artisan Pizza's floors are part of the clip, and so is the statewide message, "Staying Home Is Saving Lives. Keep It Up, WA!"
"There was an order at the time (late March) to stay home, and I thought this would be a great time to film since no one would be on the streets," Hertel said while calling from home. "I thought about putting the band on empty streets at night. I went around town with my wife and daughter and filmed tons of stuff. I liked including the billboard to stay home and stay safe. It's the slogan of the year."
The North Central alum, Class of 1990, connects Vietnam and the coronavirus courtesy of the clip. The message with each tragedy is that countless American lives could have been spared if our presidents chose to move in another direction.
"The captain Pete Seeger wrote and sung about in the song was President Johnson," Hertel said. "The sergeant he sung about is (U.S. Secretary of Defense) Robert McNamara. Johnson called McNamara a nervous Nellie publicly, and so that ended up in the lyrics. McNamara was for the war initially, but he realized what was happening, and Johnson didn't want to hear it.
"That takes us to today. Donald Trump is our overzealous captain. (New York Gov.) Andrew Cuomo and Jay Inslee are the sergeants. The bottom line with what's going on with the coronavirus is that we can't continue to let this go on and take it on the chin. We can't ignore the coronavirus like it isn't happening."
It's been difficult for Hertel and nearly all musicians since the pandemic commenced and halted live entertainment. Hertel, who majored in history and philosophy at Gonzaga, is driving for Uber Eats to make ends meet.
Hertel, who is the bandleader and rhythm guitarist of the Rockabilly Space Force, the Hot Club of Spokane and the Zonky Jazz Band, misses performing.
"It's a tough time, but we have to do the right thing during the pandemic," Hertel said. "My family and I are just hanging out here at home." Hertel, who lives off South Regal and 57th, has been a Spokane lifer.
"That wasn't the plan," Hertel said. "There are a lot of grumpy people here who have lived here since they were born, but I'm not grumpy. But I do want to see more of the world. I don't want to miss out. I'm hoping one of my musical projects can take me to some places. I've seen a lot of this country. I've been to every state but Alaska and Kentucky. I just have some wanderlust. I do love this city and have great memories growing up. I remember the good and the bad."
The eruption of Mount St. Helen checks both of those boxes for Hertel. It's fitting that the former editor and publisher of Nostalgia magazine loves to look back at that historic period.
"I'll never forget when we were all together in that house I was talking about, when Mount St. Helens altered our lives 40 years ago.
"A parent was smart enough to buy 12 gallons of ice cream. We made a Mount St. Helen's cake. It was about 3 feet tall, and they made it so that fudge oozed out if like lava. That was amazing.
"On the music front, Dizzy Gillespie was in town, and his show was canceled. He was messing with local journalists, saying that his wife thought he was in Spokane cheating on her since she didn't believe he was stuck here. The word was that Dizzy Gillespie paid a cabbie $300 to drive him out of town."
At least live music was back in Spokane within two weeks, but who knows when it will return this time around.
"Everything is up in the air in terms of live performance," Hertel said. "We can still work on things."
That's just what the Rockabilly Space Force did recording the song and video of "Waist Deep In the Big Muddy."
---