A Grip on Sports: When things begin to return to how they once were, there are a lot of little issues that won't seem as important A GRIP ON SPORTS • The best part about a warm mid-July day? You mean besides lolling around, doing little-to-nothing? Or watching tomatoes grow? No, that's about it in 2020.
•••••••
• Has your world slowed down? Mine certainly has. It has seemed to shrink as well. Sitting on the back deck late last night, I put down my book and started thinking about things I missed and will never take for granted again. The list grew and grew, until I almost fell asleep in my chair. Instead, I got up, picked up the book I had not been reading and headed back inside, ready to hit the sack.
All the while knowing I had a subject for this column.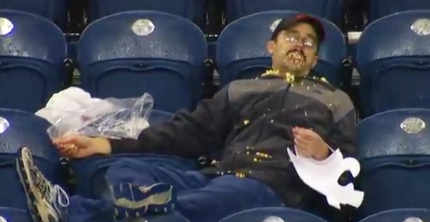 Yep, here are less-obvious sports items I once hated but now miss and promise not to complain about when they return:
– Waiting in line at a concession stand to get popcorn and a Diet Coke. This one is self-explanatory. Popcorn is always better at a sporting event. Ask that guy who became a national favorite during a Cougars football game a few years back.
– Celebrities sitting behind home plate at Dodger games. When this nightmare ends and fans are allowed back in stadiums, one of the first things I will be looking for is the return of Larry King to his rightful spot near the field during the World Series. Of course, that means the Dodgers are back in the World Series and I'm fine with that.
– Listening to Dick Vitale. Or Bill Walton. Or any other basketball analyst that has driven me nuts in the past. (That's a lengthy list.) If Vitale or Walton or Jay Bilas is talking, that means college basketball is on. That's enough for me.
– High fives. Dusty Baker's legacy is part of my life. A big part.
– Falling asleep in the middle of the (fill in the blank) game. Nothing beats the mid-game nap in the Laz-e-Boy. It's even better than the 2 p.m.-on-the-couch nap. See, there's another column down the road. Rate naps from best-to-worst. Ah, who am I kidding? No nap is "worst." They are all great.
– The lack of an American male anywhere among the world's best tennis players. Wimbledon finals for much of my life featured someone from around here making an ass out of themselves – and winning. Or, in the case of Pete Sampras, just winning. But those days are long gone. I miss them. But no more complaining. Just going to be happy with the world domination exhibited by our women, a whole new Serena Williams-inspired generation that has welled up and taken control.
– The Seahawks' offense. OK, let's hone in on that one a bit. The Seahawks' fourth-quarter offense is fine. That's when they usually let Russell Wilson go ahead and win the game. But the first three quarters? Usually putrid. Two runs, a pass and a punt.  Rinse. Repeat. About as exciting as watching those tomatoes grow.
– Dave Sims.
– The heat at Hoopfest. If the event actually happens this year – Ryan Collingwood has a story about that in today's paper – it's going to be hotter than it usually is. And it usually is warm in late June. No bitching. Just be glad the streets are full of folks playing hoops.
– Finally, having too much to write about on a Sunday morning. You know, say in early fall with college football games to look back upon, NFL matchups, golf, baseball, just about anything. There seems to be little chance of all that happening this year. But no complaining. No taking it for granted. Be patient and remember George Harrison's advice. All things must pass.
•••
Gonzaga: This Sunday it is Jim Meehan's turn to offer his 20-for-20. The 20 best GU athletes in the century's 20 years. Hard to argue with Jim's top two choices. Adam Morrison and Courtney Vandersloot were the most accomplished athletes in the Zags' recent history – and, yes, the past two decades qualify as recent history. Anyhow, the rest of the list is fun to debate. My quibble? Marcos Gonzales was one of the best college baseball players I've ever seen and I've seen some of the best, from Bob Horner to John Olerud to Kris Bryant. Gonzales would have been third on a list of best Bulldogs of the 21st Century.
WSU: Around the Pac-12 and college sports, the subjects I wrote about yesterday were ones covered by many folks in the conference's footprint. Will the conference-only schedule actually happen? Will the conference's financial issues overwhelm the members in the near future? You know, deeply disturbing subjects. There doesn't seem much else to ruminate over these days. Sorry.
Hoopfest: As we mentioned above, Ryan has a story on the event and its chances of being held next month. He also goes over the other 3-on-3 events in the area, most of which have been canceled.
Mariners: Pitching is always crucial to success. The M's have been trying to stockpile young arms, including Logan Gilbert and Justus Sheffield.
Sounders: Though the game ended in a draw, Seattle got something important out of its first competitive match in months.
•••       
• My list of things I miss not related to sports is even longer. It includes wandering through airports and lazily looking for something special at Costco that will make Kim happy. How about bumping into an old friend and just standing, talking, for a half-hour? Sitting in McDonald's on a Sunday morning, reading after breakfast and sipping on free coffee refills. A cross-country road trip. Dressing up for dinner at the Italian Kitchen with the family. Visiting Kim's workplace. Seeing kids wait for the school bus. Small things, big memories. They will all happen again. Someday. Until later …
---