100 years ago in Spokane: Spokane police try to solve mystery of dead, nude woman in hotel
UPDATED: Thu., Sept. 3, 2020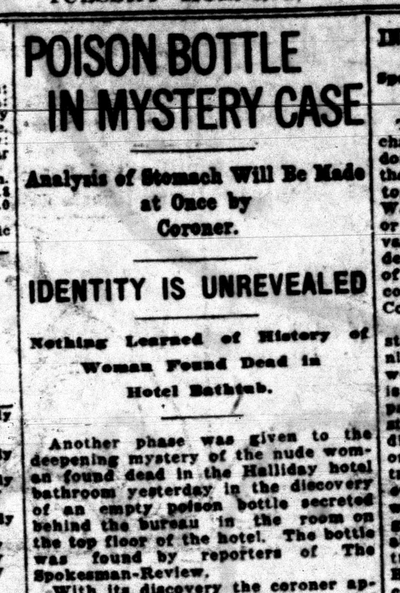 Authorities were attempting to solve the mystery of "the nude woman found dead in the Halliday Hotel bathroom."
She was found in the bathtub and police still weren't certain how she died, or even who she was.
However, reporters for The Spokesman-Review snooped around her hotel room and came up with what they believed was a clue about the cause of death: an empty bottle of poison.
The S-R said that reporters found the bottle "secreted behind the bureau in the room on the top floor of the hotel." The label had been carefully removed, but the words "poison" and "Owl Drug," a well-known local drugstore, were stamped on it.
"With its discovery the coroner appeared to have discarded any belief that she died a natural death and said an immediate analysis of the stomach would be made," said the paper.
The woman registered under the name of Mrs. H. Brock, but nobody knew if this was her real name. At first, police thought she might be from Washtucna, but a former police officer from that town viewed the body and said she was not a relative of his, as some had believed.
Police were looking at other leads. A woman in Seattle believed it was her sister, who was long overdue from a visit from Memphis. Other leads from as far away as Ohio and Georgia were being pursued.
Also on this date
(From the Associated Press)
1787: The Congress of the Confederation adopted the Northwest Ordinance, which established a government in the Northwest Territory, an area corresponding to the present-day Midwest and Upper Midwest.
Local journalism is essential.
Give directly to The Spokesman-Review's Northwest Passages community forums series -- which helps to offset the costs of several reporter and editor positions at the newspaper -- by using the easy options below. Gifts processed in this system are not tax deductible, but are predominately used to help meet the local financial requirements needed to receive national matching-grant funds.
Subscribe to the Coronavirus newsletter
Get the day's latest Coronavirus news delivered to your inbox by subscribing to our newsletter.
---