News > Business
Spokane grocery stores end hazard pay for employees as virus cases rise
UPDATED: Tue., July 14, 2020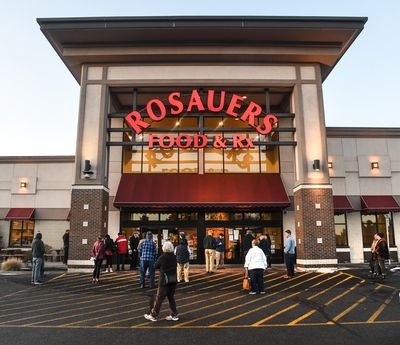 As coronavirus infections continue to increase in Spokane and North Idaho, nearly all area grocery stores have ended what had been called "hazard pay" for grocery store workers who were classified as essential employees and required to work during the pandemic.
Eric Renner, president of the United Food and Commercial Workers Local 1438, said grocery store chains have continued to have robust sales while scaling down the pay for workers who continue to put themselves at risk of infection.
"If you look at the increased sales of all these companies, they have been doing great financially," Renner said. "The hazard is still there … but the pandemic pay is gone."
Rosauers was the last of the major local chains offering $2 an hour extra for employees to work during the pandemic. It ended the extra pay June 27.
Jeff Philipps, president and CEO of Rosauers, did not immediately return a call Tuesday seeking comment. But he earlier said his company agreed to provide extra pay, issued social distancing guidelines and put Plexiglas shields in Spokane-area stores to help stop the spread of infections.
The bonus reductions coincide with growing numbers of COVID-19 infections. Based on numbers from Monday, Spokane had 52 new cases after more than 90 cases were reported on both Saturday and Sunday. In North Idaho, the Panhandle Health District reported 97 new cases Monday in its five-county region.
Renner's union represents about 2,500 members in the Spokane and Coeur d'Alene area. It has about 7,000 members in North Idaho, Central Washington and northeast Oregon.
He said the higher case counts show that grocery workers remain at risk and now must work under the same dangerous conditions with less pay.
Fred Meyer parent Kroger Co., the nation's largest grocery chain, initially provided its workers with an extra $2 an hour through May 17. Kroger later gave full-time workers a one-time bonus of $400 and $200 to part-time employees who had worked from a certain date. The bonuses were paid over two installments, with the last coming June 18, according to a memo sent to employees.
That same day, Kroger posted revenue of $41.55 billion for the first quarter of 2020, which surpassed Wall Street forecasts, according to the Associated Press.
Renner said once Kroger ended its $2 boost to hourly wages, "that opened the door for Albertsons and Safeway to stop the pay as well."
Albertsons, which employs 270,000 workers under several store banners, including Safeway stores, reported last month that same-store sales increased 30% in the first 12 weeks of its fiscal year that began March 1. That was a slight decrease from the 34% increase Albertsons reported during the first eight weeks of the fiscal year.
Yet, it ended the $2 pay raise for employees on June 13. Albertsons workers also received a bonus equal to $4 an hour for the average hours they worked between March 15 and June 13.
"As front-line associates you have met every challenge and continued to serve our customers every day, even as our nation was rocked by civil unrest," said Albertsons' Karl Schroeder, president of the company's Seattle Division, said in a memo to employees. "We are deeply grateful for your extraordinary efforts during this difficult and stressful time."
Renner said that while the extra pay is gone, the grocery workers' leverage is not.
"The major Spokane contracts expire in January 2021," he said. "We are now deemed essential like nurses, police, firefighters and EMTs. We have not been in the past. So, going into contract negotiations, the grocery workers are in a new world now."
The Idaho Statesman contributed to this report.
Local journalism is essential.
Give directly to The Spokesman-Review's Northwest Passages community forums series -- which helps to offset the costs of several reporter and editor positions at the newspaper -- by using the easy options below. Gifts processed in this system are not tax deductible, but are predominately used to help meet the local financial requirements needed to receive national matching-grant funds.
Subscribe to the Coronavirus newsletter
Get the day's latest Coronavirus news delivered to your inbox by subscribing to our newsletter.
---