4 candidates vie for Spokane Valley seat previously held by Matt Shea for 12 years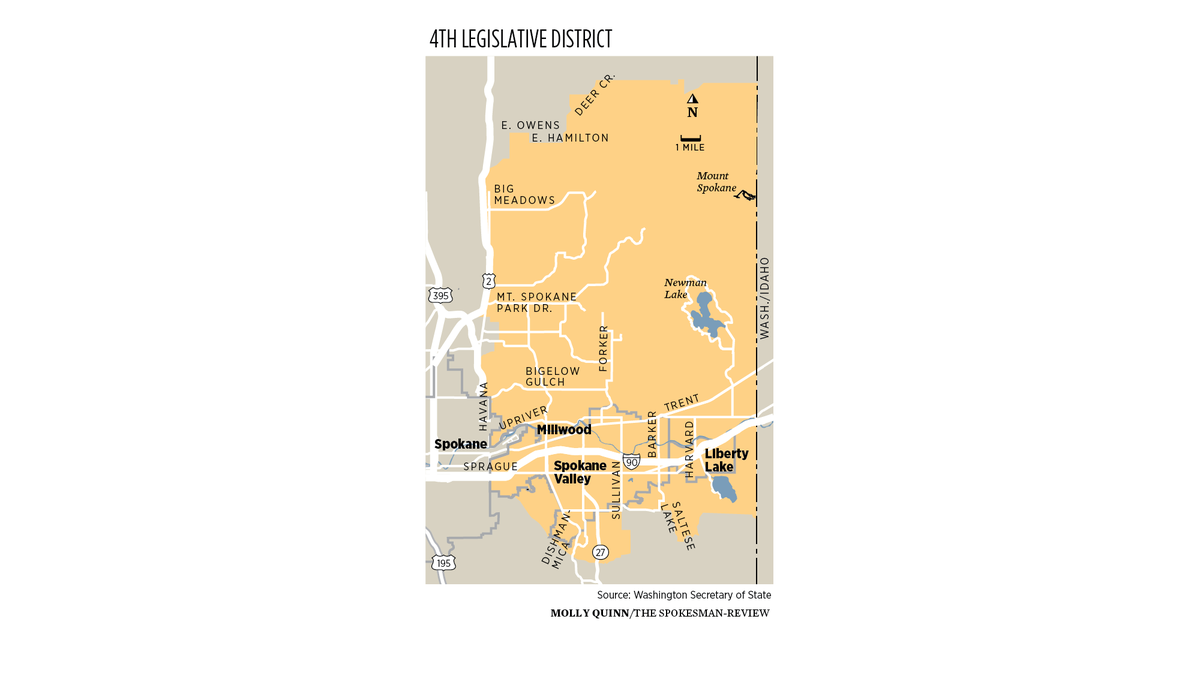 Three Republicans and one Democrat are vying for a Spokane Valley legislative seat held by controversial Republican state Rep. Matt Shea, who opted not to run for re-election.
The most well-known is incumbent state Rep. Bob McCaslin, who holds state House position 2 but opted to run for Shea's seat, position 1, in this election. He did not respond to repeated interview requests. The other Republicans in the field are Mike Conrad, the CEO for the Savory Butcher, an online meat company, and Mt. Spokane High School teacher Dave Whitehead.
The lone Democrat in the race, Lori Feagan, said she decided to run for the seat because she didn't believe the elected leaders were effectively representing the needs of the majority of their constituents.
"We need a representative who will actually support our children with their education, and that will support folks in our district when it comes to health care policy," she said.
Feagan, who is an advanced registered nurse practitioner, has worked in health care for over 30 years, assisting people all over Eastern Washington, and has volunteered for organizations helping people who are struggling with food insecurity and homelessness.
Her experiences as a nurse practitioner have given her a insightful look into what needs to be done in the health care sector, she said. Rural health options need to be made more widely available, so people can receive the care they need, she added.
There's a call to action to address health care, education and infrastructure policies, she said. The ongoing pandemic has made it become more apparent that these are tied to the economy, Feagan said.
This moment has highlighted the reliance of families on educators the challenges they facing in accessing technology or other tools that would make remote learning possible, she said.
Ensuring families and children will have what they need to return to school or work remains at the top of Feagan's priorities, she said.
"We have a great opportunity to improve our public health and education system so that we can withstand any future impacts by unforeseen emergencies," she added.
The state is dealing with an estimated $4 billion deficit that state leaders will need to address between now and 2021.
Feagan said she would take a fiscally conservative approach to budgeting and said leaders will need to make sure they are investing in important policies without causing harm to low-income and working families.
She's also served in the board of directors for Emerge Washington, an organization run by women, which recruits and helps train women to run for office at all levels. Feagan said she went through their training program in 2019.
Whitehead sees a main concern surrounding schools reopening up in the fall and said the state shouldn't be ordering school districts to adopt unfunded mandates.
"If we're going to tell the district it has to do it, then it should be paid for," Whitehead said.
The previous spring semester's shift to remote learning didn't go without any troubles and it wasn't anybody's fault because nobody was prepared to deal with that, he said. So as restrictions continue, Whitehead said online learning will need a few adjustments to increase the availability to all students.
Whitehead said he's able to work with people who hold different views and has been a natural leader holding various positions, including as president of the coaches union.
"I'm not a politician. I've had no desire to be a politician. I was just really frustrated with the gentleman (Shea) and I decided that either put up or shut up," he said, "and I thought I could do a good job."
Conrad said he decided to run because he wants to protect small business owners from the impacts of COVID-19 and create or rework laws and regulations to support small businesses that have not been supported by state agencies.
"I think a lot of these state agencies have people in them that aren't liable for their actions, so they can do something to somebody or some business and they can hide behind the state," he said. "I'd like to root out people who are like that in the state agencies. They shouldn't be working for the state."
Conrad said he believes the top issues revolve around health care and the effects the pandemic has had on small businesses and people's jobs.
Some state laws should be changed because they are antiquated and don't allow for the innovation that is happening in many industries, Conrad said.
In 2014, Conrad reached out to Shea to create a bill that allowed business owners to receive a direct seller's permit through the Department of Agriculture instead of the Department of the Health.
Conrad said that although he doesn't agree with a lot of the things Shea has done, he's grateful to Shea for helping him pass the direct seller's permit bill. Shea has always been helpful in that regard, he added.
He also reached out to Cathy McMorris Rodgers to put language in the Farm Bill to allow online businesses to accept EBT cards, and it was signed into law by then President Barack Obama in 2014.
"I actually am the one who actually made it possible for people who are on welfare to be able to use their EBT cards online," Conrad said.
Having the ability to change legislation as a citizen led him to see that laws have been created by others who were no smarter than he was, he said. Conrad wants to be able to help Spokane Valley constituents in the same way.
"My competitor Bob McCaslin hasn't really done anything," he said. "He's not excited. There's no energy – just hasn't done much. So I want to bring new energy to the fourth district," he said.
McCaslin did not respond to The Spokesman-Review's multiple calls and messages before the article was published.
McCaslin has served in several house committees, including the Education, Transportation, Early Learning and Human Services committees.
McCaslin is a proponent of Shea's plan for Eastern Washington to secede from Washington and was critical of the House Republican leadership's decision to remove Shea from the party caucus. Shea was removed from the causes last year after an independent investigation raised questions about his connections to anti-government protests like the standoff at the Malheur Wildlife Refuge.
McCaslin has sponsored a set of bills including one that would create a grant program through the Office of Superintendent of Public Instruction to allow for job sharing of certified staff to help with child care costs but it was not adopted into law.
McCaslin's bill to expand child care options by allowing early learning providers to earn hours from community-based trainings, providing care for children in a licensed setting, college or university credit also did not pass.
McCaslin's voting record shows opposition to the comprehensive sex education bill, and a bill creating Washington state office of equity to increase access to opportunities and resources and reduce racial disparities.
In 2020, he voted in favor of a bill that removes the consecutive three-year limit on renewals for medicaid payments in nursing facilities.
Editor's note: This story was changed on July 16, 2020 to correct family information about Lori Feagan in the biographical information section.
---