A&E > Art
Artist Poindexter-Canton takes 30-day quarantine art challenge to self-discovery
Thu., July 16, 2020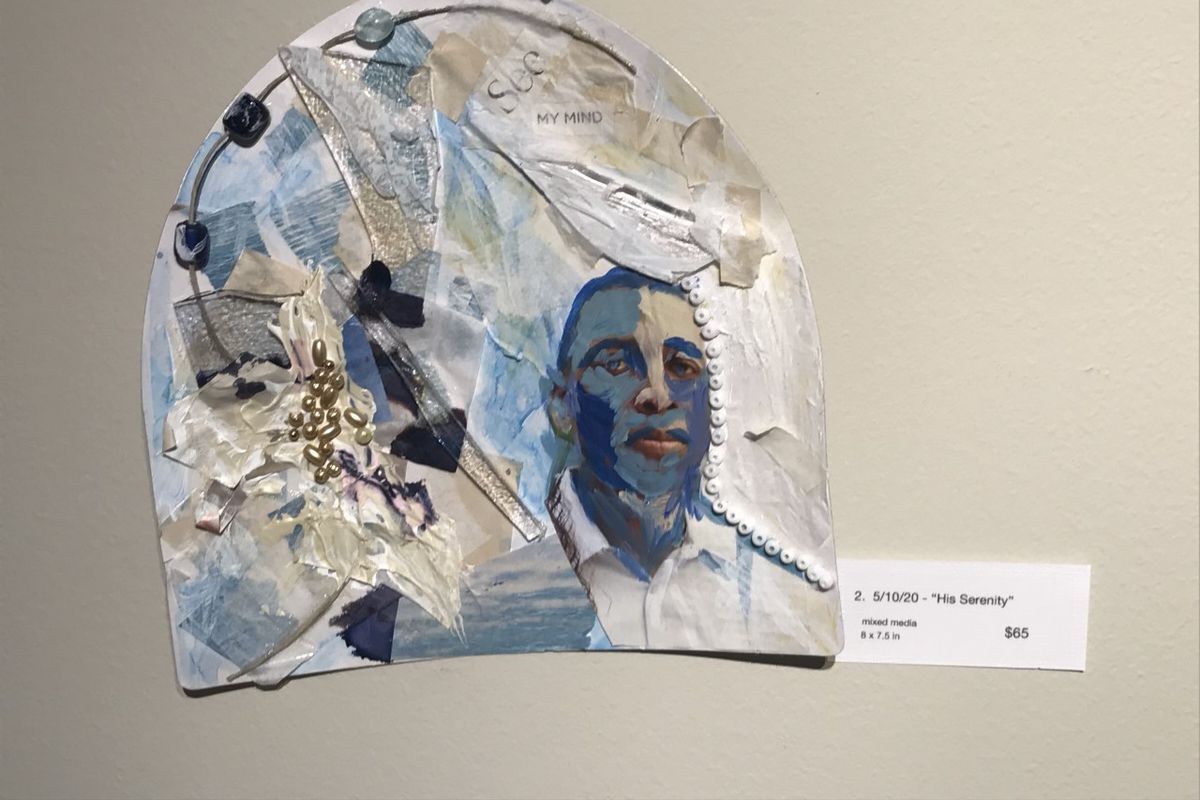 "His Serenity," a mixed media collage by Tracy Poindexter-Canton. The artist created the piece on Day 2 of her 30-day quarantine art challenge. The soft blues that resulted were unexpected and not typical of her style, she said. It's "one of my favorites," Poindexter-Canton said. (Nina Culver/For The Spokesman-Review)
When stay-home orders were announced in March, mixed media artist Tracy Poindexter-Canton found herself anxious and lacking her usual creativity. So she gave herself a task – spend an hour a day creating art for 30 days.
"I needed an activity to spark my creativity," she said. "I, like many people, had a lot of anxiety. I needed something that would bring me solace."
She allowed herself 15 minutes to browse her art studio for suitable materials and an hour to finish each project.
"I would put music on, sit in my studio and just let my subconscious take over. It was very freeing."
What resulted are a series of small mixed media collages that vary in tone and subject matter. She had plenty of cardboard pieces in her studio, so each one was created on cardboard.
"The round ones are actually from frozen pizza," she said.
It was a private exercise, but Poindexter-Canton posted her results each day on social media.
"I had joined some quarantine art groups via Facebook and other groups on Instagram," she said. "People got really excited about it."
She was already set to do a show in the Liberty Gallery on the second floor of Auntie's Bookstore in downtown Spokane this summer with several large paintings she did based on Toni Morrison novels. The gallery got wind of her 30-day quarantine project and invited her to show those pieces as well, Poindexter-Canton said.
It worked well to give herself a time limit each day, Poindexter-Canton said. It kept her from overthinking the collages and trying to be a perfectionist, she said.
She used a variety of materials in each piece. She also likes to use various types of paints, including acrylic, oil, pastel and watercolor. She often uses more than one type of paint in a piece.
"Some of them may have three elements in them, just depending on what feels right," she said. "I like to use a variety of materials in my work – magazine clippings, beads, feathers, string."
She also likes to lay down a thick layer of acrylic paint and let it dry.
"It pulls up like a fruit rollup," she said. "Then I cut it into little pieces and lay that on the canvas."
Poindexter-Canton said she's pleased with what she created during her quarantine experiment.
"I never thought I had that in me," she said. "I didn't realize I had that much momentum. As you can see, they're all very different."
She does have a few that she particularly likes.
"One of my favorites is Day 2, which is called 'His Serenity,' " she said. "I like it because it's not my typical style of bright colors. It's much more soft. It's not something I expected to come out of me."
Her experiment was so successful that she's thinking of doing it again, this time creating art based on poems each day.
"On that I think I may need to give myself more time, maybe two hours, to go more in depth on the poetry," she said.
Poindexter-Canton said she hopes her work inspires others to be creative.
"I hope it motivates people to really tap into their creativity during this time and find something that helps ease their anxiety and something that's self-reflective and brings them joy."
Local journalism is essential.
Give directly to The Spokesman-Review's Northwest Passages community forums series -- which helps to offset the costs of several reporter and editor positions at the newspaper -- by using the easy options below. Gifts processed in this system are not tax deductible, but are predominately used to help meet the local financial requirements needed to receive national matching-grant funds.
Subscribe to the Spokane7 email newsletter
Get the day's top entertainment headlines delivered to your inbox every morning.
---