News > Local business
Central Food donates entire food inventory to Hope House
Thu., July 16, 2020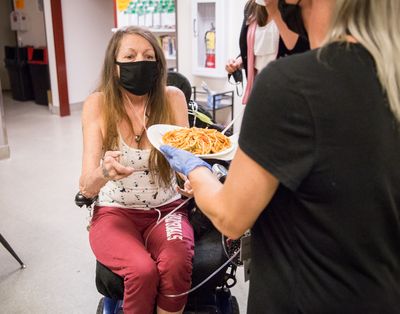 When Central Food owner David Blaine decided to temporarily close the restaurant in Kendall Yards earlier this month to ensure safety and financial stability amid the coronavirus pandemic, he was left with a kitchen stocked full of unused food.
Blaine wanted to find a meaningful use for the restaurant's dairy products, produce, bread, fruit and other items, so he connected with Berserk Bar co-owner Beth McRae, who is volunteering as a food coordinator and community ambassador at nonprofit Volunteers of America Eastern Washington & Northern Idaho, which operates Hope House.
"Once we decided to close down until things get better, we decided a good use for our product would be at Hope House," Blaine said.
Because of Blaine's donation last week, McRae and a team of volunteers – some of whom are also in the restaurant industry – have been able to prepare several meals for the women at Hope House. The nonprofit, originally known as the Downtown Women's Shelter, was founded in 1997 to offer women protection from violence on the street.
"We were able to definitely spread the food out for a week or so and it definitely saved us some money," said McRae, adding she prepared a "nice pasta dish" for shelter guests that included squash from Central Food. "It gives (shelter guests) something different to look forward to instead of the same old stuff."
Blaine's connection to Hope House was forged at the onset of the pandemic when Central Food sous chef Joel Jordan and baker Alicia Purvis began preparing meals for Hope House out of the restaurant, which temporarily closed when the statewide stay-at-home order went into effect in mid-March.
When Central Food reopened in June, Jordan and Purvis could no longer volunteer in shifts but continued their support of the shelter by donating bread and other items.
McRae's involvement with Volunteers of America began with a phone call from Jon Carollo, director of development for the organization.
"When COVID-19 happened, Jon called me and said, 'Hey, how do we support restaurants and at the same time feed all the women at Hope House?'"
Initially, the organization raised money to purchase food from local restaurants to provide dinners for shelter guests. But as funding became unavailable to continue buying from restaurants, McRae and a team of volunteers began preparing meals for Hope House in April.
New Leaf Bakery is preparing lunches for Hope House in its commercial kitchen, while McRae and the team of volunteers mostly prepare dinners. New Leaf Bakery is a free job-training program that is part of Transitions, a nonprofit organization working to end poverty among women and children in Spokane.
The need for taking care of women at Hope House has increased as COVID-19 took hold in the state, McRae said.
The shelter, which moved from its primary location downtown to a new site on Eighth Avenue to accommodate social distancing requirements, is now open 24 hours a day. As a result, its meal service increased as capacity swelled from 30 to 60 women, she added.
The women at Hope House are thankful for Central Food's donation, McRae said.
"It's cool to see the community come together and the women are definitely grateful for that," she said.
Local journalism is essential.
Give directly to The Spokesman-Review's Northwest Passages community forums series -- which helps to offset the costs of several reporter and editor positions at the newspaper -- by using the easy options below. Gifts processed in this system are not tax deductible, but are predominately used to help meet the local financial requirements needed to receive national matching-grant funds.
Subscribe to the Coronavirus newsletter
Get the day's latest Coronavirus news delivered to your inbox by subscribing to our newsletter.
---